Sonoma County houses veterans in tiny homes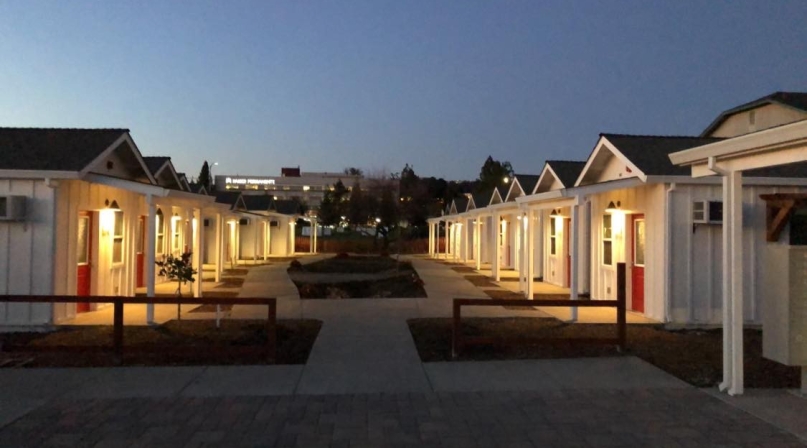 Throughout their lives, during their service and after, Sonoma County Calif.'s veterans demonstrated their resilience. It's what kept them alive in the field, and for those who wound up homeless, kept them alive on the streets.
It was appropriate that when Sonoma County's pilot project to build tiny homes for more than a dozen homeless veterans ran into one, then two, then three major roadblocks, it was fitting that the response was to just work around it and get the job done.
Already thrown off course by a location change and the devastating wildfires in 2017, the final work on the set of 14 tiny homes was due for December 2018. Then the rain started.
"It rained most of the month, but Michael was out there working through most of it," said Supervisor Shirlee Zane. "He knew if people were sleeping in that, he could work through it to give them a home."
Contractor Michael Wolff, a Marine veteran who served in Iraq, had already underbid to ensure his firm got this job. And he wasn't going to let anyone down now.
In January, Community Housing of Sonoma County named the set of 14 tiny homes after Wolff and John Zane, Shirlee Zane's father, himself an enlisted Marine who fought in World War II. On March 20, the final veteran selected by the Veterans Administration picked up the keys to his home. Thanks to the HUD-VASH (VA Supportive Housing) program, 15 formerly homeless veterans, including one couple, will have rental assistance and case management on a plot of county-owned land.
"The beauty of it is that the VASH vouchers come with service providers, where a straight Section 8 voucher does not," said Paula Cook, executive director of Community Housing. "That's a much better recipe for success."
Sonoma County had been considering using tiny homes, 250-square foot minimalist structures, to house the homeless since 2014, and in 2015, Zane was pushing for an application to aid veterans, and to use county-owned land.
"There was an overwhelming consensus, not just in our community but across the country, that it was something people wanted to see," she said. "It's horrible for anyone to be homeless, but when I think of a veteran, someone who signed up to help their country, I know that they'd be willing to die for their country, but they come home and don't have a place to live… we have to do something."
Community Housing won a competitive bidding process to oversee the project.
After picking out a plot between the sheriff's office and the human services department and designing the homes for that land, it became clear that office space needs would force the project to move, between the jail and a hospital.
"It ended up being symbolic," Zane said. "So many veterans wind up in either place, we hope that this community shows that there's another option out there."
Even after the challenge of changing design specs, going all the way back to the drawing board, as Cook termed it, the highest hurdle had yet to even appear. The 2017 Tubbs Fire devastated the county seat of Santa Rosa, burning hundreds of homes and increasing the building material costs.
"We had to face how we were going to create new housing simultaneously with the rehousing effort," Zane said. "There were only so many resources, and I thought for a while it wasn't going to happen. Fire like that just comes out of nowhere, and nobody expected anything like that would ever happen."
She was able to persuade the rest of the Board of Supervisors to make up the difference in costs.
"Logically, when you house people at any income, you create more open spaces for housing, there's a domino effect that opens up more housing," she said. "And it was hard to vote against housing these veterans."
All homes are compliant with the Americans with Disabilities Act, sporting ramps, sliding doors on bathrooms, with a bedroom, shelves, desks, closets and a kitchenette. A communal space offers more room, a larger kitchen and laundry facilities. Community Housing is close to securing a donation of solar panels, which will allow the tiny homes to be carbon neutral. Two formerly homeless veterans live on site and serve as peer house managers, in addition to the HUD-VASH-supplied case workers.
"It's hard when the veterans move in off the street, they need a lot of privacy and support about changing their life so radically," Zane said. "We're trying to be sensitive, but I hope to meet them all."
She also wants to present them with housewarming gifts. Word from the peer house managers was that they wanted a flagpole, so that is what Zane plans to bring them.

Related News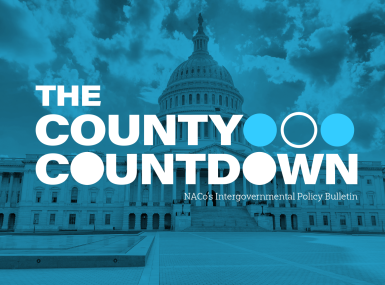 Every other week, NACo's County Countdown reviews top federal policy advocacy items with an eye towards counties and the intergovernmental partnership.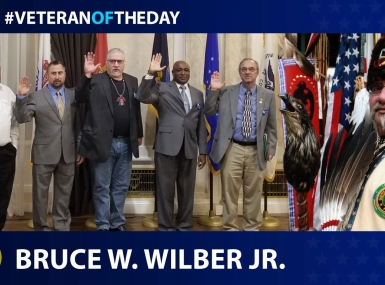 Bruce Wilber's presidency of the County Veterans Service Officers Association of Wisconsin is significant for Native Americans, who have served in the military at higher rates than other ethnic groups since 9/11.