S.C. county invests ARPA dollars in home repairs for the elderly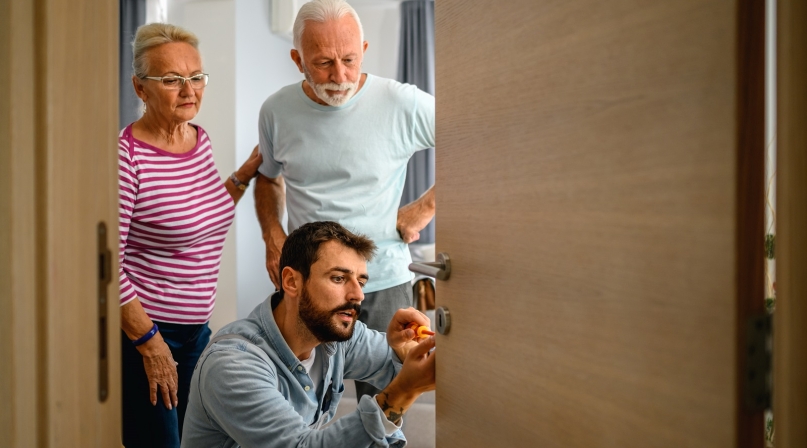 Key Takeaways
Charleston County, S.C. is using $3 million in American Rescue Plan Act funds on a home-repair program for its older, low-to-moderate income residents to reduce energy costs and increase safety measures.
The program is underway, with 34 homes having received repairs so far. To be eligible, applicants had to be at least 62 years old and not exceed 80 percent of the county's median income.
"They're on a fixed income with very limited resources, many live alone," said Gail Carson, program manager of Charleston County's Community Development Department.
"Aging does make it difficult for them to supplement their income and as their homes get older, they're typically not always safe to live in when it comes to accessibility," she said. "So, that population, with the economy the way it is right now with rising prices, they sometimes have to choose between medication and home repairs, or food and home repairs, and typically home repairs is an area that they can't afford."
Community Development is partnering with Operation Home, Home Works and Home Dreams for the repairs and The Sustainability Institute for home efficiency improvements, including energy audits and weatherization upgrades.
"There are so many circumstances of families that you really can't weatherize their house appropriately or take it as far as it needs to go without some other critical repair happening first, so there's just an awful lot of families who drop out of the pipeline and can't be served, because those critical repairs are sort of preventing the weatherization from happening, so the pairing of that is a little bit unusual, and I think really smart," said Bryan Cordell, the executive director of The Sustainability Institute. "[The county's] approach has been different than anything that I've seen with making sure every home gets audited and weatherized, both in terms of helping these families with their repairs, but also producing economic savings to them.
"It's a win-win, and then when you think about things like county-wide carbon emissions, all of these projects have a positive effect on that."
Another element that sets Charleston County's apart from many other home repair programs is that mobile homes and heirs' properties are eligible, with the qualification that the home is occupied by the resident and it's their primary residence.
"On the critical home repairs side, that allows us to address the needs of homeowners who also experience a lot of financial hardship at this time due to the pandemic, so it just seems like a very natural progression to make sure we are addressing the needs of all of our citizens and their needs to be safe and in adequate housing," Carson said.
Community Development is also working with the grassroots organization Liberty Hill Redevelopment Group, which was formed to restore the once thriving Black area and North Charleston's oldest community.
"They've watched their community really come down on some hard times with homeowners who are trying to maintain their homes, and so they were a good group to partner with because they knew the community, the community trusted them, and so it allowed them to go into an area that typically wasn't focused on, so it's a very concentrated pilot project addressing the needs in a very specific area," Carson said.
Through its home efficiency improvements, The Sustainability Institute aims to cut down on 20 to 30 percent of the homeowners' energy bills through the program, according to Cordell.
"Their utility bills typically represent one of the highest expenditures that they have, and we have seen everything from a few hundred dollars to yesterday, we had a client who her last energy bill was almost $1,000," he said. "So, what the situation is, is that the people that can afford high utility bills, the least are paying the most for it, which we call energy burden. So, these families have really high energy burden, and for most of them, they're really economically struggling with that.
"From our perspective, it's not good enough just to go do a repair, we really have to think about 'How do we help these families sustain themselves in their houses over the next generation?' And the way to do that is by addressing whatever the critical, immediate urgent problem is, but also providing some kind of base weatherization improvements to try to lower those utility bills as much as much as we possibly can for as long as we can."
In addition to cutting costs and carbon emissions, the efficiency improvements increase safety for the county's most vulnerable population. The Sustainability Institute conducts blower door and duct blaster tests to measure leakiness and tests for carbon monoxide.
"We are going in and testing all of the appliances and things in the house that produce combustion gas, and whether it's an oven or a heater or whatever it is, we come across leaks, especially if that equipment is super old, and addressing those is one of the most important things that you can do, because carbon monoxide when it's leaking in the house has a direct effect on people's health, and you can't weatherize and tighten up a house with a carbon monoxide leak happening," Cordell said.
The county is devoting up to $30,000 on "critical repairs" per home; however, homes that have been assessed as needing "substantial repairs" aren't eligible. Carson said it's because some homes are dilapidated and require a full renovation, which would exceed the county's funding for the program.
"What we saw was that in addition to the roofs and the ramps and the bathroom handicap modifications, there were a lot of homes that really weren't habitable," Carson said. "And we knew that our funds could not address whole home rehabilitation … Taking up a floor and not knowing the extent of the foundation work, it does exceed what our project focus has been, and we were concerned that it would require the relocation of homeowners, which is not something that our project can support."
Seventy-year-old Charleston County resident Ruth Miller's deck was repaired through the program.
"My deck was dilapidated to the point where I couldn't go out there because of fear that I might fall through the floor," she said. "It positively impacted my life by the fact that I'm able to walk out there and sit without that fear. I would call them angels … it really did help."
The home repair program received more than 1,100 applications and is no longer accepting them due to limited funding, according to Carson. The amount of interest highlights how the program is just making a dent in the county's housing issue, she said.
"I think we all knew there was a need for home repairs, but the volume of applicants calling, and the qualification was 62 and over, so there are people out there who still need housing assistance who are even younger," Carson said. "I think it's only the beginning as we begin to tackle the challenge of addressing the needs of homeowners who are financially burdened."
Related News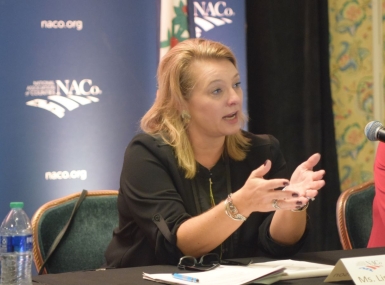 Elected officials can help promote the use of a more holistic approach to combatting substance use disorder.