Pipeline protest stretches North Dakota county staff, resources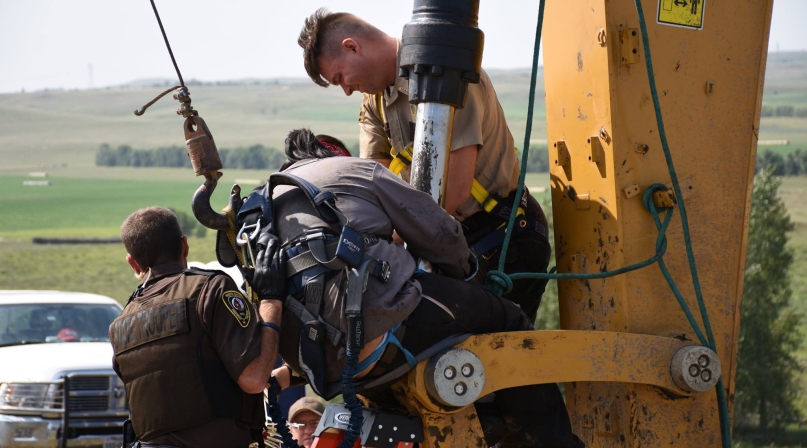 Three months of high-profile protests of a multi-state oil pipeline are stressing the North Dakota county that has played host to the demonstrators.
Roughly 2,000 people have camped out on U.S. Army Corps of Engineers land in Morton County while protesting part of the Dakota Access Pipeline's charted 1,100-mile path, which protesters maintain would threaten the Standing Rock Sioux reservation's water and run through ground sacred to the tribe. Demonstrations began in April but became a concern when the protest swelled starting Aug. 10. Incidents with law enforcement have increased, including attempted murder charges for one demonstrator who fired a gun at an officer Oct. 27 during a riot. Fires have damaged county and state bridges.
"They're putting their lives on the line out there," said Commission Chairman Cody Schulz. "We approve of the protest, as long as it's peaceful and nonviolent, but it hasn't been that way for a while.
"Early on, it was a beautiful thing. It was a cultural awakening, with the Lakota Sioux tribe coming to speak out. But in the last 6–8 weeks, you've seen the issue hijacked by environmental extremists who are much more willing to create mayhem through illegal acts and even violence."
Between Aug. 10 and Nov. 8, 420 people were arrested in connection with the protest, which Schulz said has taxed the court system and jail, which was forced to create temporary cells in the basement using fences. It also taxed Morton County's complement of 34 sworn officers and prompted a request for help, which was denied by the federal government but answered by other counties via mutual aid agreements, and they came from places like Hennepin County, Minn. and Dane County, Wis.
Morton County has been responsible for housing and feeding the mutual aid officers, and that tab has run north of $4.4 million, much of which Schultz said will be reimbursed by the state. Administrative staff have been pitching in to support the sheriff's deputies, and that kind of workload over that amount of time has stretched the county personnel.
"It's been an incredible strain," Schulz said. "Anytime you have an operation this large, there's a lot of administrative work and our normal staff is working incredibly hard to pick up the slack logistically so our deputies can focus on their jobs.
"Early on, if there were any arrests, they were a direct result of civil disobedience and they were orderly," he said. "We have a good relationship with the Lakota Sioux, and we realize they don't have direct control over the protestors, but we do think they have the moral authority to disavow what is going on; the violence and destruction."
The destruction has included broken fences on private ranch land, agricultural products being stolen and points, Schulz said, to protestors looking for trouble and running afoul of residents who have nothing to do with the pipeline.
"About 75 of our private landowners saw their lives disrupted by the pipeline before the protests even started, working on the easements for their land," he said. "Now they're seeing some intimidation from the protestors."
Though earlier on private property, the protest has moved to land owned by the Army Corps of Engineers, which has allowed the protestors to stay in a defined area, though the Corps has asked for the county's help dismantling an illegal bridge and removing trespassers.
Schultz said this is reason enough for the federal government to send help.
"It's a federal issue and the federal government has not yet been helpful," he said. "If the state hadn't declared an emergency, we wouldn't be able to recoup the costs for mutual aid."
The law enforcement response has met with criticism, including protests in counties where sheriffs sent help via the mutual aid compact. But Schulz said the opposition narrative is incomplete.
"When I read about what is going on here, I hear a lot about pepper spray, but they never talk about the precipitating action that takes place," he said. "That's why law enforcement is responding."
Related News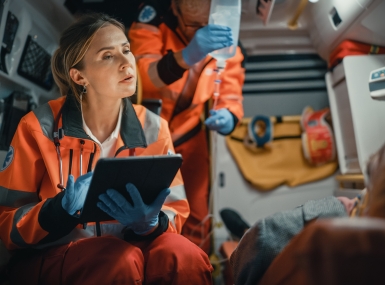 The opioid crisis, a major national issue, saw a 55% increase in drug overdose deaths from 2019 to 2022, with 75% involving opioids. Effective strategies to combat this include integrated care, policy enhancement, and technology, focusing on whole-person care and intervention opportunities to save lives.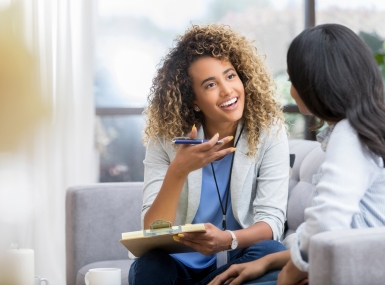 On November 13, members of NACo's Commission on Mental Health and Wellbeing sent a letter to the U.S. Senate Committees on Finance and Health, Education, Labor and Pensions. The Commission called on Congress to support counties in delivering high-quality, assessible mental health services to address residents' comprehensive behavioral health needs in any mental health legislation package.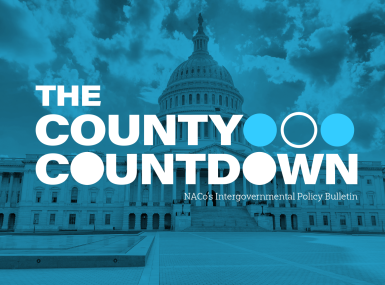 Every other week, NACo's County Countdown reviews top federal policy advocacy items with an eye towards counties and the intergovernmental partnership.