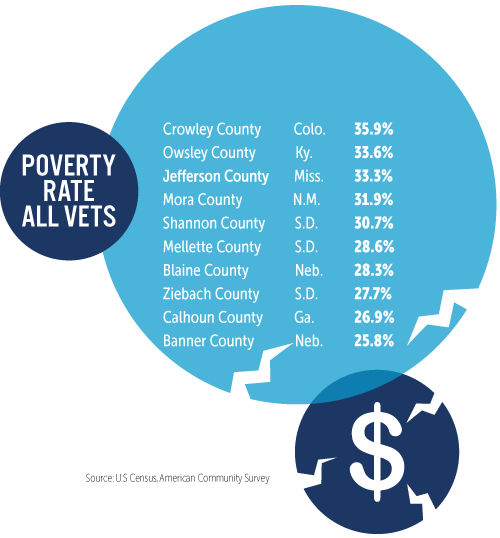 Housing
"Housing first, treatment second" is the mantra driving successful programs to house homeless vets.
A 180-degree turn from the traditional model of treating mental health issues, or addic­tion problems or joblessness first before finding permanent housing, rapid rehousing gets a veteran into private housing within 30 days of identifying a need, said Larissa Witt, program manager with Family Endeavors Veteran Services in Cumberland County (Fayetteville) N.C. Through fund­ing from Veterans Affairs, Family Endeavors will pay a deposit, the first month's rent, buy bedroom furniture and then work with churches or other organizations to help furnish the home, she said.
After the veterans or the veteran and their families are settled, VA case managers move in to address the issues that got the vets into their homeless situation in the first place.
And it works. On Oct. 23, Cumberland County — home to Ft. Bragg — declared itself at "functional zero," a term that means there are "more veterans going out of homelessness than into homelessness," Witt said.
To reach functional zero status for veterans, Family Endeavors housed 280 homeless vets this year.
"That doesn't mean we will never have homeless veterans, but it does mean that we have the services and structures in place to house vets within 30 days," she explained.
So far the rapid housing strat­egy has held down the numbers of homeless vets. Witt said that nationwide about 25 percent of the formerly homeless will "destabi­lize" and return to homelessness, claiming a 75 percent success rate for the approach.
It's even better for veterans with families." If vets have children, 93 percent stay housed," she said.
Farther north in Lancaster County, Pa., the Lancaster County Coalition to End Homelessness claimed its functional zero status in July. The 26 homeless vets that were living in the street or in shelters in January were now in permanent housing. Aggressive outreach, good data, service prioritization and a broad coali­tion of community nonprofits that grew from 35 mostly home­less service providers four years ago to 100 organizations now, accounted for reaching the coali­tion's goal earlier than expected, according to Mike Foley, the coalition's CEO. Also boosting their efforts were two Supportive Services for Veteran Families (SSVF) grants, awarded by the VA to provide services that support permanent housing.
Foley's coalition has signed onto the Zero: 2016 campaign, (formerly known as 100,000 Homes), a nationwide effort mounted by Community Solu­tions, a nonprofit dedicated to eliminating homelessness by helping communities improve their problem-solving skills, rethink their resources and get more done with less. He used Zero: 2016's guidelines and tools to move vets from the streets to a home.
"It's all about leveraging resources and making connec­tions," he said of the coalition's success.
Employment
At least 22 of Iowa's 99 coun­ties have put out the welcome mat for veterans, active duty military and their families who are seek­ing jobs and an affordable place to call their "home base."
Home Base Iowa (HBI) Com­munities is designed to connect transitioning military members and veterans with career op­portunities in Iowa companies.
An initiative of Gov. Terry Branstad (R), himself a military veteran, HBI is focused on attracting veterans to the state through incentives. Benefits to veterans include no state income tax on pensions and extension of veterans' hiring preferences to private employers.
Members of the Iowa Busi­ness Council, the state's largest employers, have hired more than 1,500 veterans through Home Base Iowa since its inception in 2014, according to state officials.
To become an HBI com­munity, at least 10 percent of businesses that are hiring must affiliate with the program; each community is required to develop an incentive package for veterans and prominently display its designation. The local governing body must pass a reso­lution supporting the program.
Buena Vista County was recently designated. Referring to veterans, Board of Supervisors Chairman Dale Arends told a local newspaper: "They will bring wonderful skills that we can certainly make use of in BV County and throughout the state of Iowa."
He's hopeful that the program will help attract new residents with military connections from throughout the state and the nation.
Mental Health
With a veteran service officer who can spend half of the work week with deputy-level access to the jail floor, the Multnomah County Veterans Service Office can reach roughly 100 incarcer­ated veterans a month and its assessments have shown 30–40 are due benefits of which they aren't aware.
The county's five vet­erans service officers are then able to see inmates in the jail and can have them referred to county or outside treatment services for mental health and substance abuse issues.
"We can try to defer sentences and get them intervention measures while they're awaiting sentencing," said Eric Ensley, program super­visor. "That jail access gives us a chance a lot more awareness of the veteran population that's afraid to announce it because they might lose their benefits (after being arrested)."
Hero 1