No quick fixes: The challenge of creating workforce housing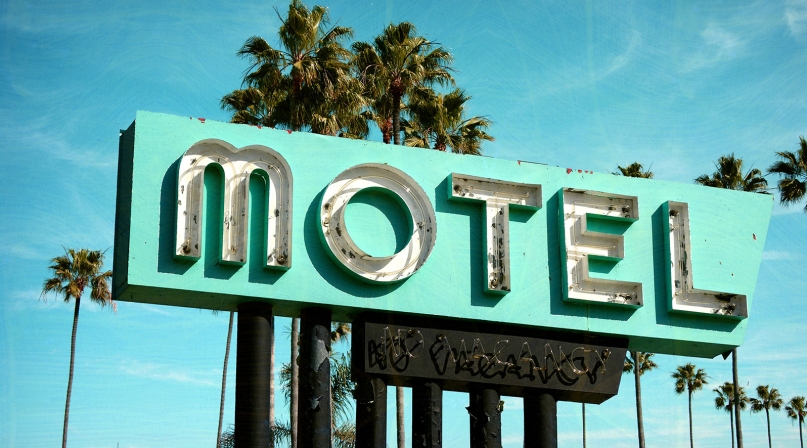 "The more expensive a resort town gets, the farther its workers have to commute to keep it functioning. And if your heart doesn't bleed for the dishwasher or landscaper who commutes two to four hours a day, at least shed a tear for the wealthy vacationer who gets stuck in the ensuing traffic. It's bumper to bumper westbound out of Telluride, Colorado, every day at 5, or eastbound on Route 1 out of Key West, for the Lexuses as well as the beat-up old pickup trucks."
― From 'This Land Is Their Land' by Barbara Ehrenreich
Along Highway 192 in Osceola County, Fla., just south of Disney World, there is a 15-mile stretch of road that includes budget motels that have seen better days.
"Some of them really are not viable as tourist motels anymore; they were supposed to be an affordable alternative to Disney but then Disney created its own affordable alternative," said Susan Caswell, Osceola County's assistant community development administrator.
Today, some of the motels serve as housing for many of the workers who are employed in the area's booming resort towns and tourism industry. Affordable housing is tight in the Orlando area — it ranks third in the nation for its shortage of affordable rentals, according to the National Low-Income Housing Coalition. Earlier this year 8,000 prospective tenants inquired about 201 affordable apartments.
While tourism — theme parks, beach towns and ski resorts — opens up jobs for locals and seasonal workers, affordable rentals for them are especially hard to find. And many landlords can earn more from short-term rentals to tourists than long-term leases to residents.
Osceola County is especially looking to add affordable rental housing for those with incomes of $35,000 and below. The motels and hotels along U.S. 192 have come into play. The county has seen two recent proposals to convert hotels into permanent housing, Caswell said, and the county itself purchased a hotel a few years ago and converted it into permanent housing.
"The problem we have with the people living in the hotels is if we crack down from a code enforcement standpoint, we're going to displace a whole bunch of people," she said.
'Home ownership is not for everybody'
In addition to looking for buildings like a hotel that might work for affordable housing, the county's role is to "work really closely with developers and builders to figure out what their real barriers are and try to help them through those," Caswell said. The county has revamped its entire code so there is a lot more flexibility, more opportunity for higher density and quicker processes.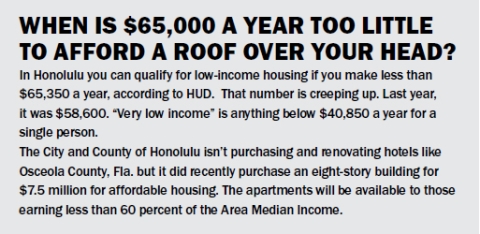 One of the challenges in creating affordable housing is dealing with "one size fits all" builders, she noted. "We're dominated by a few national builders and they answer to corporate. It's challenging for them to think of a different product, but it's doable."
In addition to finding housing for tourism workers, Caswell said there are other groups also vying for affordable housing including senior citizens on a budget who no longer need single family homes and single parents whose budgets are squeezed while they are paying a lot for childcare.
"A lot of these people are in a certain phase of their life and we're here to help them through it," she said. "We need to have that recognition that home ownership is not for everybody — it's not the solution to every issue."
Her advice to other counties: Streamline your development regulations and change your land development codes for more flexibility and higher density. And talk to developers and builders. "The more you talk to them," she said, "the more you discover what the challenges are."
Pitkin County, Colo.
Patti Clapper, a county commissioner in Pitkin County, Colo., has lived in a 1967 single-wide trailer at Smuggler Mobile Home Park, now sometimes known as the Million Dollar Trailer Park, for 30 years.
She purchased her trailer and land in the heart of the skiing mecca of Aspen years ago for $40,000 and it's now valued at between $500,000 to $600,000, she said. "If I sell it, where do I go? I have to live in my district. It's an amazing community to live in."
The soaring price tells the tale of real estate in the county, where the median home price is $1.2 million (for Aspen proper it's $2.2 million). Sixty-one percent of the workforce lives outside the county.
But you don't have to have purchased a mobile home years ago in order to find affordable housing in the county today.
 "We have an amazing program established 40 years ago, APCHA (Aspen/Pitkin County Housing Authority) and it's a joint venture between the City of Aspen and Pitkin County," Clapper said. About 3,500 rental and for-sale units are in the program in the city and throughout the county. There are requirements for renting or buying the homes including the length of time someone has worked in the area. The county portion of the program is funded through a development mitigation fee. Smaller homes are exempt from the fee as an incentive to build small. The funds go to create new affordable housing units.
APCHA and the development mitigation fees are "far from" a total solution, Clapper said.
Affordable housing is a hot topic in the entire region, she said. As a member of the Northwest Colorado Council of Governments, which includes five counties in the mountain region, Clapper said there is "not a meeting that goes by where there's not a discussion about lack of affordable housing for employees, especially in light of recent growth of businesses, retail and hotels and the demand for employees. We fall beyond short. Most commute significant distances."
Many companies in the area pay employee transportation costs such as bus fees, she said. "It keeps the traffic down and makes it less expensive for employees to get to work."
Pitkin County is also looking at public-private partnerships. "We are currently doing something pretty phenomenal," Clapper said. The county is working with the Roaring Forks School District and Habitat for Humanity to create a small community of 27 affordable homes next to the local high school, for teachers and those who work in the county.
The county is funding the basic infrastructure, the school district is donating the land and Habitat for Humanity is raising the money to build the houses. Pitkin County dipped into a fund dedicated to affordable housing to contribute $2.75 million. In return, 12 of the condos will be reserved for sale to people who work in the county.
"It's not an easy thing to do, working with three partners and three separate pools of funds, but we are in the final stages of the negotiations, and we're getting ready to break ground." Clapper said.
Private affordable housing options are also popping up in the county. The Aspen Ski Company, one of the major employers there, has created a tiny home development; it rents the homes to their employees.
Since the 1980s, the county has also helped mobile home residents purchase their homes and all five mobile home parks in the county are preserved.
The county itself purchased, for $7.5 million, a 76-acre mobile home park recently after the family that owned the property said they planned to sell, possibly putting homes in jeopardy. The county is in the process of improving the infrastructure. "The county stepped up to the plate," Clapper said, "and saved homes for 60 families."
Related News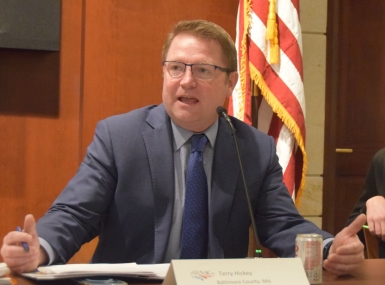 County leaders and staff demonstrated the challenges counties face in encouraging housing construction and the creativity they are employing along the way.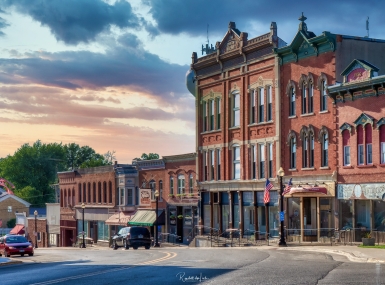 Senators introduced the Rural Partnership and Prosperity Act, bipartisan legislation intended to advance economic development in rural counties and overcome barriers to obtaining federal funding and resources.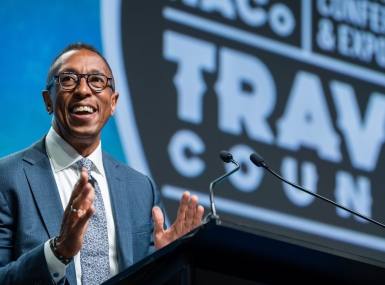 The Bill and Melinda Gates Foundation's U.S. Program strategy aims to ease access to safety net benefits, help local leaders promote economic mobility and join partners to unify the economic mobility field.