ALASKA
If nothing else, Alaskans have to be counted as among the country's most resourceful population. When hackers disabled MATANUSKA-SUSITNA BOROUGH'S computer system and email server last month, borough staff rolled out some old technology — typewriters — to help bridge the gap. According to BBC News, folks from the Last Frontier State used the late 19th-century technology to type receipts, make library member lists and keep track of landfill fees as they rebuilt their 21st-century systems.
ARIZONA
You may have heard of "most popular baby names" lists, but MARICOPA COUNTY is taking it a step further and releasing information on the most popular dog names, courtesy of its database of more than 300,000 licensed dogs. Its top 10, from most popular, are: Bella, Max, Daisy, Lucy, Buddy, Molly, Charlie, Bailey, Sadie and Maggie. The county also included links to adoptable dogs around the county in its announcement.
DELAWARE
NEW CASTLE COUNTY will put 34 problem rental properties up for sale via its Sheriff's Department under a new county policy, The News Journal reported. The county took action because the landlord owed $415,000 in back taxes, the homes are in squalid condition and police were continuously being called to the properties. The point of the new policy, which came about after changes to state laws, is to pressure landlords to properly maintain their homes and keep up with their tax obligations, County Executive Matt Meyer said.
He signed an executive order directing the county finance department to begin sheriff sale proceedings when it's determined that the owner of two or more properties (just one for commercial property owners) display a disregard for paying taxes and keeping properties up to code. Neighbors cheered the action taken by the county, telling the newspaper that the actions of some landlords were "tearing down our neighborhoods."
GEORGIA
FLOYD COUNTY residents are leaving too much junk — used clothing and household goods — around community drop boxes. County commissioners are planning on passing a new ordinance to deal with the problem. "Donation bins are littering the county…we're in the process of working on an ordinance to deal with this as a nuisance," Commissioner Scotty Hancock said. Commissioners say they don't want to put a damper on donations to charities but note that some donation boxes go unattended. "The YMCA has a box, but they maintain it," County Manager Jamie McCord said. "If we don't write this ordinance the right way, we're going to hurt people who are doing the right thing."
KANSAS
• BUTLER COUNTY is considering shutting down a plastics recycling business because it's become an eyesore, the Wichita Eagle reported. County commissioners might revoke its business permit, the newspaper reported. The company has "ignored the county and allowed the condition of the property to continue to be an eyesore," the county noted in a report. The county said it hopes to work with a partner to clean up the acres of debris instead of just hauling everything off to a landfill.
• JOHNSON COUNTY unveiled an $18 million library recently, the first for the county in 18 years. The 33,000-square-foot building features an outdoor deck with charging stations, a collection of 90,000 books and other materials including 21,000 audiobooks, 2,500 music CDs and more than 13,000 DVDs. Computer stations offer eight PCs and six Macs; patrons are also encouraged to bring their own laptops to take advantage of high-speed WiFi. Patrons will find self-serve checkout kiosks, a drive-through window for busy parents to pick up holds and a 24-hour outdoor book drop-off.
NEVADA
• Investigations into the Oct. 1, 2017 shooting from a Las Vegas hotel room window that killed 58 people and injured 851 have ended, with no apparent motive by the shooter, who appears to have acted alone. CLARK COUNTY Sheriff Joe Lombardo said that despite falling outside of the federal definition, the shooting should qualify as an act of terrorism.
• WASHOE COUNTY is expanding its network of equipment to monitor air quality conditions in outlying areas of the county in response to Northern California wildfires. More portable air quality stations will supplement the several air quality stations in Reno and Sparks, Fox 4 News in Reno reported.
NEW JERSEY
• In an increasing number of places, taking a plastic bag from a store will involve a 5-cent charge. In an ATLANTIC COUNTY park, bringing in a plastic bag could mean up to a $500 fine. The county parks department's ban on single-use plastic bags and straws took effect Aug. 14, in an effort to keep plastic out of the ocean and covers 7,000 acres of county parks, WPVI News reported.
• ESSEX COUNTY is clearing out and closing accounts with Wells Fargo because of the bank's history of aggressive foreclosure and predatory lending practices. The county withdrew a total of $3.8 million from its accounts at the bank, according to an announcement.
"As a county government we cannot control how banks operate, but we can support our residents and homeowners by sending a strong message that Essex County will only invest its funds with institutions that have client-friendly business practices and support community building," said County Executive Joseph N. DiVincenzo, Jr.
NEW YORK
CAYUGA COUNTY is aiming to hire someone to help inmates transition to civilian life, which would make it the first county in the state to do so. A transitional care coordinator would help inmates coordinate with social service agencies to set up access to transitional housing, substance abuse programs, mental health appointments and job training.
The Auburn Citizen reports that while the state requires such a role, no counties have filled it. Sheriff David Gould said the transition coordinator will replace one of the open nurse positions on his staff and would ultimately save the county money by reducing recidivism.
OHIO
HAMILTON COUNTY police have orders to arrest anyone defying an order banning homeless camps in the county. Common Pleas Judge Robert Ruehlman's order responds to a request from County Prosecutor Joe Deters, following days of fighting in court over homeless camps that first appeared in downtown Cincinnati and moved just beyond boundaries of a growing no-camp zone.   The judge said police and sheriff's deputies should arrest anyone who refuses to leave and seize their tents and belongings.
U.S. District Judge Timothy Black upheld the ban, declaring that the city could, essentially, outlaw homelessness if there was adequate space in shelters. The city and county have a capacity for 800 people, and the Cincinnati Enquirer reported there were vacancies.
UTAH
Location may be the key to real estate sales, but for the state of Utah, timing was more crucial.
The State Homeless Coordinating Committee voted to make an offer to buy a 1,100-bed emergency homeless shelter in SALT LAKE COUNTY, but did so two months after the county's real estate assessment doubled the value of the property. What had been worth $3.2 million in 2017 is now worth $7.7 million. That is well above the $4 million mark Lt. Gov. Spencer Cox told the Salt Lake Tribune he hoped for the value of the property. Much more than that would require legislative approval.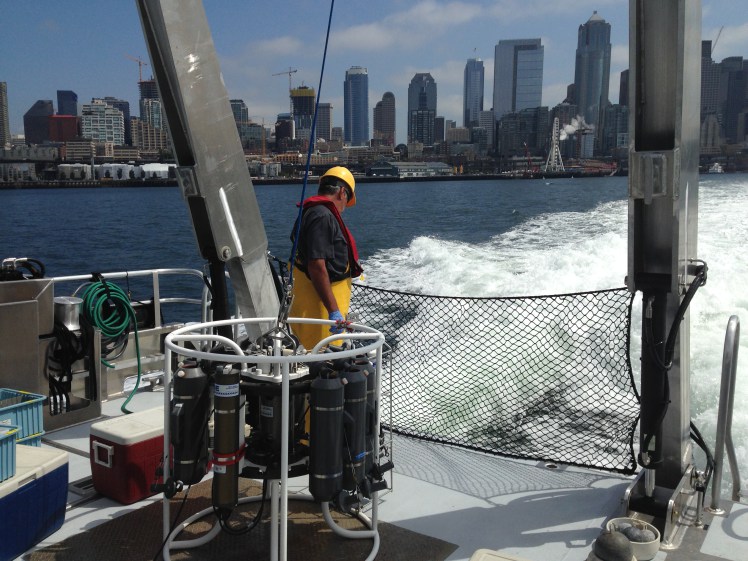 WASHINGTON
With a Puget Sound orca whale in jeopardy, KING COUNTY has deployed its marine research vessel, SoundGuardian, to aid recovery operations coordinated by the National Oceanic and Atmospheric Administration to feed a malnourished whale. The orca population is at a 30-year-low in the Pacific Northwest, with one 4-year-old orca badly emaciated. Experts believe J50 may only have a few weeks to live without an intervention. Photo courtesy of King County, Wash.
WISCONSIN
Text messages sent and received on ROCK COUNTY-issued cell phones will soon be archived to comply with public record retention policy. Texts on county-issued cell phones will be stored on a server and kept for seven years via an app installed on 573 phones.
If an open records request is filed for text messages, IT staff will retrieve the messages and, along with department heads, supply "substantive" texts, according to The Gazette. Some county employees, including detectives in the Bureau of Investigation, will be exempt from the archiving system.
WYOMING
Overuse by out-of-area semi-trucks and tourist traffic is prompting the WASHAKIE COUNTY Board of Commissioners to consider limiting two county roads to local traffic only. The roads have been damaged by visitors, particularly heavy trucks and speeding drivers, and an ordinance closing either of the roads would give the Sheriff's Office the jurisdiction to issue citations for non-residents using the roads. The Northern Wyoming Daily News reported that that action could be taken immediately on one road, but another would require coordination with BIG HORN COUNTY, the Wyoming Department of Transportation and, possibly a public hearing.
---
News from Across the Nation is compiled by Charlie Ban and Mary Ann Barton, senior staff writers. If you have an item for News From, please email cban@naco.org or mbarton@naco.org.
Hero 1