Conference's final day sees new NACo leadership team
Roy Charles Brooks, Tarrant County, Texas commissioner, has been elected NACo second Vice President in the only contested race for NACo office at today's Annual Business Meeting. Brooks joins Commissioner Sallie Clark, El Paso County, Colo., who was elected NACo's 81st president and the first president from the state of Colorado. Joining Clark as the new first vice president is Commissioner Bryan Desloge, Leon county, Fla. and Immediate Past President Riki Hokama.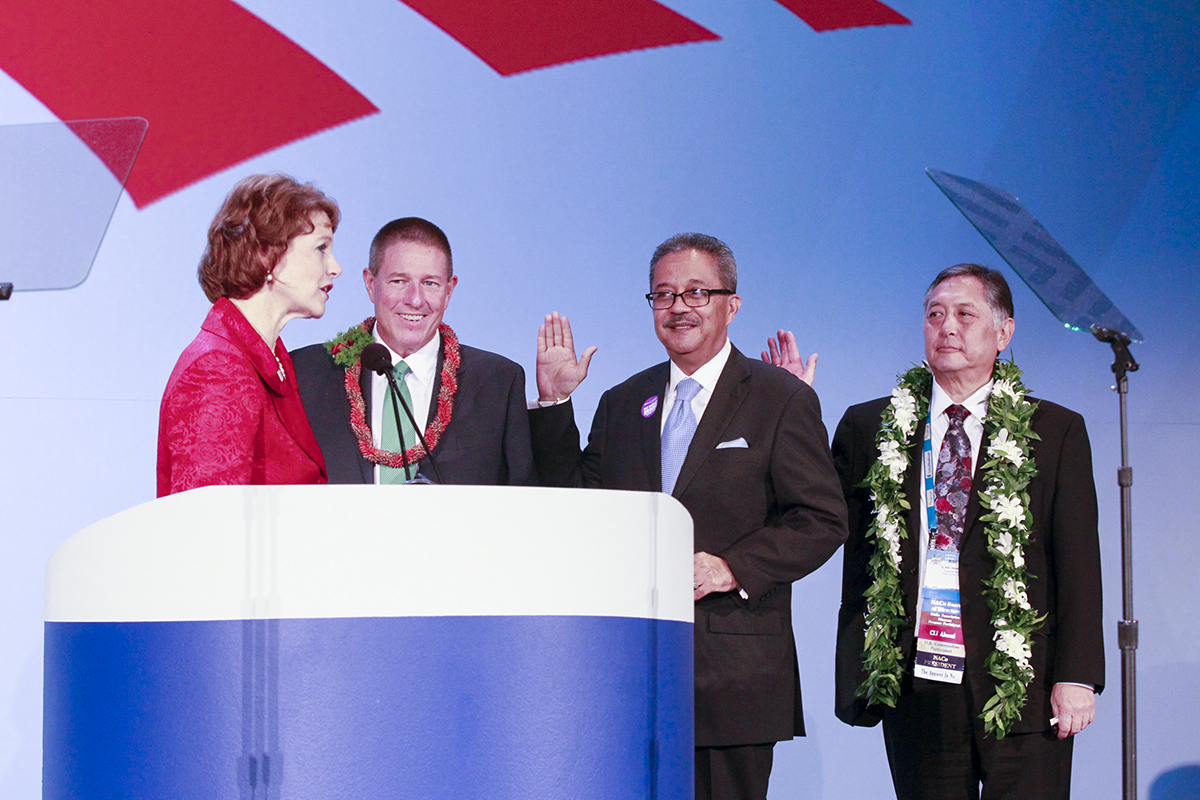 Just elected NACo President Sallie Clark swears in First Vice President Bryan Desloge, Second Vice President Roy Charles Brooks and Immediate Past President Riki Hokama as NACo's new leadership team.
Closing General Session
U.S Transportation Secretary Anthony Foxx, former mayor of Charlotte, promoted the Obama Administration's six-year $478 billion transportation bill (the Grow America Act) and took questions from the audience at the Closing General Session.
With fewer than three weeks until another short-term extension to MAP 21 expires, Foxx criticized Congress' inactivity and empathized with his former peers in local government.
"How many of you can do a two month transportation project," he asked. "It's almost impossible to imagine."
He noted the 30 percent funding cut for locally-owned highways and bridges, courtesy of MAP 21.
"When we starve our counties of the resources they need to keep America's infrastructure moving, it literally starves our country," he said. "And we shouldn't do it — we need a long-term bill."
He also presented Hokama and Clark with a resolution from the Department of Transportation to work with counties on road safety.
"Data tells us it's never been a safer time to drive," he said, noting a 25 percent drop in fatalities on roads over 10 years, "because of the work of groups like NACo."
He told the audience that Grow America would provide more formula-based funding through metropolitan planning organizations, and include $1.25 billion in TIGER grants.
He also explained that the Transportation Department was making more open-sourced data available to encourage more innovation from the public.
"The more information we put out there, they more you'll see come back in helpful applications," he said.

Soledad O'Brien has seen resiliency up close — from Hurricane Katrina evacuees relocated to Utah to factional strife in Rwanda. A journalist, author, documentary-maker and producer, she managed to relate her globe-trotting pursuit of news and human stories to issues county leaders face.
America has become more diverse, which could challenge some counties to adapt to the new demographics. Counties that are majority-minority have doubled, she said, and that means "thinking about strategies for resilience that work for everyone."
It means dealing with issues head-on and having — perhaps tough — conversations about diversity "that reflects what is in, or is coming, to your community."
She cited one such example from Salt Lake City, where scores of mostly black New Orleanians were relocated after Hurricane Katrina 10 years ago this year. Utah's capital has a comparatively small black population.
But local leaders acted "intentionally" with local black churches to welcome the evacuees when they arrived, so they were greeted by "people who looked like them."
Salt Lake City embraced people "who really didn't even want to be there," she said. "It wasn't an accident; it was completely strategic … It wasn't expensive. It gave people who had lost everything a new opportunity and wove them into the fabric of a community that was a win for the people, a win for the community, a win for America."
America's counties will face similar opportunities and challenges.
"You in this room — and I don't think very many people can say this — hold lots of people's lives and livelihoods in their hands," she said. "How you think about that responsibility will dictate exactly what your community will look like in the future. Your jobs are to strengthen the counties of America and thereby strengthening the entire nation."
After the closing session, O'Brien signed copies of her book, The Next Big Story: My Journey Through the Land of Possibilities.

Conference attendees could still get in a workshop earlier in the day. County engineers and elected officials gathered at one to discuss Reducing Fatalities and Serious Injuries on County Roads.
Brian Roberts, executive director of the National Association of County Engineers, celebrated a turning point in the Toward Zero Deaths roadway safety campaign—the January endorsement by U.S. Transportation Secretary Anthony Foxx.
"We embrace the vision of Toward Zero Deaths," Foxx said at the time. "It provides an overarching and common vision that drives and focuses our efforts to achieve our shared goals to eliminate injuries and fatalities on our roadways."
Roberts was thrilled when he heard that.
"This was huge," he said. "When the secretary of transportation said that all of his agencies were on board, so we had local, state and federal buy-in. That was probably one of the most important things I've heard him say. "
Some national organizations, he said, were leary of endorsing the plan because they viewed "zero" as a statistic, rather than an idealized vision.
"We'll never get to zero, but we're working toward it," he said. "Every county can take steps to get closer. The bottom line is that if you asked elected officials what number of roadway deaths was acceptable, they would all say zero."
He outlined the measures that counties could take in getting closer to that target. Chief among them were education and enforcement efforts to cut down on distracted driving, intoxicated and impaired driving, seatbelt misuse and excessive speed.
"As our technology increases in our cars, there will be transponders on dangerous curves that will send a message to cars to tell them they're going too fast," he said. "The question will be who will be responsible for those transponders."
He also stressed the need to protect vulnerable users, including pedestrians and bicyclists. He acknowledged that there are tradeoffs between road safety measures, like rumble strips, and growing constituencies such as bicyclists who don't want them because it makes bicycling more difficult.
Hero 1