Conference officially opens today
Secretary of Defense Ash Carter, White House Intergovernmental Affairs Director Jerry Abramson, and ESPN commentator and NASCAR team owner Brad Daugherty headlined the Opening General Session this afternoon.
At morning meetings, the Gulf State Counties, Parishes Caucus discussed the recent $18.7 billion settlement with BP over the Gulf Oil spill claims, and a Community and Economic Development Steering Committee was briefed by a HUD official on President Obama's new Fair Housing rules.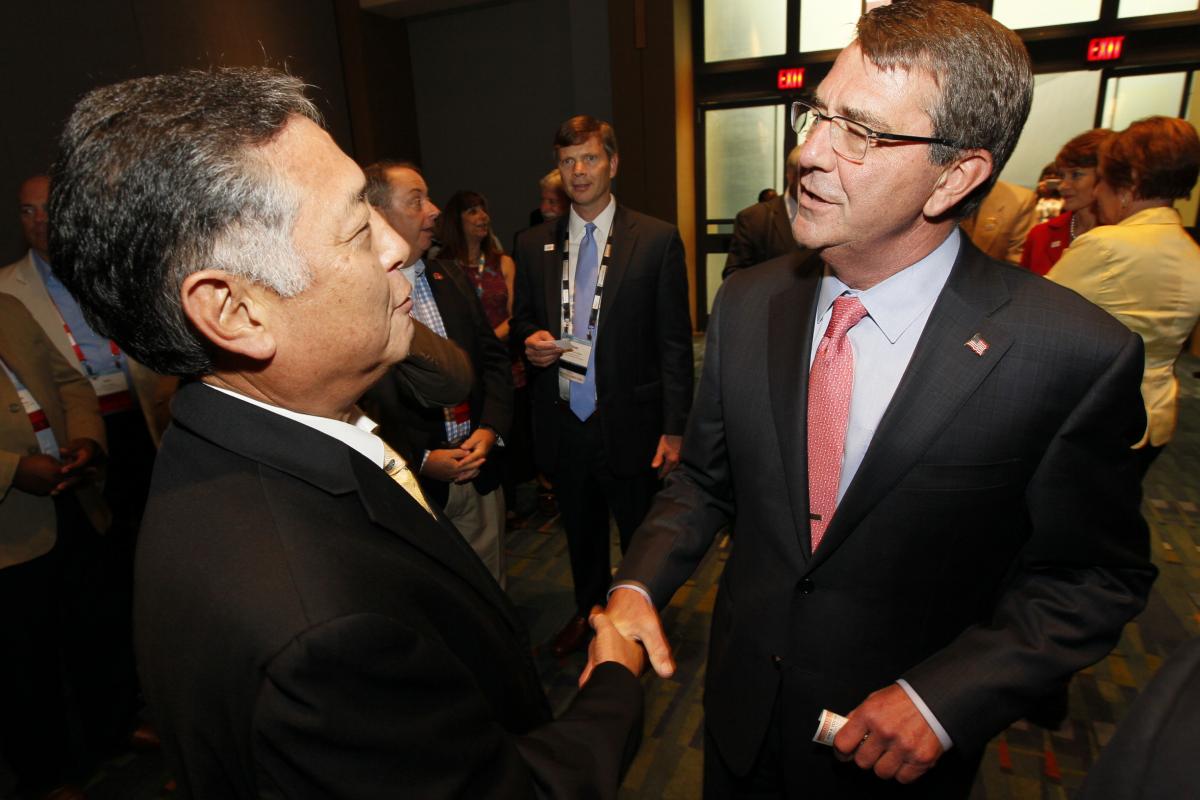 NACo President Riki Hokama greets U.S. Secretary of Defense Ash Carter at the Wounded Warriors Reception preceding his address at the Opening General Session. Photo by David Hathcox
Secretary of Defense Ashton Carter emphasized the role that counties can play in supporting the armed forces in his keynote address.
To that end, he praised NACo's involvement in Vets' Community Connections, a community-based initiative to engage more civilians in veteran reintegration efforts. He said it's increasingly important for communities to connect with returning veterans, military families and survivors, because fewer people today have a direct connection to the military.
"For my generation and my parents' generation three out of four had a family member who served," he said. "But for our kids generation, it's only one in three," a trend that's likely to continue. He added that such connections "significantly influence" whether a person decides to serve.
Localities have a stake in the quality of America's military, because it's local communities that educate and prepare them. And counties benefit from what service members and their families give back to their communities.
"According to one recent study, veterans are 20 percent more likely to give to charity; they volunteer 30 percent more hours a year, and they're three times more likely to join a service or civic organization," he said.
"I encourage you to seek out and ask your citizens to seek out someone who's served," he concluded — "whether they're on active duty, guard or reserve, a veteran or a military family member. Harness the invaluable experience, global perspective and extraordinary talent they bring to the table, talent you invested in and helped develop. Because when you grab hold of our people, you'll never forget it and you'll never regret it."
Former NBA player Brad Dougherty regaled the Opening General Session audience with yarns from his time playing for Dean Smith at the University of North Carolina at Chapel Hill and explaining how the lessons learned on the basketball court have influenced his business career. Following 10 years playing for the Cleveland Cavaliers, he maintains business interests in commercial real estate, car dealerships, waste management and a NASCAR team.
"To have an impact, you have to be able to challenge and motivate people," he said, noting that finding the right role for them was crucial. "It's easy to put people into a box, but I don't think that's the appropriate way to lead."
He urged county leaders to avoid thinking of their employees as commodities, and to recognize employees' strengths and talents and put them in the best place to use them.
"Leadership is all about the impacts you have on people, how you do it and the measures you take to help people get the very best out of themselves," he said. "You want people to realize that you believe in them more than they believe in themselves, that's what coach did for me."
White House Intergovernmental Affairs Director Jerry Abramson brought greetings from the Obama Administration and spent much of his address detailing the efforts the Administration and and its county partners are undertaking now to bolster the middle class.
After pointing out the sharp decreases being proposed by the House in next year's federal budget, he said "I tell you who the real villain is on Capitol Hill -- sequestration." This next year is when sequestration's impact will take hold. "There'll be 10, 15, 20 percent just lopped off across the board, he said. "Tell your congressmen and senators that these draconian cuts are not acceptable in this country for our families and our children."
Header photo by David Hathcox
Hero 1