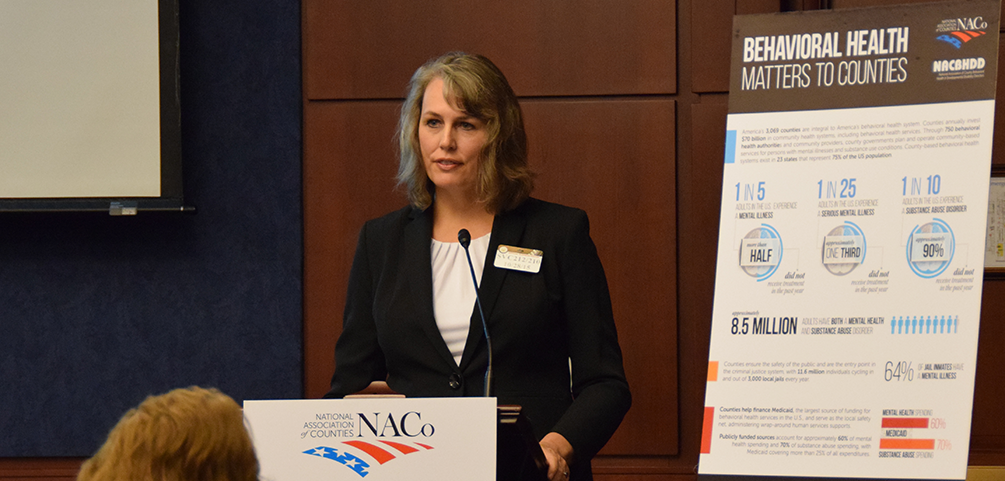 The figures may surprise you: Nearly one in five adults — or 43 million American — have a diagnosable mental illness, yet less than half receive treatment.
Nearly one in 10 — or 21 million adults — has a substance abuse disorder with only about 10 percent receiving treatment. Meanwhile, approximately 8.5 million adults have both a mental health and substance abuse disorder.
Supply is clearly not meeting demand. More than half of the nation's counties report not hav­ing a practicing behavioral health worker, according to research by the federal Substance Abuse and Mental Health Services Adminis­tration (SAMHSA).
Counties' essential role in behavioral health was the major theme of a congressional briefing hosted by NACo and the National Association of County Behavioral Health and Developmental Dis­ability Directors (NACBHDD), Oct. 28.
At the Capitol Hill event, NACo and NACBHDD presented a new fact sheet outlining why behav­ioral health matters to counties and outlined counties' priorities for behavioral health reform.
After opening remarks, NACo President Sallie Clark discussed her Safe and Secure Initiative and how counties invest $70 billion in community health systems, such as behavioral health, to keep residents healthy.
She emphasized how counties are at the nexus of health care, human services, and justice and public safety systems, highlighting NACo's involvement with the Stepping Up initiative to reduce the number of people with mental illness in county jails.
Clark urged Congress to join with counties to achieve success­ful behavioral health reform.
Cherryl Ramirez, NACBHDD president and executive director of the Association of Oregon Community Mental Health Pro­grams, provided an overview of county behavioral health systems, which exist in 23 states and serve 75 percent of the U.S. population.
She emphasized the impor­tance of sustaining funding for SAMHSA's block grants, which help support county-based pre­vention and treatment services.
Medicaid, which counties help finance, remains the largest source of funding for be­havioral health services and treatment. How­ever, Ramirez pointed at multiple challenges that counties face with Medicaid financing including the Institute of Mental Disease (IMD) exclu­sion, which prohibits Medicaid from paying for psychiatric care in facilities with more than 17 beds, and the Medicaid inmate exclusion, which prohibits Med­icaid from paying for health care while individuals are detained in county jails before they go to trial and are declared guilty. She asked Congress to enhance Medicaid flexibility to allow counties to provide efficient delivery of care at the local level.
Robert Sheehan, executive director, Michigan Association of Community Mental Health Boards and former executive di­rector of the Community Mental Health Authority of Clinton, Eaton and Ingham counties, provided a firsthand provider perspective. He highlighted how counties are tackling funding chal­lenges with innovative solutions such as developing crisis response systems that provide psychiatric emergency care. He emphasized the unique ability of counties to collaborate across agencies, and the necessary infrastructure that must be in place. He urged Congress to help counties build effective crisis response systems in order to reduce unnecessary incarcerations.
Harvey Rosenthal, the executive director of the New York Associa­tion of Psychiatric Rehabilitation Services, underscored the need to enhance the behavioral health workforce and discussed how peer support and services can help bridge the divide between demand and supply. He outlined how peer support and services, the formal process in which those with behav­ioral health conditions are able to receive help from someone who has formerly had a condition, are a valuable part of service delivery in professional inpatient and community-based services.
Rosenthal urged Congress to provide immediate technical as­sistance and training for counties to develop peer support services while they work to enhance the behavioral health workforce of the future.
The briefing preceded a Senate Health, Education, Labor and Pensions (HELP) Committee hearing on mental health the next day. Meanwhile, multiple bills that attempt to improve America's be­havioral health system await mark-up in their respective committees. The most comprehensive of these include H.R. 2646, the "Helping Families in Mental Health Crisis Act," introduced in June by Reps. Tim Murphy (R-Pa.) and Eddie Bernice Johnson (D-Texas) and assigned to the House Energy and Commerce Committee, and S. 1945, the "Mental Health Re­form Act," introduced in August by Sens. Bill Cassidy (R-La.) and Chris Murphy (D-Conn.) and as­signed to the HELP Committee. (See County News, Sept. 7, 2015, p. 1, "Mental Health Reform Bills Await Post-Recess Action.")
Leaders of both committees have vowed to make achieving behavioral health reform a priority in this Congress, and have indicated they may take provisions from mul­tiple bills and assemble them into a comprehensive package next year.
Hero 1