NACo announces National Commission on Mental Health and Wellbeing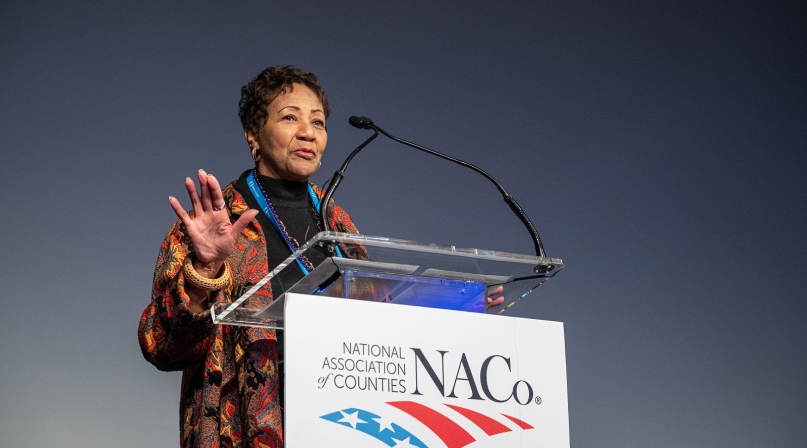 Key Takeaways
As NACo kicked off its 2023 Legislative Conference Saturday morning, NACo Executive Director and CEO Matt Chase announced the rollout of a new National Commission on Mental Health and Wellbeing to widespread applause from a packed room of county officials new to the Legislative Conference.
About 200 county officials and staff from across the country gathered for the first-time attendee orientation at the conference in Washington, D.C.
Learn more
"Regardless of your political party, your county is really on the frontlines of this battle, unfortunately – through our county jails, through homelessness, through other county services," Chase said.
"And if we want to be a great nation, we should treat our most vulnerable fellow residents with a little bit more dignity," he said. "We don't think county governments can solve this problem alone – we need private insurance, we need hospitals, we need providers, we need federal, state and local partners, tribal partners, and we want to convene and we want to drive solutions."
The 14-member commission will develop policy and programmatic recommendations at the federal, state and local levels to address systemic issues contributing to mental health challenges throughout the United States.
"But it's not about more money, it's going to be about building better systems, getting the incentives aligned, so that we're focused on outcomes and not just passing people from system to system," Chase noted. "We want to make our residents better."
In addition to Chase, members heard from NACo President Denise Winfrey, NACo Membership Committee Chair Matt Prochaska and a representative from NACo partner Nationwide. All urged the first-time Legislative Conference attendees to take advantage of their time in Washington, D.C. by making their county priorities known and discussing best practices with other officials.
"Please reach out to any member, learn what you can, take advantage of all we have to offer," said Winfrey, a member of the Will County, Ill. county board. "We're excited to have so many of you involved at NACo as first timers this year. What you may not know is that the way that NACo is able to advocate for counties across the country is through your participation, your support, your involvement. We need you to be able to do what we do for you.
"The Legislative Conference is your chance to be able to learn a lot about us, about government, about interaction between the federal government and counties," Winfrey said. "We know that as counties, we have all the responsibility, and very often, so little of the say so and the money, so this is the chance for you to put your ideas forward, share with us what you need, so that we can advocate for you at the federal level."
NACo ambassadors, who are members well-versed in everything the organization can do for counties, were seated at each table and the newcomers were encouraged to ask them questions about what to expect from the conference and how they can benefit from NACo.
"It all starts and stops with engagement – being here is that first important step," Chase said. "Make sure you read our materials, give us your stories. So, what we're really focused on is storytelling – putting the county government role into context, that we're not taking our positions from a partisan lens, we're taking our positions based on the mandated roles and responsibilities that counties have."
Related News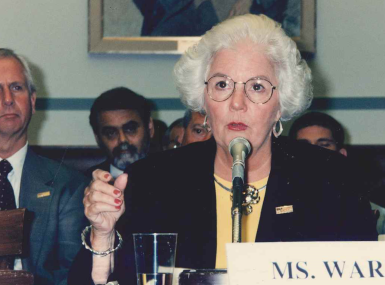 Her involvement with her children's PTAs drove Betty Lou Ward to run for the Wake County, N.C. Board of Commissioners to work to improve schools, libraries and parks.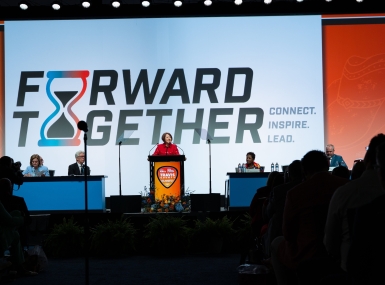 Mary Jo McGuire found a match for her skills and talents representing her Ramsey County district, and she's bringing the same all-in approach as NACo's president.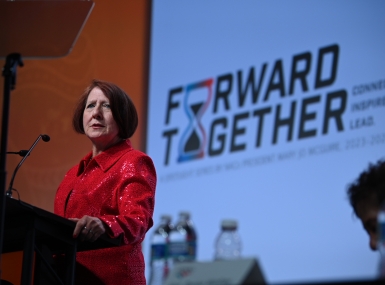 Ramsey County, Minn. Commissioner Mary Jo McGuire was sworn in as president of the National Association of Counties (NACo) on July 24 at the conclusion of NACo's 88th Annual Conference in Travis County, Texas.