LUCC members hear about importance of maternal health equity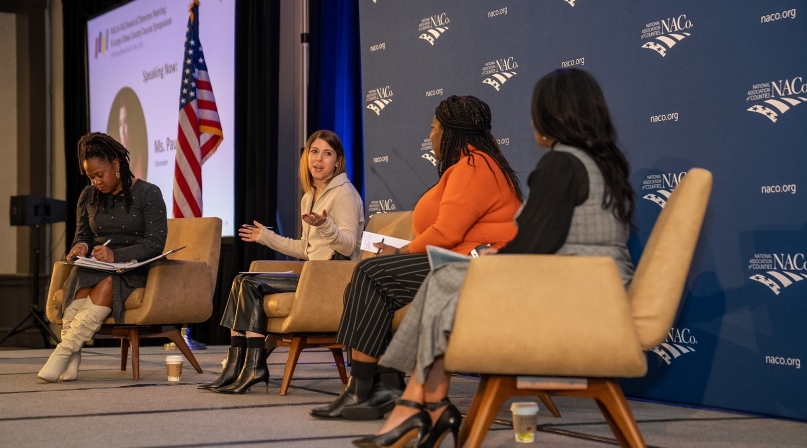 Key Takeaways
County officials from across the county gathered at NACo's Large Urban County Caucus symposium Nov. 30-Dec. 3 in a meeting hosted by NACo President Denise Winfrey of Will County, Ill. to hear about federal and local policy solutions for addressing maternal mortality.
"It's more dangerous now for us to give birth than our parents and grandparents," said Paula Eiselt, director of "Aftershock," a documentary on the U.S. maternal health crisis.
"We're in America in 2022 and women and birthing people are dying in childbirth ––we're the only industrialized country that this is happening in at these rates."
"America's urban counties play a prominent role in the lives of 160 million residents every day," said LUCC Chair John O'Grady, in opening remarks at the symposium. "We foster conditions for economic strength, build and maintain transportation systems and critical infrastructures, promote community health and well-being, champion justice and public safety and implement a broad portfolio of state, federal and local programs."
"My hope is that we can leverage this opportunity to learn from one another –– exchange ideas and discuss solutions that we can take back home to our respective communities."
In addition to O'Grady, a Franklin County, Ohio commissioner, county officials at the symposium also heard from a panel on maternity health that included Tarrant County Commissioner Devan Allen moderated the panel, which included Eiselt, Franklin County Commissioner Erica Crawley and EverThrive Executive Director Chi Chi Okwu.
Eiselt discussed the creation of her documentary, "Aftershock," which is now streaming on Hulu, and advocated for maternal mortality committees, the collection of more data surrounding the crisis as well as incentivizing vaginal births over C-sections, which contribute to around 37 percent of severe maternal morbidity cases.
"There are statistics and credible articles that talk about this epidemic, but when you see it, you see the people, the vibrancy of these women lost, their faces, their dreams," Eiselt said. "That's why we make films, so you can have a human-to-human connection –– you understand the people behind the statistics."
The issue at the core of maternal mortality is the medical system not listening to women, particularly Black women, she noted, who are three times more likely to die from a pregnancy-related cause than white women –– and she focused on two women in particular, and also looked at the long-term impact of the maternal health crisis.
"It was really important to center the film on these two women because they shatter every stereotype that we're told of the reason for this crisis –– it wasn't about their inherent health, it wasn't about access, it really was about not being heard and the systemic racism that's built into that system," Eiselt said. "We also highlight and follow the families, the two fathers, that are left behind and I want to make a point of talking about that, because the title 'Aftershock' really talks about the ripple effect of a mother's death and how that affects a family, a community and our entire country."
Okwu discussed next steps in achieving birth equity, including the importance of growing and diversifying the perinatal workforce, gathering more data on all women affected by maternal health complications –– not just those who die –– and access to doula care.
"We need to know [about] not just the people who have died, but the near misses," Okwu said. "I'm not in this work so that people can survive, I'm in it so that we can thrive. It's not enough for us to say 'Oh, they lived,' we want thriving parents … There are issues with mental health, needing more support, issues of suicide, substance use –– giving birth can be a very traumatic experience. It should not be, but it is especially in our country because we don't really provide the support needed to care for those giving birth in the ways that we need to."
Doulas are similar to midwives, but are not medical professionals –– instead, they provide emotional, informational and physical support throughout pregnancy, birth and post-partum.
Studies have found that doula care reduces racial disparities and improves the health outcomes of birthing people and is even cost effective. One study out of Oregon determined that doula care saved $91 million and led to 219,530 fewer cesarean-section births, 51 fewer maternal deaths, 382 fewer uterine ruptures and 100 fewer hysterectomies.
Doulas have only been available "to the wealthy, but it shouldn't be that way," Okwu said. "We've seen the presence of doulas really helps to reduce the anxiety around being at the hospital. As someone who is Black or brown, you experience racism within the healthcare system –– at some point, you experience some sort of adverse effect there.
"So, having someone who can advocate for you is really important –– having someone who has followed you throughout the journey to really provide that information to your healthcare provider who can be with you in the post-partum period and identify some of the warning signs [of complications related to pregnancy]."
Crawley echoed the importance of doula access, highlighting ROOTT (Restoring Our Own Through Transformation), a reproductive justice organization and doula collective in Columbus, Ohio and her recent sponsor testimony in the Senate for House Bill 142, which would allow Medicaid to provide reimbursement for doula services along with offering the services in prisons. Okwu spoke to what can be done at the local level, highlighting EverThrive's partnership with local public health organization AllianceChicago, the Chicago Collaborative for Maternal Health, which worked with local communities that saw the highest levels of maternal mortality and conducted surveys to identify the primary barriers of receiving adequate access and care, including non-healthcare related elements like transportation and paid sick leave.
Crawley shared her own personal experience with maternal health complications following an emergency C-section, how she was brushed off by the medical system and how it's shaped her priorities as a county commissioner.
"I happened to be lucky, but I was traumatized and I didn't speak about my pregnancy until I ran for office in 2018," she said. "If maternal and infant health were going to be my platform, I had to share my experience, but I had not heard of anyone else who had had a traumatic experience like I had, so that's how I've come to this work."
Franklin County's CelebrateOne, which launched the Health Equity Innovation and Birth Centers Initiative in 2021, can serve as a model for other counties, with initiatives like the Healthy Beginnings research project which assesses the impact of providing rental assistance with housing stabilization services to the county's pregnant population. Franklin County is investing $1 million into CelebrateOne going into 2023.
Related News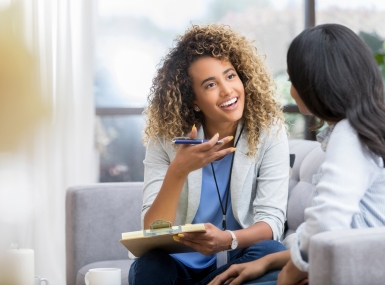 On November 13, members of NACo's Commission on Mental Health and Wellbeing sent a letter to the U.S. Senate Committees on Finance and Health, Education, Labor and Pensions. The Commission called on Congress to support counties in delivering high-quality, assessible mental health services to address residents' comprehensive behavioral health needs in any mental health legislation package.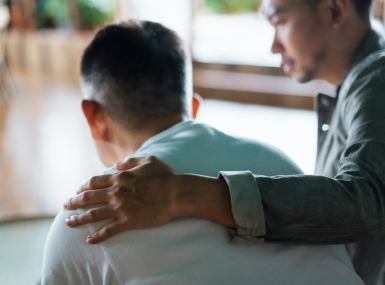 Senators launch the Bipartisan Mental Health Caucus, a promising partner for NACo's Commission on Mental Health and Wellbeing in advancing crucial mental health policy.