Day Three -- July 24
Educational  workshops dominated Day 3 of the conference. Their topics mirrored the broad range of issues and responsibilities counties now face in an increasingly complex world.  Attendees participated in sessions that examined ways to combat human trafficking; deal with the public health threat from the Zika virus; protect employees and citizens from active shooters and manage data.in strategic, meaningful ways.  
Altogether there were more than 20 sessions scheduled throughout the day, including a new conference series, called  "County Talks," which showcased NACo corporate members and the solutions and products they offer counties.
NACo's Board of Directors met and approved more than  a 100 policy platform changes and resolutions.The policy recommendations will be presented to the membership for a final vote at the Annual Business Meeting and Election tomorrow,
Workshops
A mock press conference highlighted the workshop Are You Prepared for a Media Storm? After Lori Hudson, Hillsborough County, Fla. Communications manager at Hillsborough County, advised attendees on how to respond in an emergency scenario, two guinea pigs volunteered to undergo a brief media training before fielding questions from pretend reporters.
Hudson had stressed to importance of preplanning for the type of known emergencies a county might face, from hurricanes to sinkholes to mass shootings. The workshop was conducted by the National Association of County Information Officers.
Among the keys to responding during a crisis are having the right messenger in the right place at the right time.
Other advice included:
Out of the gate, express sympathy and concern for the victims and their 
Stay in your lane; don't answer questions that rightly should be answered by someone with the proper expertise.
Be prepared with the information you anticipate that reporters will ask about, such as the number of victims, extent of damage (if known or when known), protective actions for citizens and where residents can find assistance such as shelter.
Determine the 3-4 key points you want to communicate to the media. Know in advance the things you won't say, things you'll say if asked and things you will not say, such as speculating about "what if" questions.
Write out your key messages, practice speaking them out loud, and practice staying on-message.
NACIO has resources available for county public information officers and spokespersons at www.nacio.org.
"Disclose, disclose and disclose some more" is the advice that Mary McCarty, a former Palm Beach County Commissioner, gave county leaders in the workshop Ethical Leadership: Lessons Learned to Keep you out of Prison. "The more you put on the public record, the more you're protected."
She learned the hard way. In 2008, McCarty pleaded guilty to federal charges of honest services fraud and was sentenced to 42 months in prison, of which she served 22 months.
"One thing that I know was that ignorance of the law is not a defense," she said. "What I didn't know was how many laws there were that you could  be ignorant of."
She believed that when she voted on an issue that benefited the company her husband worked for -- but didn't directly benefit her spouse -- that there was no conflict of interests to disclose.
Speakers said that since 1985, Congress has systematically been doing away with the requirement for  "criminal intent" in honest services fraud and other ethics violations.
"I always thought you needed to have committed a crime to be guilty of one," McCarty said. "I may have been stupid; I may have been careless, but I knew that I never ever set out to commit a crime."
During a question and answer session, a former prosecutor and district attorney said public officials are often the target of overzealous prosecutors. "As a former prosecutor," he said, "I can tell you there is a tendency (for some) to want to be known in the papers for prosecuting and going after public corruption, and I've seen overzealousness -- not by all but by some -- and so there is a target on your back."
While Los Angeles County gets to play host to the annual conference, Supervisor Don Knabe has been using the bully pulpit to bring attention to a human trafficking, and the shifts in thinking needed to combat it.
"There's no such thing as a child prostitute; they're victims," he said. "These men aren't johns, they're child rapists.
"I always thought this was something that happened overseas, in Thailand, but it's happening (everywhere)."
Several participants in the system described how things work in LA County in Identifying and Preventing Human Trafficking in Your County.
That change continues with how the victims are treated, especially by law enforcement.
"We were doing broken-window theory, making arrests, and we thought we were doing a fantastic job," said Long Beach Police Department Sgt. Eric Hooker. "The arrests are what we were looking for, but now instead of arresting them, we talk to them and see what happens. We tell them 'We want to help you and see where we can take you from here.'"
Los Angeles County adapted its human trafficking protocol from a model in place in Washington state.
"California isn't a decriminalization state, but we wanted to treat this with a non-criminal response," said Michelle Guymon. "We decided that social service agencies would have 90 minutes to respond when an officer calls, and we try to honor that to show the victims that we will do what we say."
And it's necessary to have involvement from other departments and agencies, such as the nonprofit Saving Innocence, which supplies victims with supplies and advocates to accompany them for up to nine months after they are removed from the trafficking environment.
Amber Davies said with the social workers spending most of their time coordinating services for the victims, Saving Innocence fills in a gap.
"This isn't the work of convenience," she said. "Sometimes the difference is made at 2 a.m. We have to show up at all hours. When they need somebody, us being there is what makes the difference, that's how they can start being able to make trusted relationships."
Mass shootings happened in the old days, just not as frequently. And now they're rightfully on the top of many minds in county government.
"If you don't train, it could the be end of your county as you know it," said Darry Stacy, a Cleveland County, Okla. Commissioner, during Best Practices in Active Shooter Preparedness.
Tom Connell, senior product manager Tyco Fire Protection Products, pointed out that the last 17 years have seen as any casualties of mass violence as the prior 100.
But he kept it in perspective.
"Just .03 people out of 100,000 people will die in an active shooter incident," he said. That said, "There is no way we can stop every person who really sincerely wants to do harm to his fellow man. We can prepare, we can plan how we're going to respond, how fast, how effectively. In that response we can save lives that otherwise would have been lost."
That response has to be focused inward, Stacy said, "When things happen in seconds, the police are minutes away."
Robert Kagel, Chester County, Pa.'s director of emergency services, said counties should address the aftermath of an active shooter incident
"After two or five minutes, how are you going to bring structure to chaos?" he said. "What happens after the threat has been neutralized?"
He recommending designating shelter-in-place locations, developing reunification plans for staff, family assistance services and ensuring continuity of government operations
James Overton, chief of police for the University of Massachusetts at Boston, said getting facts out ahead of the media is important, which he saw when one of the Boston Marathon bombers was erroneously reported to have been a student at his campus.
Todd Gibson, a retired from Norman Oklahoma swat team officer and a partner, with Stacy, in Centurion Security,  said the lowest level county employees have to be as well-trained as the commissioners, to the point where they can be the leaders if members of the public are trapped during an active shooter incident.
"The police officer certainly knows what to do," he said, but does the administrative assistant on the second floor know?
And mid-day, Achievement Award winners like these from Leon County, Fla. were recognized at a luncheon held today in their honor.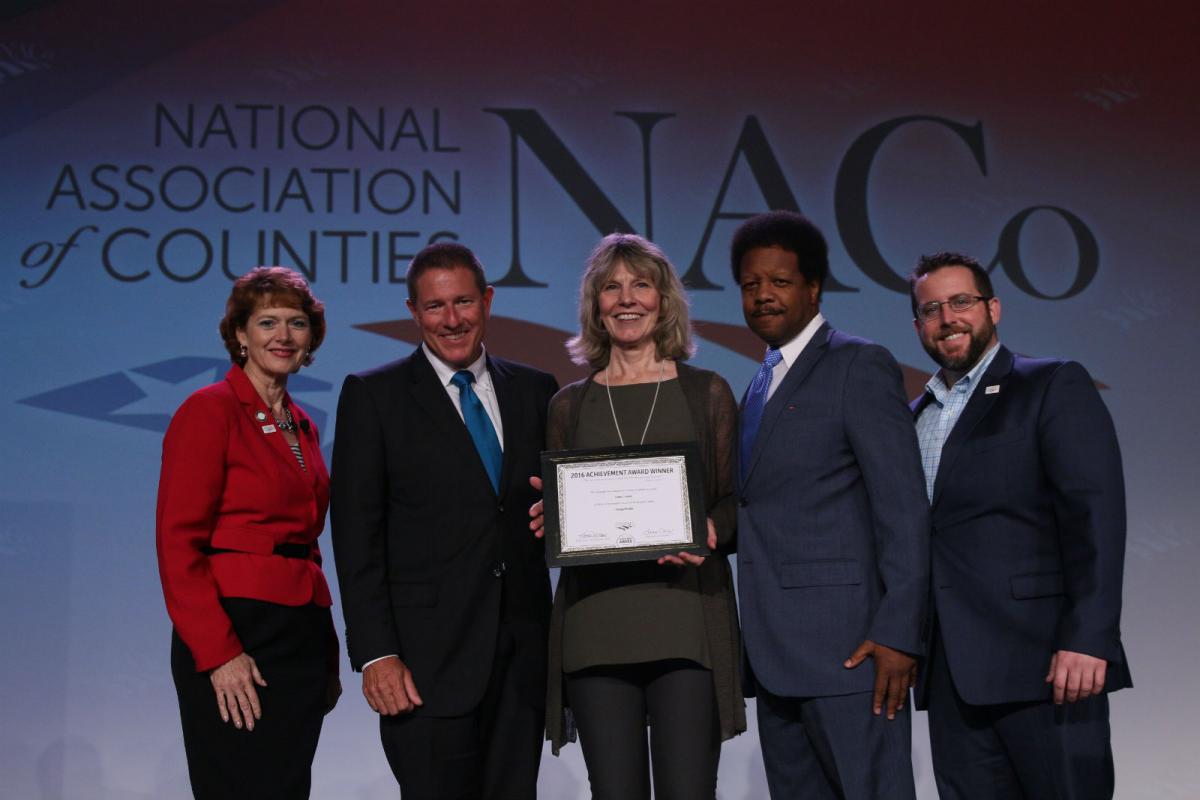 Hero 1