Day Two at the NACo 2017 Annual Conference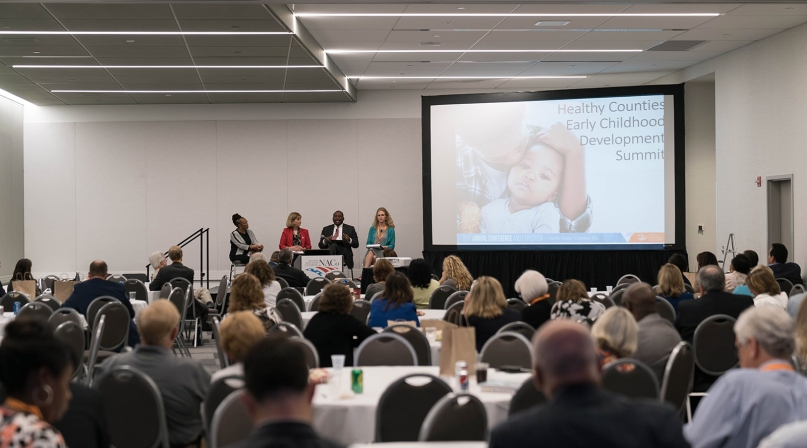 The conference formally opened this afternoon with remarks from USDA Secretary Sonny Perdue and Orange is the New Black author, Piper Kerman. Also on tap: a conversation about the aerospace industry's impact on local economic development with Todd May, director of NASA's Marshall Space Flight Center and Dr. Marla Perez-Davis, deputy director of the John Glenn Research Center.
Other highlights included the Tech Town Hall, a several-hour mix of discussion and presentations focused on how counties use technology, and the Healthy Counties Early Childhood Summit, which explored how counties are implementing policies that support healthy starts for children.
Watch this space for updates.
General Session
SONNY PERDUE
At the opening general session, Secretary of Agriculture Sonny Perdue addressed, head on, a subject that had festered with NACo — his elimination of the undersecretary for rural development.
As his confirmation crept in February and March, he decided that the slow pace of the federal government, including his undersecretaries' pending confirmation processes, would be ill suited to his and President Trumps' temperaments.
"I don't like the bureaucratic process," he said. "I thought it was best to have someone who has direct access to me, they could walk into my office and say 'here are proposals we need to work on quickly.'"
Though he took issue with NACo's appeals to Congress about his streamlining, he was ready to get to work with counties in his new role, something he was accustomed to as governor of Georgia from 2003–2011
"You all need to know, I'm a forgive and forget kind of guy," he said. "I hope that's behind us, I want to be accessible."
He said his administration of the Agriculture Department would focus, like much of Trump's, on eliminating regulations, but also on quality of life issues in rural America, involving housing, water quality, health care--both in terms of access to care and treatment of opioid addiction, and broadband Internet access.
"We won't keep kids in rural areas if we don't have the connectivity they see when they visit their cousins in cities," he said. "And we can't do precision agriculture without connectivity."
Maintaining a reliable workforce through a legal guest worker program is also a priority for him.
So, too, is success that can reinvigorate passion for rural America.
"Momentum is important in a community," he said. "There's enthusiasm, passion goes viral across the U.S. to know we have a succeeding generation," in rural areas.
Next stop: Mars
Space may be the final frontier, but right now, NASA is busy in counties across the country building its biggest rocket ever. Dubbed Space Launch System or "SLS," the rocket now under development would be the most powerful rocket ever built, able to carry astronauts in NASA's Orion spacecraft on deep space missions, including to an asteroid and ultimately on a journey to Mars.
NACo members heard firsthand about NASA's rocket from Todd May, director of NASA's Marshall Space Flight Center in Huntsville, Ala., who spoke to NACo members Saturday afternoon at the General Session.
Before the discussion on stage, the lights were dimmed and NACo members watched a short video about the rocket; the rumbling sound from the video made the room feel like it might lift off at any moment. "Counties do great with sound. I can almost drop the mike and walk away," May said.
May and Marla E. Pérez-Davis, who serves as the deputy director of the National Aeronautics and Space Administration's John H. Glenn Research Center in Cleveland, talked about the rocket and how parts of it are being built all over the country, in a discussion moderated by Mobile County, Ala. Commissioner Merceria Ludgood. May said he's enjoyed meeting county officials from all over the country.
"I met a gentleman, Larry Phillips from North Carolina," May said. "He pointed at the rocket and said 'I built a phone for that.' He said it was really good for North Carolina and that they are good-paying jobs. When we solve these really hard problems we push the innovation economy forward."
SLS is expected to see its first unmanned launch in 2019, and its first manned launch sometime between 2021 and 2023. NASA will have spent $23 billion on the rocket by Sept. 30.
Tech Town Hall
RETIRED GENERAL SAYS COUNTIES ON FONT LINES
It was a sobering picture presented by retired U.S. Marine Corps Gen. John R. Allen at the Tech Town Hall, Saturday. America is threatened by state and non-state actors intent on penetrating the nation's institutions in order to sow suspicion and discredit institutions at the heart of democracy such as America's electoral system.
Allen, a four-star general, served 45 years in military service, including stints as deputy commander of U.S. Central Command, and commander of the International Security Assistance Force and U.S. Forces Afghanistan.
There is no doubt in his mind that Russia breached election systems in 39 states before last November's election and hacked the email accounts of 120 election officials the night before the election began.
In a wide-ranging presentation he showed how a group of nations and non-state actors, he labeled the "4 + 1 + 1" — Russia, China, Iran and North Korea plus ISIS plus transnational criminal organizations — have taken to cyber warfare for profit and power.
North Korea, for example, was behind the world's largest ransomware attack in May, the WannaCry virus. China, too, has engaged in cyber crime, breaking into 115 U.S. corporate IT systems and stealing unsecured information. "Don't be surprised if China's new J-20 fighter jet looks a lot like our F-22," he said.
Iran is thought to have 150,000 individuals engaged in cyber warfare and espionage, while ISIS cunningly uses social media to recruit members and confuse opponents.
But the greater threat comes from Russia. "Russia has the know-how and experience to execute a future disruptive attack on U.S. elections," he said. Its "intent is to penetrate to the lowest level of the American voting systems."
Russia also probes the country's SCADA systems looking for weaknesses. SCADA systems are used to monitor and control plants or equipment in critical industries such as telecommunications, water and waste control, energy, oil and gas refining and transportation.
"They'll go where we're weak and plant beacons in the system to report back on its continuing vulnerability."
In military terms, "what we're seeing is preparation of the battlespace."
This all leaves America's counties on the front lines with little hope of help from the federal government. "There's not yet a cyber cavalry system — no one's coming over the hill to help you when your systems have been compromised."
He closed with the same sentiment that he opened his presentation with:
"Our democracy is under attack and you are the people who will defend it.
More Meetings:
KEEPING THE FAITH
Faith-based organizations got a shout-out Saturday morning from members of NACo's Rural Action Caucus (RAC). The members, whose counties represent a population of 60 million, said that faith-based and non-profits are what they turn to outside of county government, when they are looking to combat poverty in their communities.
Blue Earth County, Minn. Commissioner Drew Campbell touted a group called Faith in Action for its role in helping everyone from the elderly to the disabled. "They help with childcare, doing taxes for the community, getting people to work," he said, noting the group has 100 volunteer drivers. The group gets some of its funding from the county, he said. "The faith-based initiatives need our support."
In all, 63 percent of those who took part in an instant poll at the RAC meeting said they turn to faith-based groups or non-profits for help when looking to solve poverty problems.
YEP, WE'RE STILL TALKING BROADBAND
It was a baptism by fire Saturday morning for Anne Hazlett, six weeks into her new position as assistant to the secretary for rural development at USDA. After she finished her speech to members of NACo's Rural Action Caucus, she asked for input, and she got it.
Pender County, N.C. Commissioner Jackie Newton and several other frustrated county commissioners couldn't help but bring up the topic of broadband. "I think it is patently absurd that federal government licenses the entities that provide Internet service but cannot somehow partner one way or the other with the agencies that impact the rural areas," Newton said.
Newton said she watches families drive miles to pull up to her office and use her wi-fi so kids can do their homework. "Is this who we are? Is this what we've come to?" Newton asked. "Something's got to be done. We're at crisis mode. It's no more 'please' and 'thank you.'"
Lynn Padgett, director, Government Affairs/Natural Resources for San Miguel County, Colo., was applauded by the RAC audience when she suggested that companies that provide broadband ought to be defined as utilities.
Hazlett acknowledged the importance of broadband in her speech, saying that it is "no longer an amenity," and noted its importance to jobs, education and healthcare. She said the administration is hoping Congress funds a new Rural Economic Infrastructure Fund that could partly be used to fund broadband.
COMING IN LAST SPURS ACTION IN MECKLENBURG COUNTY, N.C.
After a pair of Harvard economists ranked Charlotte, N.C. 50th out of 50 big cities for economic mobility several years ago, Mecklenburg County Commissioner Trevor Fuller says that was incentive for the region to try to do something about it.
"The Harvard study mobilized everyone — why were we 50th on the list and what are we going to do about it?" said Fuller, who took part in a panel discussion Saturday afternoon at NACo's annual conference in Franklin County, Ohio.
The discussion was part of a meeting called the Healthy Counties Early Childhood Lunch Summit and included a talk by Ross Thompson, PhD, professor of psychology at the University of California, Davis, who discussed brain development and Rob Grunewald, an economist with the Federal Reserve Bank of Minneapolis, who talked about the return on investment when funding programs for children from prenatal on up.
Fuller said a task force made up of members from Mecklenburg County's non-profits, businesses and education studied the problem of why the city came in 50th out of 50 and are recommending universal pre-kindergarten as an answer, Fuller said.
The Charlotte Executive Leadership Council has decided to adopt the project and last fall announced $500,000 in financing to help figure out how to make it a reality. A U.S. Department of Education Pay for Success grant for $300,000 has also been kicked in.
Related News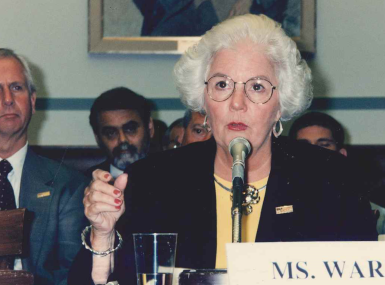 Her involvement with her children's PTAs drove Betty Lou Ward to run for the Wake County, N.C. Board of Commissioners to work to improve schools, libraries and parks.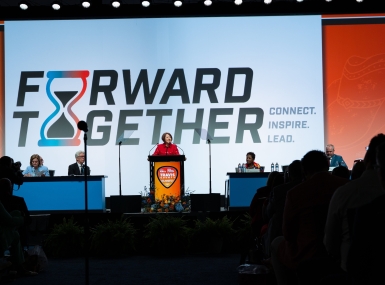 Mary Jo McGuire found a match for her skills and talents representing her Ramsey County district, and she's bringing the same all-in approach as NACo's president.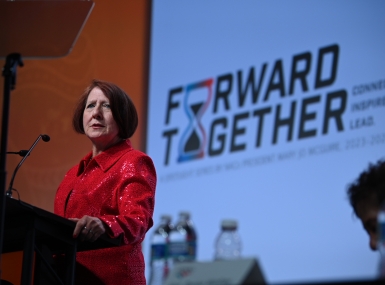 Ramsey County, Minn. Commissioner Mary Jo McGuire was sworn in as president of the National Association of Counties (NACo) on July 24 at the conclusion of NACo's 88th Annual Conference in Travis County, Texas.