Day Three at the 2017 NACo Annual Conference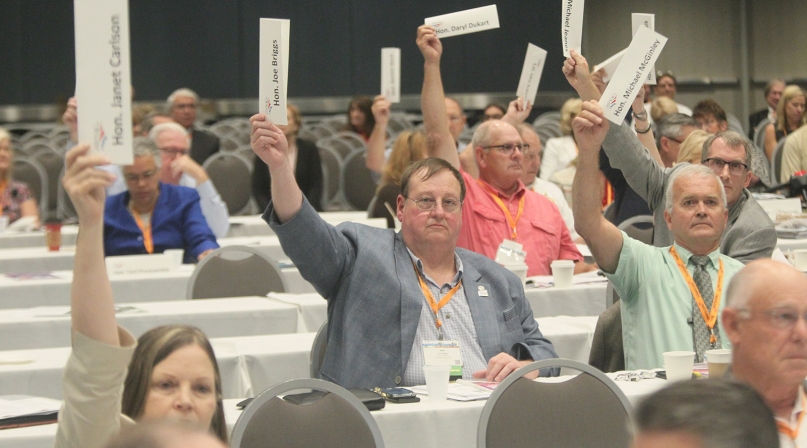 At the heart of today's schedule were dozens of sessions on topics ranging from leadership skills, intelligent transportation and regional connectivity to marijuana regulation and public entity cyber risks.
Add to the action: the Board of Directors met and approved dozens of new policy resolutions, NACo's premier Stepping Up project held a series of summit sessions; a Resilient Counties Forum was on deck and a late afternoon Opioid Town Hall and Solutions Exhibit ended the day's official schedule.
Watch this space for updates.
Opioid Epidemic Townhall
Who ya gonna call?
When a disaster strikes, sometimes the aftermath is overwhelming and too much for a county to handle on its own. That's when you call in the experts.
When Cleveland County, Okla. Commissioner Darry Stacy was elected in 2013, he had no idea he and his fellow commissioners would be dealing with the devastation of an E-5 tornado clocking 210-MPH winds in a few short months.
"It killed 24 people and did $2 billion damage — it was absolutely devastating," he told an audience Sunday morning at NACo's Annual Conference in Franklin County, Ohio, at a forum on resilient counties.
Stacy had worked disasters before as a longtime member of the Norman, Okla. Police Department, but as an elected official, this was different, he said. "This was going to be an ongoing process, not just a few days."
As the county began working with the Federal Emergency Management Agency and other federal agencies, "I soon learned we were in over our heads," he said.
After first turning to a local engineering company but finding they were "making promises they couldn't cash," Stacy said, the county turned to a non-profit called IBTS or the Institute for Building Technology and Safety. "It was one of the best decisions we made as a county," Stacy said. IBTS helped them maneuver through the labyrinth of red tape necessary to get the county and its residents back on their feet.
Stacy reminded the county officials in the room: "Your next election is based on your last disaster. How people recover…that's the impression that will be left on your community."
'Put your gadgets away'
Ellie Nieves, told a standing-room-only crowd Sunday morning at NACo's Annual Conference that it's important to "be liked."
"Likeability is not being liked just to be liked," said Nieves, speaking at the Leadership Strategies for Women in Government meeting. "It's because you can't do your work alone. You need partnerships."
How do you make those important contacts? First, you've got to put your gadgets away, she said. "Smile more, it's an invitation to connect. Make eye contact. Develop emotional intelligence."
Nieves also asked participants to ask each other: "What are you known for?" to help them discover their personal "brand,' a la McDonald's or Starbucks.
Audience member Becky Belt, finance officer with the Pottawattamie County, Iowa Auditor's Office, said she's known as a "people pleaser." She's the person her office turns to when sticky problem calls for one-on-one negotiating skills, she noted.
"Think about what you want to stand for," Nieves said. "Starbucks wanted to be known as 'the third place' in addition to home and work. Think about your story. It's part of your brand. What is your unique voice? What do you want to be known for?"
Going solar
Newly designated SolSmart Counties were announced Sunday at NACo's Annual Conference in Franklin County, Ohio. The 2017 SolSmart County Challenge is a component of the larger SolSmart program, funded by the U.S. Department of Energy's SunShot Initiative. The program aims to aggressively drive innovation to make solar energy fully cost-competitive with traditional energy sources.
The SolSmart program recognizes solar-leading communities across the country, while empowering counties and cities to become more solar-friendly through no-cost technical assistance.
The following counties were recognized Sunday at NACo's Resilient Counties Forum for adopting programs and practices that make it faster, easier and cheaper for their communities to go solar:
GOLD
Sonoma County, Calif. (First-place, SolSmart County Challenge)
Pima County, Ariz. (Runner-up, County Challenge)
Adams County, Colo.
Charleston County, S.C.
Washington, D.C.
SILVER
Linn County, Iowa
Orange County, N.C.
BRONZE
Albemarle County, Va.
Athens-Clarke County, Ga.
Contra Costa County, Calif.
DeKalb County, Ga.
Franklin County, Ohio
Marin County, Calif.
Miami-Dade County, Fla.
Will County, Ill.
Gaining citizen buy-in
When Palm Beach County, Fla., needed to raise its county sales tax from 6 cents to 7 cents to repair infrastructure, the county invited the media on a tour to see the county's crumbling roads and bridges. The county mayor talked to reporters while holding a chunk of concrete in her hand that had fallen off a bridge.
Palm Beach County Administrator Verdenia Baker told NACo members Sunday afternoon at a standing-room-only meeting on "How to Gain Citizen Buy-In," that inviting the media on the tour was just one piece of the pie that helped the sales tax pass in November.
The county also spent time educating voters at church, home owner association and chambers of commerce meetings, identifying specific projects and infrastructure that would be fixed. An interactive website, onecountyonepenny.org, was created to show users where the planned renovations were located.
The county also shared all of their financials with local newspapers and got an endorsement for the sales tax from the largest newspaper in town. "Transparency was paramount," Baker said.
The tax proposal passed in November, getting just under 57 percent of the vote.
The sales tax, which went into effect in January, is split between the county, 39 municipalities and the school board. The tax will sunset after 10 years or $2.7 billion, whichever comes first.
Also at Sunday's packed meeting were Auditor Karl Keith of Montgomery County, Ohio and Auditor Michael Montplaisir of Cass County, N.D.
The 7 attributes of effective leaders
Growing up in Utah, Brian Muir was the eldest in a family of 12 children. "We had one bathroom for 14 people," he told his NACo audience Sunday afternoon.
"We passed down the paper route and washed our own clothes," he said at a meeting about effective leadership. "That was my first lesson in leadership."
In his talk Sunday with county officials, Muir unveiled the seven attributes of effective leaders:
They are visionaries. "The alternative," he said, "is mediocrity. Who wants to say 'We are the most average county in the world, isn't that great?'"
They are versatile communicators. "They're good at Facebook posts, they're good listeners, they're good at talking to Millennials," Muir noted. "And a good metaphor is worth a thousand pictures."
They are unifiers. "They build high-quality relationships," he said. "That's how you get trust."
They're good teachers. "Don't jump in and solve everything," Muir said. "They teach people to solve. You don't have to make everything better."
They are goal achievers. But Muir noted that goals must be specific. "Without a measurable goal, you can't hold yourself accountable."
They are knowledgeable and skilled.
They are value-driven and need to communicate those values.
Muir is the founder of The James Madison Group, Public Leadership Academy.
The Gig Economy: The Rise of the Freelance Workforce
The gig economy is not new — ask any freelance writer, babysitter or bass player — but the proliferation of technology platforms that replace the middleman between the service provider and the customer has made it an increasing part of the American, and global, labor market.
At the same time, the federal government has not yet agreed on a definition, and the most recent research by the Bureau of Labor Statistics was published in 2005, long before the gig economy transformed into its current state.
"It's a global trend, but there isn't good data," said Molly Turner, a University of California lecturer who worked for Airbnb. "It's not going away, it's going to continue to grow."
The gig economy breaks down into the service sector — ridesharing, labor — that draws lower income people who have few other job options, and the goods sector — Airbnb, Etsy — for whom gig income is nice to have but not their primary source of earnings.
A study by the Pew Research Center found that 26 percent of Americans reported earning money from the digital platform economy.
"Now is a good time for counties to take stock of their gig economy workforce and pilot creative solutions," Turner said. "If you formally recognize this kind of work and help people understand that this is real work, they are more likely to pay their taxes.  A lot of this can be done under the table."
Trevor Brown, dean of the John Glenn School of of Public Affairs at Ohio State University drew on his reflections of his students, many of whom are beginning to use their education to begin careers as entrepreneurs, rather than public servants.
"To contextualize it for the public sector, it's a reflection of declining faith and trust in institutions," he said. "You see rise of tech platforms, you also see disenchantment with a single employer."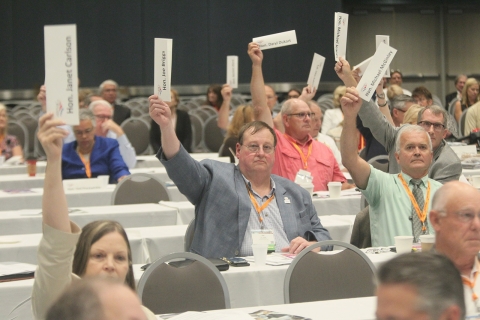 Related News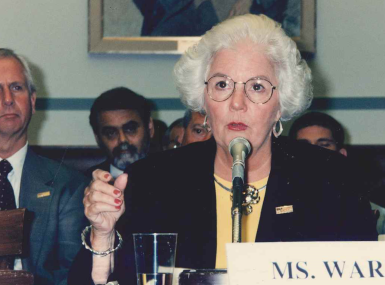 Her involvement with her children's PTAs drove Betty Lou Ward to run for the Wake County, N.C. Board of Commissioners to work to improve schools, libraries and parks.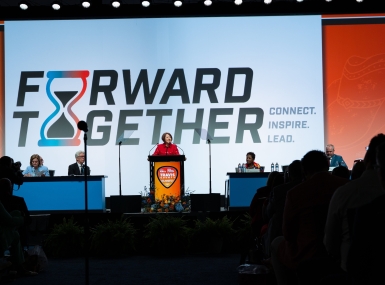 Mary Jo McGuire found a match for her skills and talents representing her Ramsey County district, and she's bringing the same all-in approach as NACo's president.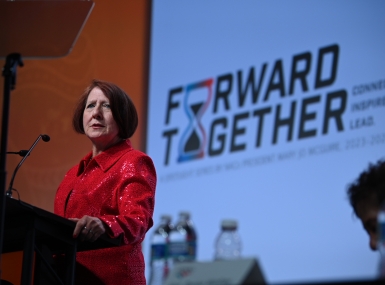 Ramsey County, Minn. Commissioner Mary Jo McGuire was sworn in as president of the National Association of Counties (NACo) on July 24 at the conclusion of NACo's 88th Annual Conference in Travis County, Texas.