In the face of rising state and federal mandates, decreasing state funding to counties and multiplying state limitations on the ability of counties to raise revenue, performance metrics have become especially important for counties. From running local health departments to overseeing elections, counties deliver a variety of services and represent an industry of half a trillion dollars in annual operations.
Evaluating programs can help streamline existing processes and better manage limited resources, but, more importantly, tracking performance allows residents to see the results of ongoing county efforts, ultimately increasing trust in county leadership.
Tell Us More

If you implemented a successful performance metrics process in your county, please send us the details. 
The NACo Counties Futures Lab recently released a report entitled, Building Trust: Performance Metrics in Counties. The report explores how counties are tracking performance and using performance metrics to improve services to residents.
Alongside its analysis of performance metrics across the country, the report includes four case studies — Prince George's County, Md., Catawba County, N.C., Douglas County, Nev. and McHenry County, Ill. — that feature specific county performance evaluation processes in detail.
No two counties are the same, resulting in a variety of methods to evaluate performance. Based on its specific situations, each county government selects the focus of their performance evaluations, the way they will organize their performance tracking process and the way they will use the evaluation results.
Most counties have some type of formal performance evaluation. According to live polls and a survey of appointed and elected officials conducted by NACo in 2017, 84 percent of respondents mentioned that their county tracks performance. Most often, counties use their performance evaluations to identify priorities for future budgeting or to identify demand for county services (see Figure 1).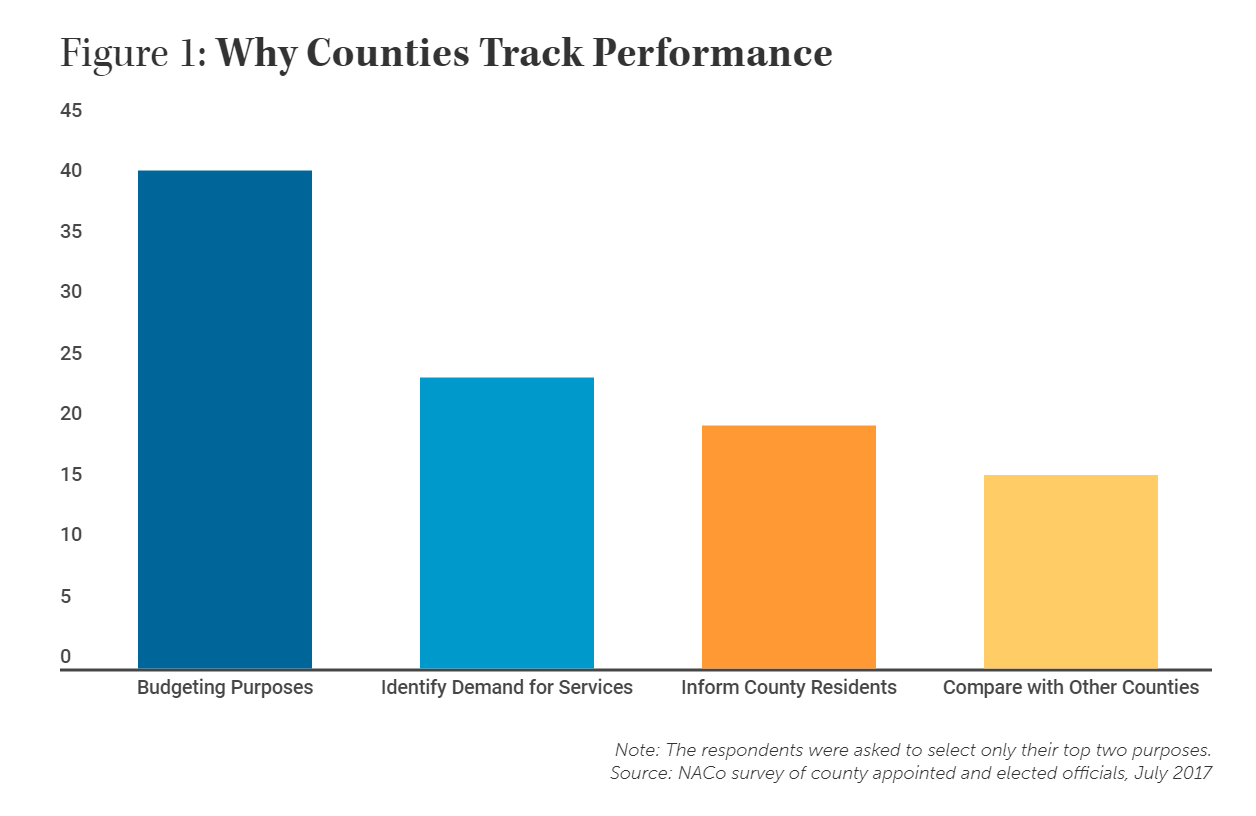 A formal process for managing performance comes with its own difficulties. Through the survey and live polls, NACo identified the top two challenges for counties: collecting the data needed to measure performance; and creating the right performance metrics and measures.
Each department within a county generally conducts its own performance evaluation, which can result in differences in the structure of performance reporting across departments. Sometimes, counties contract a third party or create a specialized unit within the county (such as a "CountyStat" program) to work with the county departments to organize the performance measurement process.
County leaders can tailor the performance evaluation process to better meet the needs of their county government and its residents. With their county's priorities and resources in mind, county leaders can decide on what they should focus for performance tracking, what kinds of metrics to track, how to organize the process and how to use the evaluation results to manage performance.
Building Trust: Performance Metrics in Counties features four key takeaways to help counties improve their performance measurement processes and better serve their residents:
Match performance metrics with county priorities
Strong support from county leadership is of paramount importance
Integrate performance metrics in the county budget system, and
Performance metrics are tools, not end goals.
Tracking performance helps counties identify ways to improve the quality and efficiency of their services to residents. An effective system to measure county performance may increase transparency and accountability, and, ultimately, build trust between county leaders, employees and residents.
Hero 1