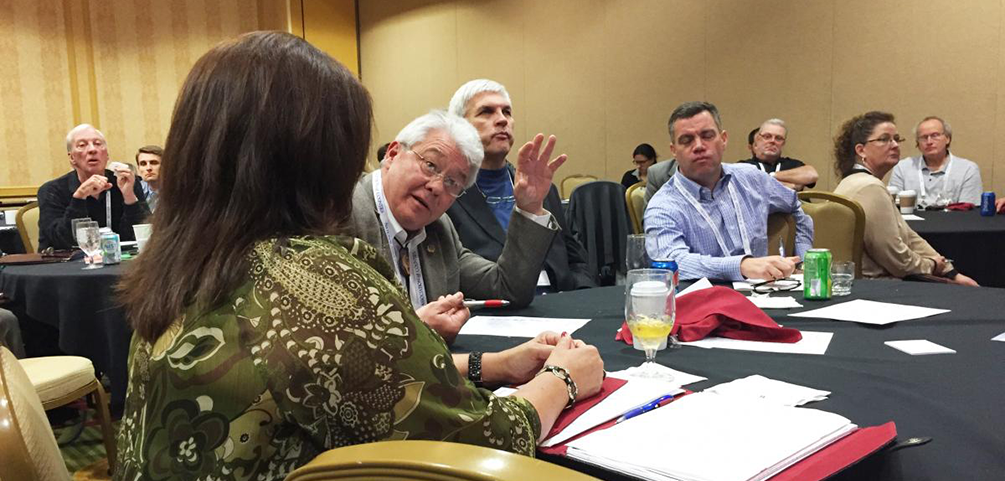 Coal-reliant communities come in many forms — a region needn't have a shuttered mine to fit the defini­tion. Waning reliance on coal-fired power generation is also taking a toll in regions where plant shutdowns strike a blow to the economy. While largely an Appalachian issue, the decline of coal can also adversely impact related industries in regions from New Mexico to Michigan's lakeshores.
The Innovation Challenge Work­shop for Coal-Reliant Communi­ties, held in Charleston (Kanawha County), W.Va. Nov. 18–20, made that abundantly clear. It also illumi­nated strategies that have worked in communities which have lost other types of industries and jobs, and how they charted a course to economic recovery.
"We need to be prepared for the future, because we don't know what that holds for the coal industry," said Rich Fink, a former coal miner and retiring Armstrong County, Pa. commissioner. George Skamai, who will succeed Fink, said he'll take home lessons that are "applicable throughout many of the industries that we have in our county."
Third in a series of three, the Charleston workshop — like the others in Pikesville, Ky. and Grand Junction, Colo. earlier this year — was organized by NACo, the Na­tional Association of Development Organizations (NADO) Research Foundation and the U.S. Eco­nomic Development Administration (EDA). Participating teams included county elected officials and staff, local and regional economic development professionals, and private sector representatives.
In one session, Chuck Fluharty, president and CEO of the Rural Policy Research Institute, said that in natural resource extraction re­gions — be it coal, oil or natural gas — communities must prepare for the "'natural resource curse' … because at some point, the last tree is cut down and at some point, the last ton of coal has been mined." Even when an industry is booming, host communities should be planning for the future by asking three questions, he said: innovating what, diversifying how, transitioning where? "These are tectonic 25-year questions, and they should happen before we've got some major wicked problems that regions are going to have to deal with."
Taylor Stuckert, executive direc­tor of the Clinton County Regional Planning Commission in Ohio, shared his region's recovery experi­ence, not from coal gone bust, but from the economically devastating closure of a DHL shipping facility in 2008 and the loss of almost 10,000 jobs. It was a disaster as real as any ice storm or tornado, he said.
"We were very intoxicated on this facility, on this employer. So for many years we lacked an identity or a vision for the future," he said.
In 2008, he and a friend co­founded Energize Clinton County with an eye toward "re-localizing" rural communities using community-based solutions. Seven years on, its initiatives have focused on a buy-local movement, environmental sustain­ability and developing young leaders.
Common themes echoed by presenters throughout the three-day workshop were transition planning for economic recovery, the value of public-private-nonprofit partner­ships, the need for broadband expan­sion and how to use data effectively.
Brian Kelsey, economic develop­ment consultant for NADO, led a session on using data to develop and visualize economic diversification strategies, free access to which has exploded in recent years.
"Fifteen years ago," he said, "we were all kind of wringing our hands about not enough data. Now the challenge is … sifting through the noise and finding the signal. Open data, big data — hone in on what matters and is useful."
For the home team from Kanawha County, the challenge they face includes an idled coal-burning power plant, which cost the county 100 jobs. Related industries are also suffering; one of the county's biggest trucking companies went bankrupt. The county is the second largest coal producer in the state.
A team led by the West Michigan Shoreline Regional Development Commission has a similar problem that could affect a regional port in Muskegon County. A decrease in coal shipments, due to a closed power plant, threatens a drop in tonnage below the Army Corps of Engineers' threshold for dredging shipping channels.
Participants from Virginia's New River Valley region, including Giles County — another power plant closing victim — are exploring an adaptive reuse of the facility. The region is also capitalizing on being an outdoor recreation destination; 50 miles of the Appalachian Trail runs through the county.
Doug Lynott of EDA touted the availability of grants from the Obama Administration's POWER (Partnerships for Opportunity and Workforce and Economic Revi­talization) Initiative. He manages the program that makes planning and implementation grants to aid communities adversely affected by changes in the coal industry and power sector.
The Northwest New Mexico Council of Governments Economic Development District, whose team attended the workshop, was recently awarded $327,300 for a study in the Four Corners region (where Arizona, New Mexico, Utah and Colorado meet) to study the impacts of the coal industry in and around the San Juan Basin, and assess op­portunities and barriers to regional economic diversification. Cibola, McKinley and San Juan counties are members of the district.
"This is not a zero-sum proposi­tion we're talking about. This is not one industry versus another; it's not one region versus another," Lynott said. "This is a real opportunity to understand and then implement strategies and projects that reflect the fact that a healthy economy in West Virginia doesn't have to come at the expense of a healthy economy in Ohio or Pennsylvania — that we have regional assets that we can identify, and work together ... to the benefit of all."
Earlier, Fluharty said regional governance is critical to innovation — "not government, governance" — including the public and private sectors, non-governmental organiza­tions and philanthropies. "If one of those is missing you have not as­sessed your assets well. If they aren't together, you're not doing it right."
Participants learned about eco­nomic diversification and commu­nity leadership strategies through presentations and small-group breakout sessions on topics such as entrepreneurship, cultivating arts and cultural assets, and workforce development tools. Between ses­sions, teams outlined their short-term goals and how to achieve them in the next 100 days — which they shared with other participants on the final day — known as their Implementation Roadmaps.
One early assessment of the workshop was positive. Bruce Riffle, a West Virginia Development Au­thority Board member from Mason County, left Charleston energized. A power plant and related coal mine closed in his county.
"The breakout about the 'ag' business, the buy local programs, that really hit home to a lot of our team because we are in primarily an ag county. We're going to really work on promoting buy-local, get that whole concept on the ground. We want to have it running by produce season next year, so we've got kind of a tall order, but we can do this."
Hero 1