Changing lives: ARPA funds Cook County guaranteed income pilot program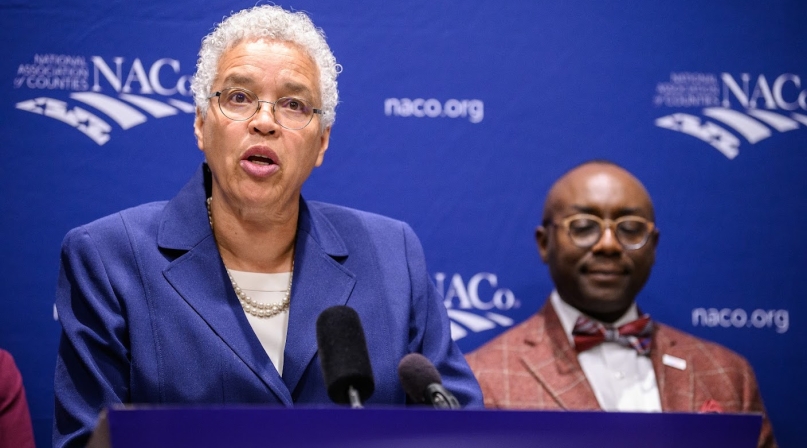 Key Takeaways
A little boost, just $500 a month, could help a transit-dependent resident in suburban Cook County, Ill. finally buy a car and expand her horizons for a new job, a better job, away from the bus or train lines.
An extra $500 in mid-December could mean new winter coats and shoes that actually fit growing children. Or a cushion for the budget in a volatile environment when food and gas prices fluctuate. Or just fewer hard choices for people who don't have many options.
Those are some of the outcomes the Cook County Promise hopes for more than 3,200 families over the next two years, all of whom will receive $500 a month. When the county opened a lottery for the program for roughly two weeks last fall, more than 233,000 people applied.
"There's clearly a great need," said County Board President Toni Preckwinkle. "I'm confident that we're going to have some interesting findings at the end of our two years and we'll continue on with this initiative."
All told, the county is putting $42 million in American Rescue Plan Act funding into the two-year pilot project and is committing to continue with county funding after that.
County-funded guaranteed income programs

Cook County, Ill. 3,250 families receive $500 for 24 months
Humboldt County, Calif. 150 people receive $1,000 for 18 months
Los Angeles County, Calif. 1,000 youths receive $1,000 for 36 months
Montgomery County, Md. 300 people receive $800 for 24 months
Santa Clara County. Calif. 72 former foster youths receive $1,000 for 12 months
Sonoma County, Calif. 305 people receive $500 for 24 months

Learn more
Guaranteed income is an old concept, going back to antiquity and gaining steam in the United States since Martin Luther King Jr.'s career. While Preckwinkle's brother has beaten the drum to her since she took office, two staff members took up the cause and demonstrated the concept's viability after the county received $1 billion from ARPA, convincing Preckwinkle to give it a shot.
"We've tried a lot of different approaches to poverty other than just simply giving people money," she said.
There's a certain parallel with ARPA itself — 3,069 counties receiving money to do with as they please (except lobbying) and 3,250 Cook County families receiving the same.
"The data does show that people are very prudent with this money, that it is spent on necessities and eventually if there were a long enough program, people could maybe start building something, trying to get a down payment or get a new car or something like that to build toward more long-term goals," said Pete Subkoviak, the program's director.
Applicants had to be 18 years or older, have a household income at or below 250 percent of the federal poverty level and not be participating in another guaranteed income program. Nearly 36 percent of Cook County residents were eligible.
 It's not Cook County's first foray into direct payments, though. Using Coronavirus Relief Fund money, the county allocated $2 million, which soon expanded to $9 million, in one-time allocations of $600 to $1,400.
"I think that showed a lot of people inside Cook County government just how valuable this kind of a program could be," Subkoviak said, noting that program served every person who applied. With the Cook County Promise, the 3,250 families were a compromise between offering families a significant amount and casting a wide net — and a large sample size.
"We wanted to help as many people as we could, but at the same time we wanted to have really impacted each of those households' lives," Subkoviak said about the amounts.  "This kind of assistance can make a difference in people's lives beyond just being able to purchase things. This could give someone the cushion to be able to take time off work, or not have to take an extra shift and be able to see their kid's soccer game. So many people are just working and sleeping and this can give them a chance to take a breath."

Focusing on suburban poverty
With a similar program at play in Chicago, Cook County's focus is on its suburban areas — with 85 percent of the funding going outside of the city limits.
The University of Wisconsin's Institute for Research on Poverty found that between 2000-2015, the overall number of people in poverty in the United States grew by 11.5 million, with suburbs accounting for roughly 5.7 million or 48 percent of that growth and that in 2015, there were roughly 3 million more poor people in suburbs than in cities.
The disruption of the COVID-19 pandemic has invariably changed those figures, as has migration in and out of cities, which saw increasing home values in the urban core after years of White flight.
"I think that in Cook County, like a lot of other parts of the country, it becomes less feasible for people of lesser means to stick around and so often they moved to the suburbs where housing prices are a little bit more reasonable for them," Subkoviak said. "The suburbs were originally built for more affluent people, with fewer social services, less public transport, less public services and so people who are lower income and living in the suburbs are much more isolated from assistance than people living in the cities."
The Chicago Resilient Communities Pilot will give 5,000 city residents $500 per month, for one year.

Details of the program
The county's contractor, Give Directly, provided outreach services, performed eligibility checks with the University of Chicago's Inclusive Economies Lab and designed an application designed for a smartphone, though 15 percent of applicants took advantage of in-person assistance. Subkoviak described the administrative burden as being minimal and the startup period as faster than comparable programs.
The payments qualify as a gift, so they will not interrupt families' eligibility for other public support programs, and participants were offered optional financial coaching support. The study also includes a 3,250-person control group that will not be receiving monthly payments.
"We're hoping we can actually try and see 'What does it mean, beyond just the households that are committing the money? What about the local economy? What about the local community? What are the frequent effects of this kind of a program?"" Subkoviak said.
"We know a couple of the things that we're looking at, as part of our evaluation, are our main cost drivers for the county, our jail, our health and hospital system and housing and housing instability and homelessness services. If we're able to identify that, we're having a positive impact and saving the county money that just helps the whole financial situation of this primary program."
Arlington County, Va. knows a little bit what a guaranteed income program can do. In September 2021, the Arlington Community Foundation launched an 18-month pilot program with the Arlington County Department of Human Services. Privately funded, the program provided monthly $500 payments to 200 low-income working families. In addition to increased financial well-being, the program aims to achieve a heightened sense of personal agency, and community belonging among participants.
An interim evaluation looking at the program's first six months found that recipients most commonly used payments for food, utilities and household expenses for children and they emphasized the stress-reducing effects of the cash. Some noted using it to pay down debt or start new endeavors.
Santa Clara County, Calif. funded a guaranteed income program that offered 72 former foster youths $1,000 a month. The Board of Supervisors voted in 2021 to allocate an additional $500,000 to continue support for those 72 young adults.
"When I got into the program, it really was like a superhero coming in to save the day," said Veronica Vieyra, a 25-year-old program participant who had just graduated from San José State University. "I was just exiting the foster system and needed to move out of the college dorms because of the pandemic. The program allowed me to find a room, stay in the area, and get my degree. Now I'm in the process of finding work, and the additional income allows me to do so while keeping a roof over my head."
A national model
Other counties have funded guaranteed income programs, but as the second largest county in the country, Cook County presents a large test case that Preckwinkle sees as a national model.
"It's our hope that this program and others around the country will kind of prove the point that these kind of investments in our residents are worthwhile," she said, noting that despite years-long lags, Medicaid was adopted nationwide and Medicaid expansion is following the same slow but steady pattern.
"A lot of federal initiatives are the result of things that have percolated up from the local level," she said. "If we can show that the folks who were participants in the program made significant progress in terms of stabilizing their lives and providing more opportunities for themselves and their children, I think the federal government ought to be doing this for everybody who's eligible."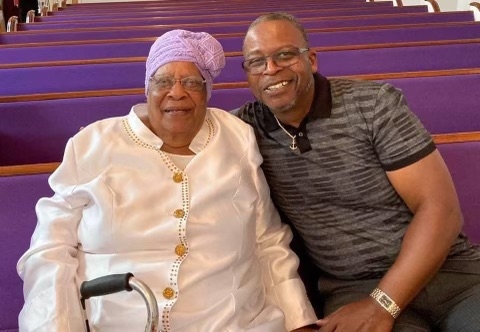 Cook County Promise … helps resident keep a family promise
Clarence Shaffer had to read the text message twice.
He had taken a hiatus from his job five months earlier so he could spend time with his 87-year-old mother, who still works as a pastor. One of her parishioners had sent him some information about the Cook County Promise, and while he waited a day to read it, he was glad he did. He had one more day before the deadline to register for a lottery that would pay him $500 a month for two years.
"That kind of money makes a difference," he said. "I figured I should apply it toward a static bill that I know I'll always be paying and then I won't have to worry about it, so I use it to pay my life insurance premium," to ensure financial stability for his children and grandson.
Shaffer wouldn't mind working while he cares for his mother, but the nature of his job as a bodyguard would make that impossible.
"I travel all over, so it's rare that my job, whenever I have to go work, doesn't involve an airplane," he said. "I could be gone anywhere from a week to five or six months."
The program allows him to do what he couldn't otherwise — spend time with and help his mother. Because she no longer drives, he helps her continue her ministerial work, which provides an impact to her congregation.
"I want to be there," he said.  "I want to be able to know and feel and at my core that I did what my dad expected me to do before he passed away, and what I was supposed to do, as a son, to return the love and kindness that I got being raised by parents."
The program's potential was clear to him once he saw it was funded by the American Rescue Plan Act, soothing his philosophical concerns. He called the application process the easiest thing he had ever signed up for.
"It wasn't state taxpayer money, wasn't something that some people might consider a handout, it's really a hand up," he said. "Most people are only one or two paychecks away from being homeless… so I can't see this program not being beneficial to anyone who is lucky enough to be accepted into the program."
By helping his mother continue her work, Shaffer feels he's maintaining her quality of life. His job will be there when he comes back to it, but he wants to make the most of his time with his mom.
"She's a very active person, she attends a lot of meetings, she's part of a lot of religious organizations, but when people stop doing what they're used to that's when they really get sick," he said.
"As long as she can stay active, that's what matters to me. She loves going out to eat, and I get to pick her brain about our family history and talk about things like that. I still feel like I'm the spoiled son."
Related News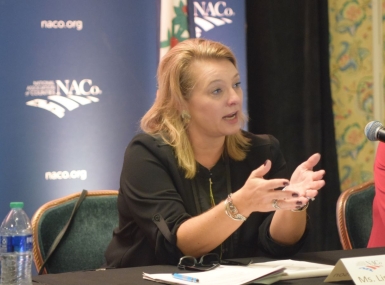 Elected officials can help promote the use of a more holistic approach to combatting substance use disorder.