California county library creates programming for LGBTQ+ community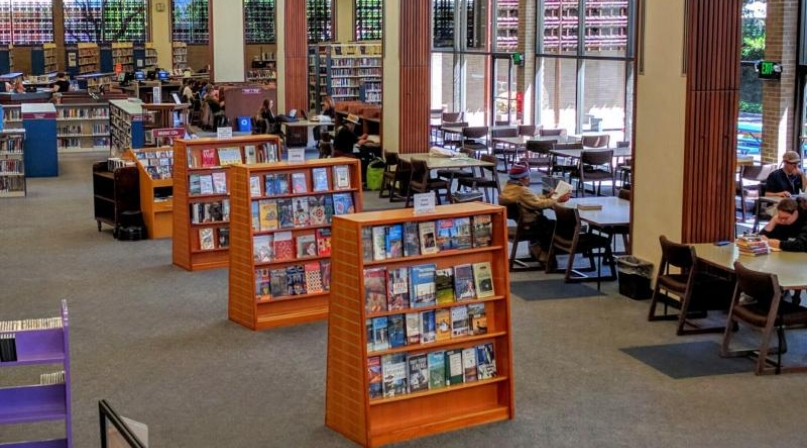 Key Takeaways
At 1,768 square miles, Sonoma County, Calif. is "a fairly geographically large county — we have people who live in very rural areas, as well as people who live in more suburban and urban areas," said Zayda Delgado, special collections librarian and archivist at the county's history and genealogy library.
The library tries to reach out to every segment of the population across the vast county by including its LGBTQ+ community as it marks Pride Month in June with its "Here+ Queer" digital archive and pride book clubs.
Learn more
"The ability of all of those populations to be able to participate or a community that's not always visible, and for a community where people sometimes feel isolated or feel like, 'Oh gosh, am I the only one?' that ability to connect online with other readers who are interested in the same sort of materials has been very valuable," Delgado noted.
To help that population feel less isolated, the library is compiling an archive of oral histories, essays, photographs and creative works from the county's LGBTQ+ population to preserve the community's history and create a space where LGBTQ+ people can feel represented, said Delgado.
"As I was looking at collections, there wasn't very much on the queer community," she said. "When I would have interactions with the public, and someone would say, 'I know that there was a lot of queer life in the Russian River area, what do you have on the topic?' I could point them to a handful of items, but not as much as I would have liked.
"… There have been gaps historically because some stories weren't valued to be told and we want to create the space for everyone in our community, including the LGBTQ+ community, to know that their stories are important and they're important to the people around them, they're important to future generations of people who have probably never interacted with them. Their story has value; their experiences have value."
The library held an in-person event for LGBTQ+ Sonoma County residents to create oral histories, and people are encouraged to submit their artifacts to the archive on the library's website on an ongoing basis. It's working with local partners including LGBTQIA+ Legacy Sonoma County and Positive Images to get the word out.
"The oral histories were particularly powerful because people were able to talk about how they felt accepted in Sonoma County, how Sonoma County in certain times has come to support them and their identity and feel themselves when perhaps they were coming from different parts of the nation or parts of California where they couldn't accept their whole selves."
Another way the Sonoma County Library is carving out space for the LGBTQ+ community is through its Pride Book Club for teens and Queer Book Club for adults.
"It came about based on the interests that we saw in readers in our local community, as well as sort of burgeoning publishing of these voices and a variety of wonderful new books that were available," said Aleta Dimas, the library's adult services administrator. "We try to make sure that a wide variety of perspectives are included, so not only identities within the larger queer community represented in those authors and stories, but also people from different ethnicities and different types of literature, like a graphic novel or a book of poetry."
Dimas said the creation of a book club highlighting LGBTQ+ authors and content has sparked more diverse choices in the library's other book clubs as well, which include mysteries, non-fiction, fiction and books written by and about those who are Black, Indigenous and People of Color (BIPOC).
"This book club has positively influenced the rest of our book clubs, so we now take the titles that are being read through our Queer Book Club and also include them in our fiction book clubs throughout the library system throughout the year, so it's not like these books are somehow apart or separate, but rather they have become part of the rich offering of titles that we have for our book clubs."
The adult book club's focus is on analyzing the books, while the teen book club is more about cultivating a supportive environment for LGBTQ+ youth, Dimas said. Meetings are held virtually, but the Pride Book Club for teens has recently begun holding in-person meetings as well.
Former county commissioner works to prevent youth homelessness
After six years as a Kalamazoo County, Mich. commissioner, Tracy Hall is continuing their dedication to housing equity as executive director of OutFront Kalamazoo, an organization that provides transitional housing to the county's LGBTQ+ youth.
Teens who identify as LGBTQ+ disproportionately experience homelessness, with estimates showing they make up to 40% of the unhoused youth population. OutFront is aiming to bridge the gap through its Legacy House and Host Homes programs.
"When we think about our unhoused percentage for our young people in the queer community, the other [statistics] that go with that are higher rates of suicide, higher rates of mental health, and those things are happening because of lack of acceptance," Hall said. "So, we wanted to make sure that this was a space for them, by people who are like them and create policies that will help keep them safe."
Host Homes connects unhoused LGBTQ+ youth ages 13-18 with screened and trained community members who commit to provide them housing and food for up to a year. The organization also provides participating youth with other supportive services, including educational resources and career support.
"Our hope is to provide the wraparound services, the life skills training, whatever resources our community can help with so that when they're ready to move on, there's stability in the other areas too — housing and then through that, hopefully mental health and finances, even how to do basic things that we were taught growing up," Hall said. "Some of our younger people have no idea how to do things like running the washer and dryer, being self-sufficient.
"We want to make sure we're providing tools and support so that when someone moves out on their own, they're in a much more stable position than when they came to us."
Legacy House provides a place for unhoused 18-to 24-year-olds to live, with space for up to six people for up to 24 months at a time. The house was originally created through the County Board and funded through the Kalamazoo County's Public Housing Commission and is now owned by OutFront. Hall said the "on the ground" work through OutFront is on a different scale than housing initiatives passed during their time as a commissioner, but that it doesn't make it any less important.
"When I was on the county commission, housing inequity was our top priority," Hall said. "And we did a lot of great things as a result, but big things that still seem small in comparison to what the need is here in our county. We're about 7,000 units short, altogether as a county, so one of the things that we did, of course there's a whole campaign team that did it, but our voters passed the housing millage … which brings in $6.7 million each year [for affordable housing].
"So, at that level, it's bigger and broader at the county, but the work we're doing at [OutFront] — it adds a small piece to the puzzle of what our housing challenges are, and every piece matters."
Something Hall has applied to stepping into OutFront's executive director position is the importance of cross-county collaboration and working with organizations that have similar goals. OutFront works with LGBTQ+ organizations across Michigan and the country to adopt new ideas and tweak existing programs to run them in more beneficial ways.
"One of the things that I thought helped make me a good commissioner is I would look and see what other counties were doing and I would say, 'Okay, Washtenaw is doing this, we can do something similar' or Wayne County or Oakland County," Hall said. "… One of the ways I've learned the best is by looking at others, because why reinvent the wheel when others are doing it really great, and we can model something and make it our own here in Kalamazoo?"
Related News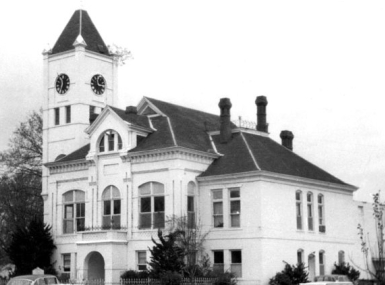 A ghost appears to have been occupying Desha County, Ark.'s courthouse, stymieing the clocktower and causing general unease.