Adams County highlights its innovative human services
Key Takeaways
Adams County, Colo. Commissioner Chaz Tedesco is proud to show off the county's spacious human services center, which includes emergency housing for children in foster care and a café that trains culinary workers.
Members of NACo's Human Services and Education Policy Steering Committee who met July 21 at the Adams County Human Services Center had the opportunity to tour the facilities and hear about the county's innovative programs.
"I wanted a safe place where kids can do their homework," Tedesco said.
"Where someone could breastfeed in peace," he said, adding that the place was designed to provide an inviting atmosphere "not only for clients, but employees."
The building opened in the fall of 2017 for "just under 90 million dollars," according to Tedesco, who represents District 2. "We did studies. I drove our staff nuts. I take pride in this building. I hope this ignites a fire" of concern for people, especially children, who need public services.
"My background is, I'm a foster kid," Tedesco said. "I was given up at birth… Foster kids have to deal with trauma." Human services workers want to be able to see themselves as "shining knights" for these vulnerable children but "unfortunately, often that isn't the case. We need to improve this system, to make it less traumatic."
Emergency housing at the county center provides a bedroom, kitchen and living area where children who need placement can stay temporarily.
The center houses A Precious Child boutique, which provides clothing, car seats, toys and emergency intake bags.
In 2021, the county began partnering with local nonprofit Work Options to open Mountain View Cafe at the center, a place where Adams County residents can take part in a free six-week culinary training program.
Meg Pickens, contract administrator for Adams County, said the residents train with professional chefs, earn certifications and make up to $400 a month.
The first year, 58 culinary students were enrolled, Pickens said. So far, "88 percent earned certificates, 73 percent completed the course and began job searches. Forty-three percent gained employment and 18 percent are still in their job search."
In addition to touring the center, visiting county officials saw a county Homes for Hope site. The Homes for Hope program uses two renovated houses to provide therapeutic foster care for children up to age 18.
Two to six children can be placed in each home, according to Katie McDougal, Adams County director of Human Services. Keeping siblings together is a priority for the program.
The county partners with Specialized Alternatives for Families and Youth to support the foster families who are living in the homes. "Clinicians visit families to provide mental help. We're studying this, we want to make sure we're doing this right," she said.
The two houses had been used by the county as rental properties before the renovations, Tedesco said, a use that didn't fit in with county needs. Now, he hopes the Homes for Hope project "may be a model for others" and that the county will continue to repurpose spaces for more innovative uses.
Related News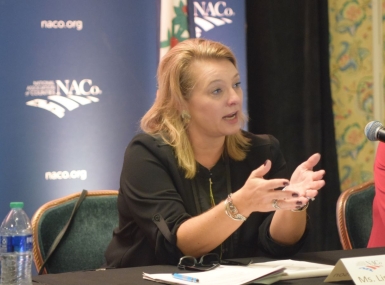 Elected officials can help promote the use of a more holistic approach to combatting substance use disorder.