2022 Candidate Platform: James Gore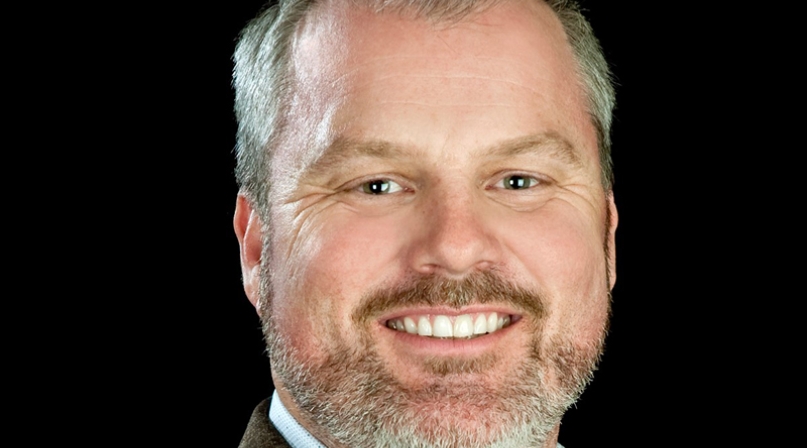 Key Takeaways
James Gore
County Supervisor
Sonoma County, Calif.
Fellow County Leaders,
Our time is now. 
As your candidate for NACo 2nd Vice President, my job is to LISTEN to you, to LEARN from you, and then to DELIVER with you. I commit to this work because I believe in our ability to lead our Nation, from the local level up, through these divisive and disruptive times. I further commit to put you in a position, alongside NACo, to share, collaborate, negotiate, and fight for your communities.  Your voice matters, and together, our voices don't just matter, they drive change.
To date, I want to thank you for the broad level of support we've received from many of you throughout the country — urban, rural, North, South, East, and West and then some. Throughout this campaign our purpose has remained steadfast: to pursue NACo's mission to "Strengthen America's Counties." Each and every day, we achieve this goal by showing up and bringing the Ground Truth from our communities forward to be acknowledged, respected, and acted upon. Further, we educate ourselves and our partners, we find common cause, and we drive success in a postpartisan way that delivers for all of our communities throughout this Nation. That's why we're here and why NACo is such a strong and necessary organization. 
This campaign is about CONNECTION and what we can achieve when we come together. That's exactly what embodies the strength and success of NACo.  It's also what we've achieved within my state association this past year, which I led as President as we unified - rural and urban - to take on the pandemic, broadband, disaster resiliency, and mental health. 
You all inspire me.
You don't just do your jobs; you are fighting for our Country's future…and I respect you for that.  Public service can be brutal, and you all wear the weight of your communities on your shoulders. That responsibility can be both a blessing and a burden. Through NACo, we share that weight together. We find camaraderie and shared purpose. And we Get it Done. 
More than ever, I'm committed to partner with you and deliver by:
Leveraging ARPA into dedicated, flexible funding for Counties
Federal investments need to come direct to Counties with maximum flexibility. Far too many resources come as grants with onerous requirements to apply, track, report, and comply. Many of our Counties (especially rural) simply cannot pursue and manage these programs. When compliance runs counter to commonsense, reform is needed. I pledge to work with you to use the successful rollout of ARPA to get more direct, flexible funding into our counties.
Navigating beyond this PANDEMIC
As the Chair of NACo's Programs and Services Committee, I've led our work to survey our membership on the good, the bad, and the ugly from the pandemic. We've put a plan together to honor the innovations and build a better battle plan for the next pandemic. We must use these lessons to reinvigorate our economies while strengthening our safety net and our mental health services. As the provider of last resort, we need to flip the script and ensure that our authority matches our responsibility.
Protecting and Promoting our working lands (PILT, America the Beautiful '30x30') & Expanding Rural Development delivery
62% of counties have federal land within their borders.  We must honor the work done thus far and strengthen our advocacy to fully fund PILT (Payment in Lieu of Taxes) so that public land counties can continue to provide basic services. We must drive the conversation around the implementation of "America the Beautiful (30x30)" to account for conservation gains made to date and expand active land management throughout the public lands network. Having worked for the Secretary of Agriculture on Rural Development nationwide and later as the Assistant Chief of the USDA's Natural Resources Conservation Service (NRCS), I have first hand experience negotiating the Farm Bill and working with county leaders and private landowners on these common sense solutions.   
Resiliency: Expanding funding and flexibility to counties for Disaster Preparedness, Mitigation, and Response. 
On average, 24% of counties experience at least one disaster per year. In my home county of Sonoma, we have had 9 in the past 5 years. Fires, Floods, Drought, and then some. Since our catastrophic wildfires in 2017 - which burnt down more than 7,000 homes in our region - we have fully embraced resiliency as a way of life. We have expanded emergency management funding, preparedness programs, community engagement and use of advanced technology. We have drastically improved, and I have led this work locally, at the State, and Nationally as a multi-year Chair of NACo's Resilient Counties Advisory Board (RCAB).  Through this work, we've forged partnerships with peers from Texas, Oklahoma, Florida, North Carolina, Wisconsin and more. We testified before Congress and got a huge win with changes to the Disaster Recovery Reform Act. More needs to be done, As the saying goes, "All disasters start local and end local." As a member of the FEMA National Advisory Council, I commit to continue driving the conversation back to NACo and into our counties. 
We've got work to do. 
In a Nation that appears more divided and disrupted than ever, we are the ones driving progress forward. We don't just endeavor to deliver for our constituents, we have to deliver. And we do, each and every day, in spite of the road rash we get from working where the rubber meets the road. 
I firmly believe that we are not just the last bastion of basic democracy, but the vanguard for the future.  We don't get to abstain from votes or point the finger at someone else to fix our communities.  We step up and get it done. 
The future of our Nation must be led from the ground up. Urban, rural, suburban — together.
I ask for your vote, and pledge to work my tail off for the County Family, all 3,069 of us. 
You can reach me at 707-322-4298 or Gore2ndVP@counties.org
Related News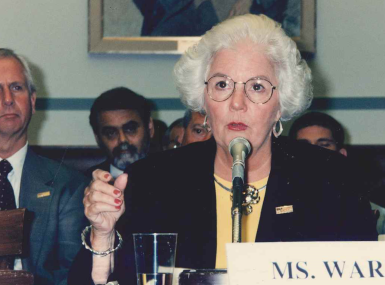 Her involvement with her children's PTAs drove Betty Lou Ward to run for the Wake County, N.C. Board of Commissioners to work to improve schools, libraries and parks.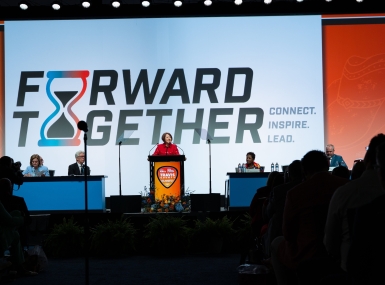 Mary Jo McGuire found a match for her skills and talents representing her Ramsey County district, and she's bringing the same all-in approach as NACo's president.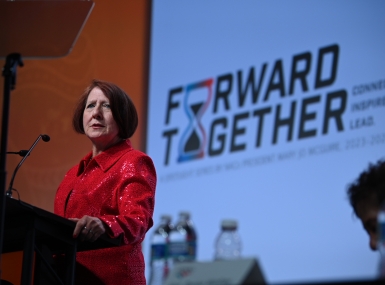 Ramsey County, Minn. Commissioner Mary Jo McGuire was sworn in as president of the National Association of Counties (NACo) on July 24 at the conclusion of NACo's 88th Annual Conference in Travis County, Texas.