Live streaming video of a discussion on opioid lawsuits and talks by Sens. Cory Booker (D-N.J.) and Tim Scott (R-S.C.), new FEMA Administrator William "Brock" Long, U.S. Commerce Secretary Wilbur Ross and retired Gen. Stanley McChrystal, former commander of U.S. Forces in Afghanistan, opened the final day of the conference.
Also on the agenda  were two Capitol Hill briefings, stressing the foundational roles counties play in the nation's infrastructure systems and in the effort to interrupt the cycle of multi-generational poverty, and a news conference highlighting the importance of the payment in lieu of taxes (PILT) and Secure Rural Schools (SRS) funding to the nation's public lands counties.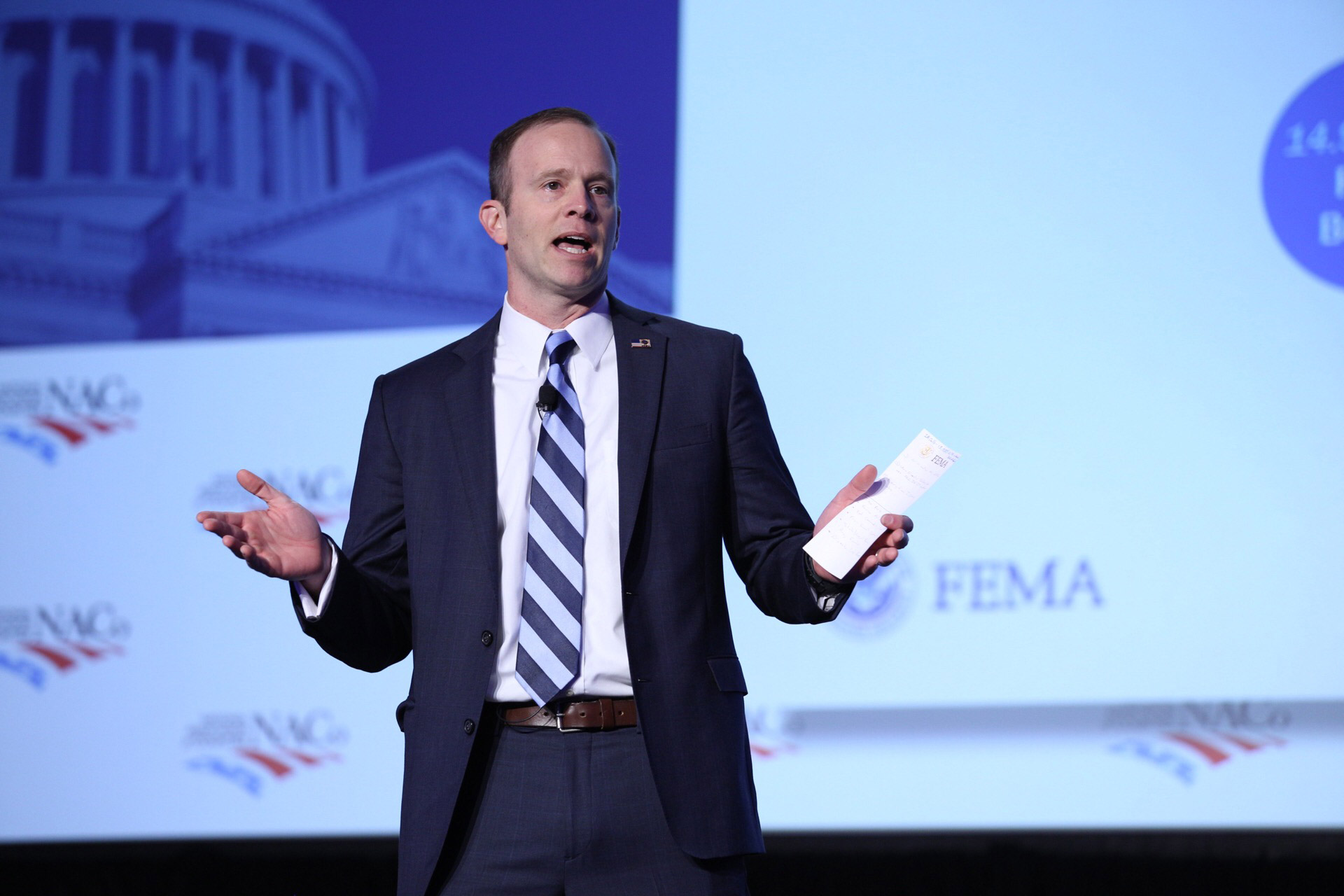 During his speech  FEMA Administrator William "Brock" Long said resiliency belongs at the local level, not at the federal level. Photo by Jason Dixson
William "Brock" Long wants to embed FEMA in state, local communities
The head of the Federal Emergency Management Agency (FEMA) wants to get FEMA staff out of federal and regional offices and embedded in states, large cities and eventually local communities, FEMA Administrator William "Brock" Long told NACo members Tuesday.
"We're going to help you with planning, mitigation and public outreach," Long said. "We're going to start changing. I want the relationship now rather than when disaster strikes." Long made his comments Tuesday morning at the Opening General Session.
"My goal is to help support you in achieving your goals," he said, "not dictating what your goals should be."
Long noted that in his 17 years in emergency management, there are three things he's learned:
"First, all disasters begin and end at the local level."

"Two, I don't care who you are, I don't care what your politics are…when a disaster strikes, it requires all of us, we're all in it together to be able to help our citizens respond and recover."

"The third thing I've learned is every time I change jobs, something catastrophic happens."
After the hurricanes that hit Texas, Louisiana and Florida "we learned as a result of 2017, Mother Nature does not seem to recognize the flood maps that we produce," Long said. "We've gotten away from the very simple fact that any house can flood, regardless if you're on the map or not. I'm kind of tired of the argument that these maps needing to be changed."
"Quite frankly NFIP program is not operating on a functional sound basis," he said. "We need Congress to change the platform on which we operate. We need to double the number of policyholders from 5 million to 10 million."
Physically inspecting damaged homes, Long said, is an "antiquated" way of doing things and "slows things down." He said he hopes to start using technology. "It's a delicate balance," he noted, because he has to protect against fraud but said for the most part, "the overwhelming majority are honestly seeking assistance after suffering damage."
Long also advised county officials to "get to know your local emergency manager" and "make sure they are properly staffed and properly funded."
Resiliency is at the local level, Long noted. "Land use planning and building codes can create resiliency and reduce the risk. I need you to help me overcome that."
 
Helping children at risk
Dakota County, Minn. got the ball rolling to connect families in the WIC program to its Birth to Age 8 Collaborative Initiative by cutting through some red tape, according to Dakota County Manager Matt Smith.
Due to privacy laws, the county was initially unable to connect WIC families with the program, but a county attorney and state lawmakers created a consent form that everyone was comfortable with.
That was one of the nuggets of information revealed Tuesday morning at "Counties Care: How to Effectively Serve Families in Need" at the NACo Legislative Conference.
Carol Moehrle, district director for Public Health, Idaho North Central District, which covers Clearwater, Idaho, Latah, Lewis and Nez Perce, said that more and more, various entities are working together instead of being "siloed." Some of their home visiting referrals, for instance, are coming from the court system. "If they want to keep their children, they must have a home visit," she said.
"We all have a stake in the game," she said. "Counties seem to be that place for common discussions to be had."
An audience member from Georgia noted that one of his county's biggest struggles was finding ways to reduce "provider fatigue" — stress among providers who visit families, day in and day out, with social problems. Another challenge?  Finding affordable housing for program providers.
Finding people to employ, specifically nurses, was another problem for a county official from North Carolina, who said a position has been open since spring of 2016. The county is considering finding ways to collaborate with surrounding counties.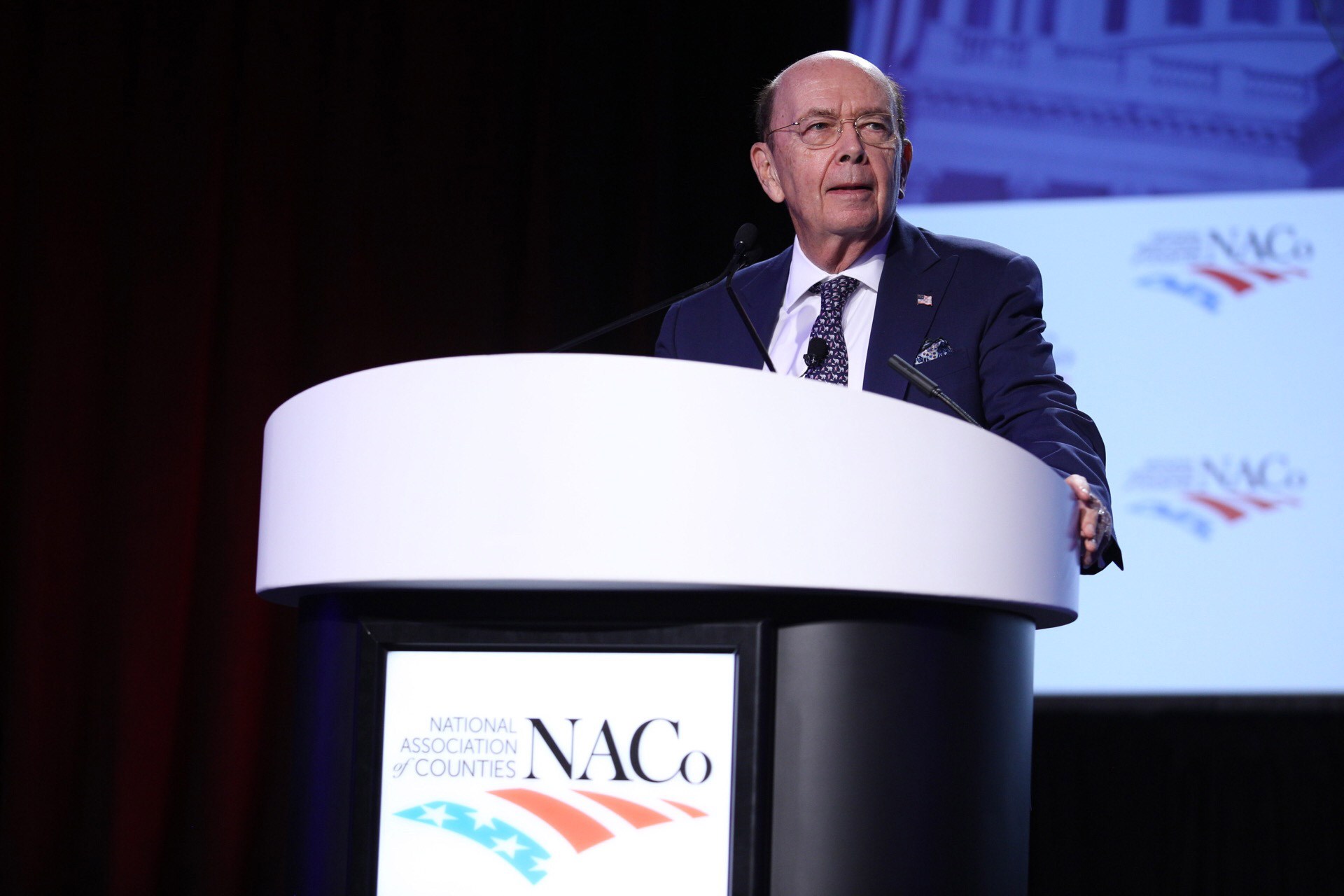 U.S. Commerce Sec. Wilbur Ross addresses Tuesday's General Session. Photo by Jason Dixson
Commerce Sec. Wilbur Ross reviewed administration plans for roads, exports, Census
Infrastructure, business exports and the U.S. Census were all topics covered Tuesday morning by U.S. Commerce Secretary Wilbur Ross Tuesday morning at NACo's Legislative Conference.
The Trump administration will spend $200 million in federal funds to help spur more than $1 trillion to build the nation's infrastructure, Ross told NACo members Tuesday morning at the General Session.
The U.S. Census is preparing for 2020, one of his biggest challenges, Ross said. A marketing budget of $500 million is earmarked for an outreach program and plans are afoot to hire 1,000 local partnership specialists, he said.
Want to help businesses in your county export to other countries? Ross touted the U.S. Commercial Service, which helps small and medium U.S. businesses export. The service has 106 domestic offices and 76 posts in embassies around the world, he noted. (You can find detailed information on the domestic office closest to you at export.gov.)
"We want to advocate on behalf of your local communities," he said.
Ross also gave a plug to his department's SelectUSA Investment Summit, scheduled for June 20-22 at the Gaylord National Resort and Conference Center at National Harbor in Prince George's County, Md. The annual conference attracts investors from all over the world.
 
Watch: 2018 NACo Legislative Conference - Day Four Recap
Hero 1