The Opening General Session marking the official start of the conference features Cabinet secretaries, Elaine Chao, U.S.Secretary of Transportation; and David Shulkin, U.S. Secretary of Veterans Affairs.
A full schedule of educational sessions are also on tap, examining a broad range of issues, especially selected for their impact on counties such as economic development, crisis communications and childhood poverty.
County News interviews Veterans Affairs Secretary David Shulkin at the 2018 Legislative Conference in Washington, D.C.
Veterans Affairs secretary lays out priorities to help veterans
Giving veterans better choices when it comes to how they get services and benefits is a top priority at the Veterans Affairs (VA) Department, Sec. David Shulkin said Monday morning in an address to NACo members. That means working with Congress to eliminate rules that require that someone live 40 miles away from a VA hospital in order to get private-sector care, he noted.
The VA secretary's speech kicked off the General Session at NACo's  2018 Legislative Conference.
Another top priority at the VA includes modernizing VA facilities, 60 percent of which are more than 50 years old, Shulkin said. Along with updating old buildings,  he also hopes to see an overhaul of management practices and electronic records at the VA.
The VA wait-time crisis that hit the news several years ago is a thing of the past, Shulkin said. Today, 85 percent of veterans seeking help from the VA system are seen within seven days. The VA posts wait times on its website and it is 40 percent faster than the private sector, he noted.
Other good news: The VA has seen a 50 percent reduction in homelessness among veterans, he said and is working on creative solutions with local partners.
The VA system is also preparing for the "silver tsunami," with the average age of Vietnam vets currently at 66; as they continue to age, demands will grow, he said.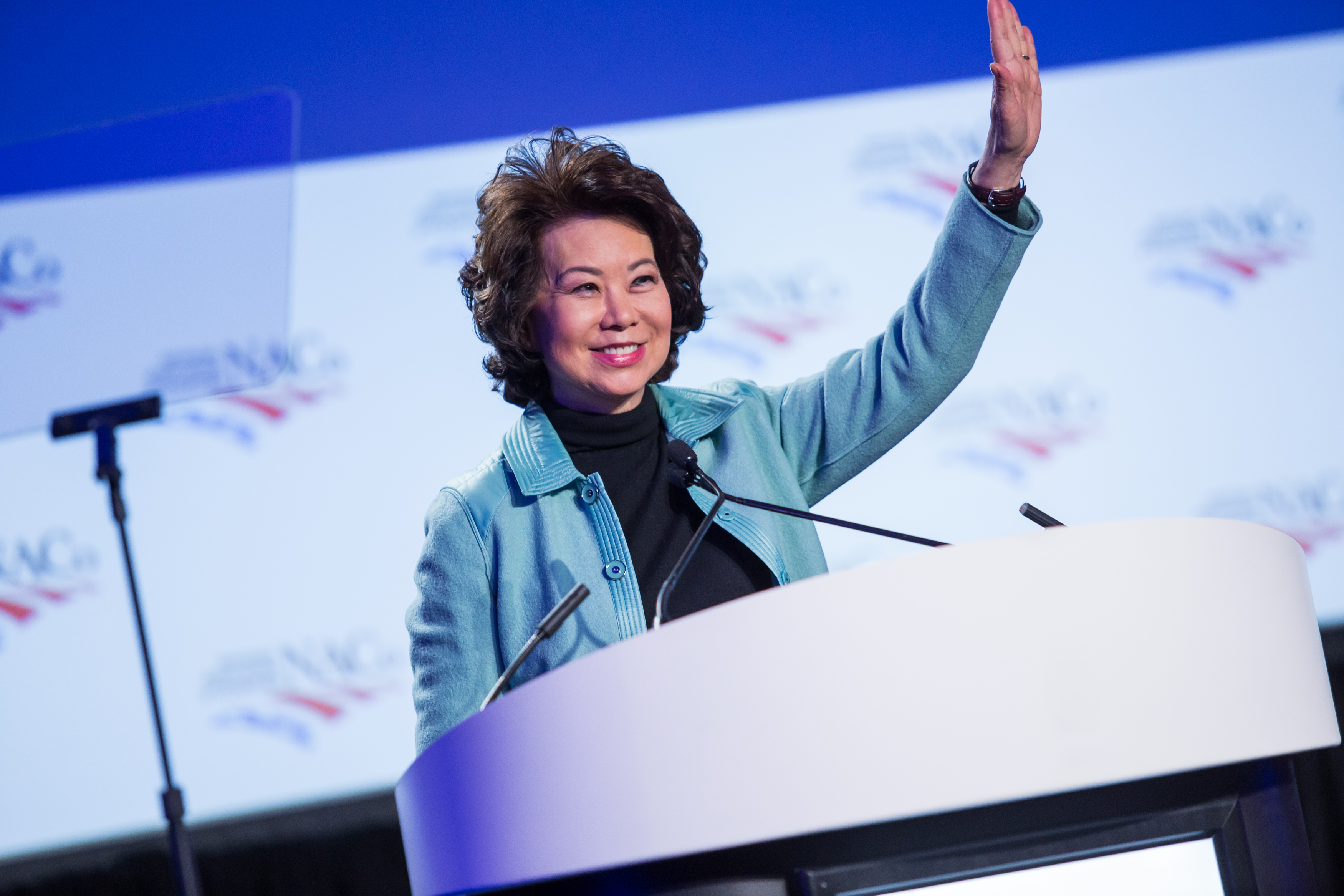 U.S. Secretary of Transportation Elaine Chao says goodbye to the audience at the Opening General Session where she was a featured speaker.
Chao touts private investment as key to infrastructure projects
Transportation Secretary Elaine Chao addressed county concerns about the composition of President Trump's infrastructure plan, which leans considerably on state and local governments to put up money for projects and includes a lot of private investment. She also stressed the administration's focus on rural infrastructure.
The infrastructure plan calls for $200 billion in federal funding, in hopes of stimulating a total investment of $1.5 trillion.
Chao said the plan to include private investors should put county officials at ease.
"The private sector helps to allocate risk. If the project isn't successful, the private sector bears the first loss, instead of the taxpayer," she said." "There are many private sector funds, private pension funds that want conservative investments like public infrastructure, which has collateral that will not walk away."
Federal spending to meet all infrastructure needs, she said, would result in dislocation in the private investment markets, hindering growth and job creation. Meanwhile, the ban on private investment in public infrastructure in 26 states highlights the kind of hurdles the infrastructure plan faces.
Chao also touted regulatory reform that would speed up project delivery, including concurrent permitting review and allowing sister agencies to share information rather than requiring them to conduct their own studies.
Roughly $50 billion will dedicated to rural projects, with $40 billion of it allocated by formula and $10 billion by performance-based grants.
"We understand that rural America has different kinds of needs, and these rural infrastructure needs will be prioritized by state and local leaders like you," she said.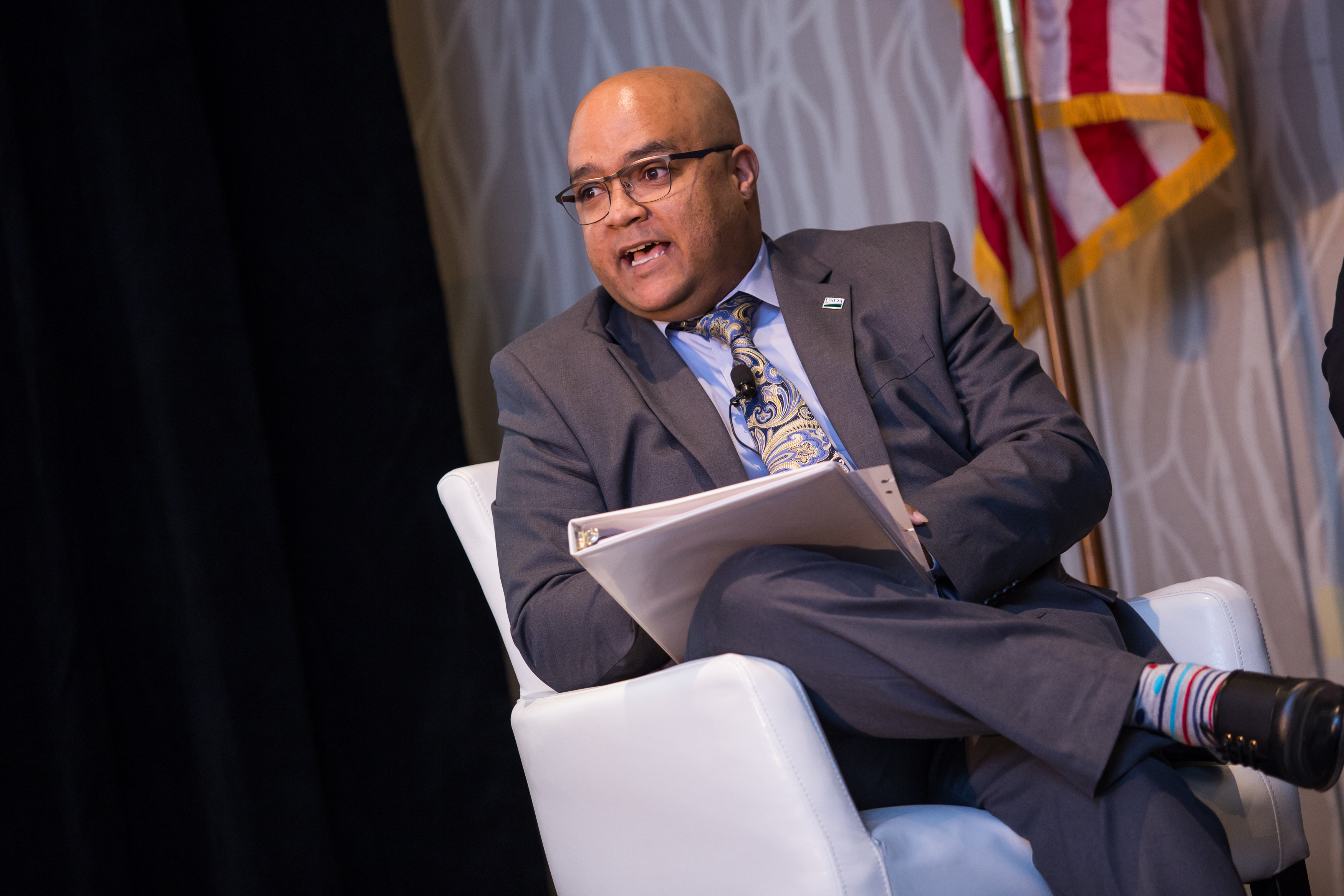 Torey Powell, program manager at the USDA Center for Faith-based and Neighborhood Partnerships, talks about the assistance available from his office.
When disaster strikes: Volunteer, faith-based partnerships can help your county
Before disasters strike your county, you should be certain about which local or regional faith-based groups you can work with to help provide temporary shelter, hot meals and other types of assistance to residents, said Gregory Forrester, president and CEO, Voluntary Organizations Active in Disaster. The national group also has state-level associations that you can contact to find faith-based groups in your area that help during disasters.
Forrester was part of a panel Monday morning that discussed "Disaster Response and Recovery: Leveraging Community, Volunteer and Faith-Based Partnerships for Effective Disaster Response" at the NACo Legislative Conference. He also advised holding an event with local faith-based groups where "everyone can get together." Linking faith-based groups to local government, nonprofits and businesses is also helpful.
Panelists Marcus Coleman, acting director, FEMA, DH Center for Faith-Based and Neighborhood Partnership and Torey Powell, program manager, USDA Center for Faith-Based and Neighborhood Partnerships, said their jobs are to connect groups with communities. We are there to "help localities bridge those relationships before disasters strike," Powell said.
AmeriCorps trains 18-24 year-olds for disaster careers at five campuses, said panelist Gina Cross, acting director, AmeriCorps NCCC. FEMA partially pays for the young volunteers to help at disasters, she noted.
Building relationships between county and state officials, emergency managers
After a flood hit Ellicott City in Howard County, Md. in 2016, Howard County Executive Allan Kittleman said it was important for him to be out on the streets to find out what residents needed. The flood hit after 6 inches of rain fell in less than two hours.
"The lieutenant governor came, he lives in the county, and said 'this looks like a disaster movie,'" Kittleman said Monday in a panel discussion on dealing with disasters at the NACo Legislative Conference.
Kittleman said it is important to be on the ground communicating daily with residents and to quickly communicate with state officials.
Every day after the flood, Kittleman said he hit the streets in his jeans to meet with local business owners to see how the county could help. And at night, Kittleman said he and the county's emergency manager would drive through residential areas and stop to talk to residents.
"I was on the streets for days," he said. "We were responsive and I think that made a difference." The flood also had a silver lining among local business owners who said they bonded over their challenges during getting back on their feet after the flood.
Kittleman, who was elected in November 2014, said that his staff told him shortly after his election that he needed a disaster plan, but he didn't want to think about it. But they did review the plan and were ready when they were later hit with 28 inches of snow, and later a tornado and the flood.
Keeping the lines of communication open with state officials is key and contacting them immediately can only help a county when disaster strikes, Kittleman said. After the flood hit on a Saturday, he said a town hall was held on the following Monday with the governor.
Panel moderator Judd Freed, emergency manager in Ramsey County, Minn., said "even if you have a plan, you have to be able to adapt and change when needed."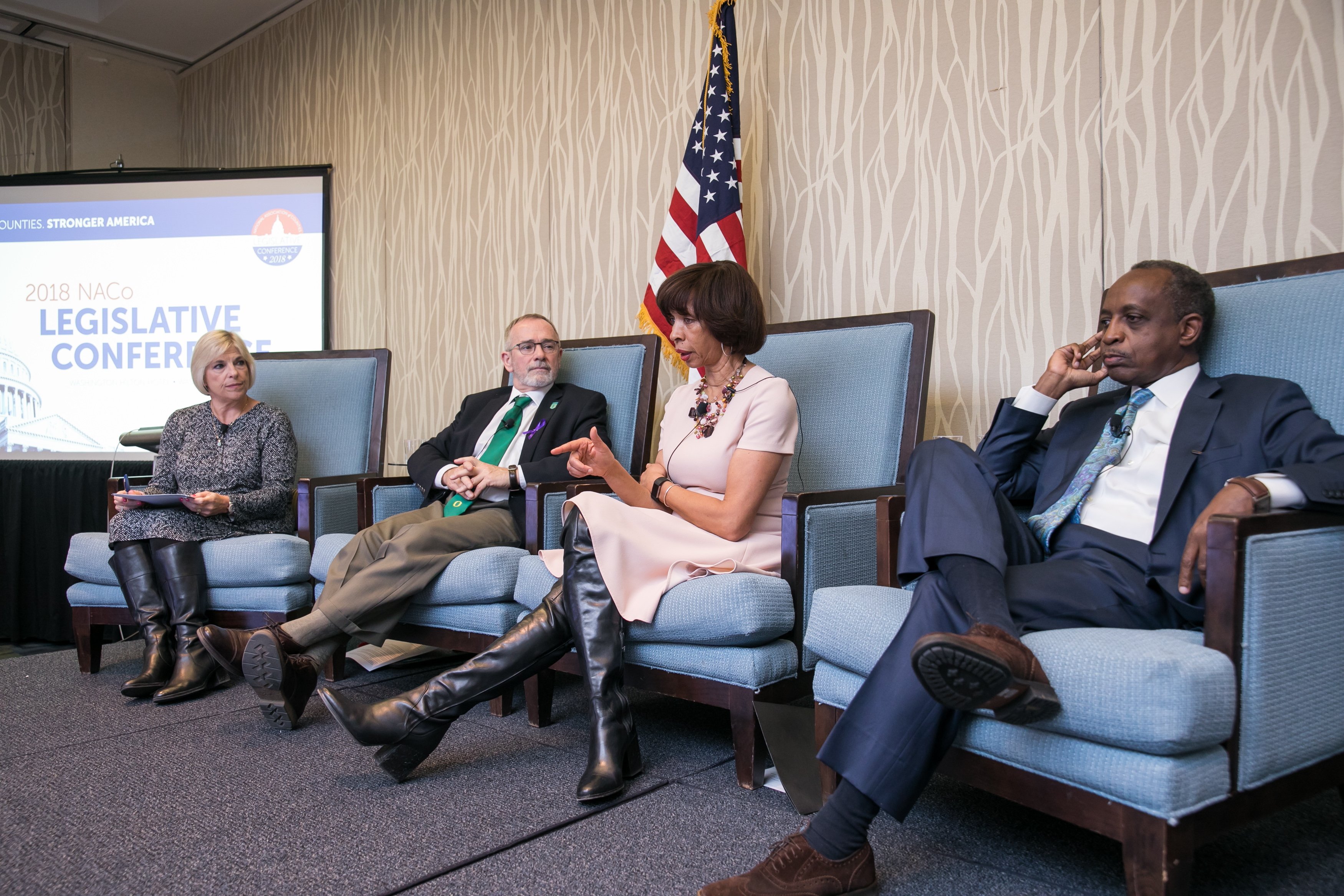 Mecklenburg County,N.C. Manager Dena Diorio, Lane County, Ore. Commissioner Bill Farr, Balitmore Mayor Catherine Pugh and DeKalb County, Ga. CEO Michael Thurmond discuss building citizen buy-in. Photo by Jason Dixson
All is not lost when public loses confidence
Even beleaguered counties have a way back into citizens' good graces. It involves communication, accountability and commitment from officials who do have the public's confidence. Three local government officials in a variety of roles explained how.
Lane County, Ore. was in a tailspin after the loss of timber revenue forced budget cuts that decimated the public safety budget, leaving the county with one deputy over nearly 5,000 square miles.
"People didn't trust us," said Commissioner Pat Farr, with a touch of gallows humor. "So what better time to ask for a really big revenue levy."
After five failed levy votes, the county put the sheriff, the last person voters believed in, out as the face of the request.
"We promised specific things — a minimum of 225 jail beds, counseling and secure treatment and that the money would be placed in a separate revenue fund and audited independently," he said. "You have to make certain the entire jurisdiction hears the promises. We promise, very clearly, what we're going to deliver."
Thanks to the trusted sheriff, not only did the next levy pass, but in several years the county was able to reduce the tax rate.
Accountability is key.
Baltimore City Mayor Catherine Pugh schedules a weekly press conferences and twice-monthly meetings with groups representing all populations of the city.
Her common refrain during community listening tours has been, "We heard what you said, we're bringing the services you requested."
In some cases, that has meant reconfiguring schedules for services to match the needs of residents. For instance, homeless services are open at night, rather than from 9-5.
DeKalb County CEO Michael Thurmond could have campaigned in the southern half of his county during his 2016 campaign and won easily, but he committed to showing up all over the Atlanta metro county that is divided north and south on racial and partisan lines.
"You can win, but can you serve?" he asked. "You will represent the people who didn't vote for you, or didn't vote at all.
That self awareness can help the government pull out of inertia when the public isn't happy.
"If you find yourself with low credibility, be honest, accept the lack of trust and recognize that you are obligated to over communicate," Thurmond said. "If a person does not trust you, they'll filter out even good information."
Getting the word out about the mentally ill in jails
If your county is involved in Stepping Up, a national initiative to reduce the number of people with mental illness in jails, part of that effort should include selling the idea to the public, said Lincoln County, Ore. Commissioner Bill Hall, a former journalist.
"You have to know the issue well before you sell it," he told an audience Monday afternoon at NACo's Legislative Conference during a panel discussion on the topic. "It's not a new program, it's not about new jobs and it's not about getting soft on crime."
"It is about getting smart on crime," he said. "It's personal to more people than you realize. Use your bully pulpit."
Panelist Nicole Nishida, public information officer for the Los Angeles County Sheriff's Office, said there are many ways you can get the word out including:
Issuing news releases
Posting information on the county website
Creating a video
Posting information on social media
Submitting op-eds to the local newspaper
Making monthly appearances either in person or on radio or TV
Submitting public service announcements, flyers and bulletins
Holding town hall meetings
"Who is your target audience?" Nishida asked. "Get to know them. Do 'meet and greets.'"
She also advised using fact sheets to back up your news releases, build up good will with the media and to remember that these days, journalists are on very tight deadlines. "It's fast-paced," she said. The media "needs it now."
Hall said to be sure to keep the message local. "This is our problem. We have to own it, we have to try to fix it," he said.
Watch: 2018 NACo Legislative Conference - Day Three Recap
Hero 1