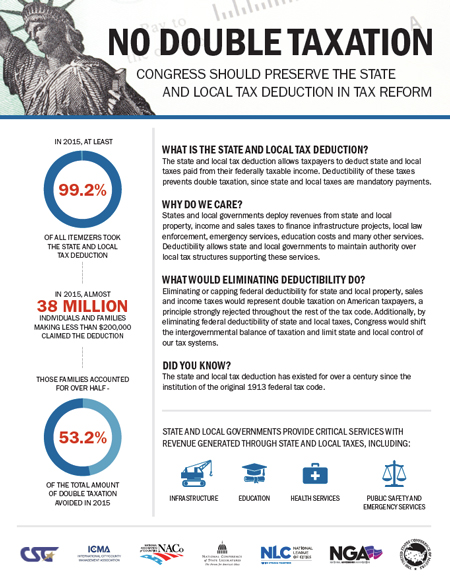 The state and local tax deduction allows taxpayers to deduct state and local taxes paid from their federally taxable income. Deductibility of these taxes prevents double taxation, since state and local taxes are mandatory payments.
States and local governments deploy revenues from state and local property, income and sales taxes to finance infrastructure projects, local law enforcement, emergency services, education costs and many other services. Deductibility allows state and local governments to maintain authority over local tax structures supporting these services.
Eliminating or capping federal deductibility for state and local property, sales and income taxes would represent double taxation on American taxpayers, a principle strongly rejected throughout the rest of the tax code. Additionally, by eliminating federal deductibility of state and local taxes, Congress would shift the intergovernmental balance of taxation and limit state and local control of our tax systems.