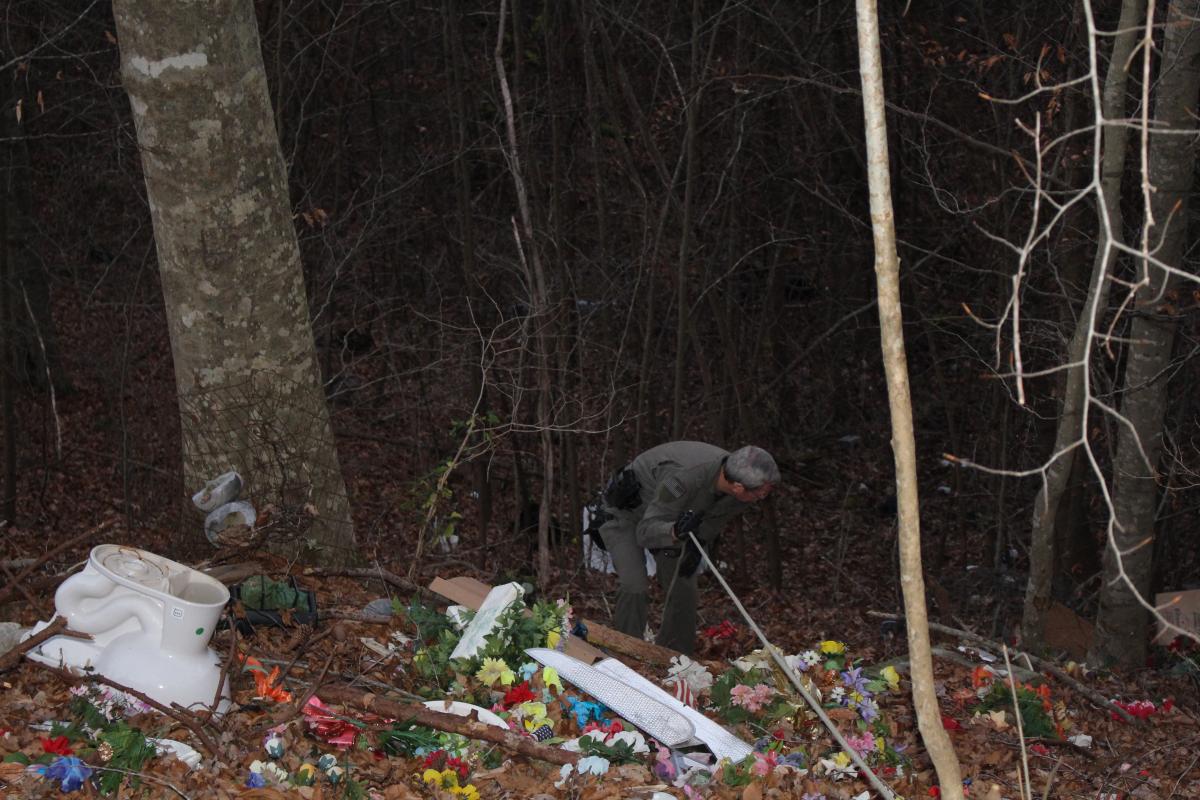 ROANE COUNTY, Tenn. detectives climb down a mountainside to recover items stolen from a nearby church. Photo courtesy of Roane County Sheriff's Office.
TENNESSEE
In ROANE COUNTY, stolen flowers, cases and pieces of headstones from the Swan Pond Church cem­etery were spotted in an area popular for illegal dumping. Detective John Mayes said the stolen items were found by Roane County Road Superintendent Dennis Ferguson, and it took the help of several different organiza­tions working together to sort the items.
CALIFORNIA
Twenty-one is now the mini­mum age for purchasing tobacco and electronic smoking products in SANTA CLARA COUNTY. A law passed by the Board of Supervisors last year raised the age from 18 to 21 on Jan. 1. The county was the first in the state to pass such an ordinance; it applies in unincorporated areas. A recent report by the Institute of Medicine estimated that rais­ing the minimum age for the sale of tobacco products to 21 will eventually reduce the smoking rate by about 12 percent and smoking-related deaths by 10 percent. County officials said an esti­mated 90 percent of tobacco users start before the age of 21, and that roughly 80 percent first try tobacco before age 18.
ORANGE COUNTY will hire a "homeless czar" to coordi­nate dozens of county programs across several departments that target the county's growing home­less population — a homeless population that rose by 5 percent over the last two years. Duties will include aligning housing, health and other resourc­es for greater efficiency, KPCC-FM News reported. "State programs don't talk to federal programs that don't talk to law enforcement," said Orange County Supervisor Andrew Do. "Everyone is trying to solve a common problem but only from the limited perspective that they deal with." He proposed the new position, officially called a "director of care coordinator." The employee will make recommendations to the Board of Supervisors and chief operat­ing officer on how to reduce end homelessness.
COLORADO
A state requirement that new voting systems be purchased from a single vendor has left JEFFER­SON COUNTY Commissioner Libby Szabo "baffled," according to The Colorado Independent. Voting equipment in the state's 64 coun­ties will have to be replaced in the next two years to comply with a 2009 state law.
Szabo and officials from other counties have complained that requiring them to sole-source the equipment isn't the cheapest op­tion, could violate state law and is fiscally irresponsible. She said it creates a "monopoly" that can charge "whatever they want."
Colorado's secretary of state says the new voting systems will cost up to $9 million, and the state isn't offering any assistance. Be­tween 2002 and 2006, the federal Help America Vote Act helped counties across the nation to purchase new voting equipment.
GEORGIA
A state lawmaker wants to resurrect two counties, MILTON and CAMPBELL, which were merged into FULTON COUNTY in 1931.
Rep. Brad Raffensperger (R) has pre-filed a resolution at the General Assembly calling for a constitutional amendment that would allow voters, by refer­endum, to recreate the former counties. Georgia's constitution currently caps the number of counties at 159, Johns Creek Patch reported.
Raffensperger said retroces­sion would give taxpayers "more local control of their policies, taxes and quality of life…."
ILLINOIS
COOK COUNTY is ex­ceeding its target for reducing greenhouse gas (GHG) emissions from its buildings. According to the county's 2015 Sustainability Report, GHF emissions fell by 11 percent since they were bench­marked in 2010.
This surpasses its target of an 8 percent reduction from 2010 through 2014, and is equal to keeping 20,400 passenger ve­hicles off of the road for a year, the report said.
Energy efficiency played a major role by updating building control systems and investing in renewable energy technologies, officials said. The report also noted that more the 500,000 tons of building materials have been diverted from landfills thanks to a 2012 county ordinance.
KENTUCKY
With a stroke of the new governor's pen, county clerks' names will no longer be required on state marriage license forms.
Gov. Matt Bevin (R) signed an executive order recently remov­ing the requirement. The order directs the Kentucky Department for Libraries and Archives to "issue a revised marriage license form to the offices of all Kentucky County Clerks. The name of the county clerk is no longer required to appear on the form."
The clerk's signature became an issue when ROWAN COUN­TY Clerk Kim Davis refused to issue marriage licenses to same-sex couples because doing so violated her religious beliefs.
MARYLAND
Counties whose first re­sponders helped quell rioting in Baltimore last April will be reimbursed up to $1.8 million by the city. ANNE ARUNDEL, BALTI­MORE, HOWARD and MONT­GOMERY counties responded to riots and looting that erupted after the death of Freddie Gray. He suffered a broken neck while be­ing transported in police custody. At least one county has de­clined the reimbursement. BAL­TIMORE COUNTY Executive Kevin Kamnetz said, "The residents of Baltimore County recognize that a strong Baltimore City is key to regional strength and stability, and for that reason, the county will not seek reimburse­ment."
MONTGOMERY COUN­TY has declared victory in its ef­fort to end veteran homelessness, thanks to a $500-thousand effort to create housing for ex-military personnel in need of it. The money, appropriated by County Council, was used to house 18 homeless veterans and helped the county find housing for every homeless vet it could identify. "Montgomery County now has a coordinated and efficient system, which has been developed with our community partners to ensure that every veteran in our county has access to the supports needed to move quickly from homelessness to permanent hous­ing," Councilmember George Leventhal said.
NORTH CAROLINA
FORSYTH COUNTY will vote on an agreement with Winston-Salem to form a joint public art commission. The Winston-Salem City Council approved the agreement Dec. 21.
The public art commission would expedite public art projects for the city, county, and participat­ing towns and villages. Current city and county employees would provide basic administrative sup­port for the commission, which would have nine to 11 members, with Winston-Salem appointing six members and Forsyth County appointing three to five, the Winston-Salem Journal reported.
PENNSYLVANIA
One of the sweetest deals in Pittsburgh now costs more, now that ALLEGHENY COUNTY will charge fees for events, like weddings, held at the county courthouse.
For years, the county only received out-of-pocket reimburse­ments for costs of private events. From 2013–2015, 30 weddings were held at the Grand Staircase or in the courtyard, one of County Executive Rich Fitzgerald's daughters' among them. The Post-Gazette reported that brief wedding ceremonies during courthouse hours will continue to be free.
SOUTH DAKOTA
Hundreds of millions of dollars could be flowing into parched county treasuries if lawmakers pass a number of little-publicized bills that will be considered during the upcoming legislative session, the Rapid City Journal reported.
A summer committee of legislators who studied county government generated proposals that include an optional sales tax, a portion of alcohol taxes and requiring cities to reimburse coun­ties annually for a share of judicial and law-enforcement costs. In the latter, cities would have to pay counties for a portion of those expenses equal to the city's share of the county's population.
VIRGINIA
ACCOMACK and NORTHAMPTON counties will establish the Eastern Shore Regional Navigable Waterways Committee to speak on matters related to — what else — navigable waterways.
The committee will include members from both counties, including two members of each Board of Supervisors and three citizen members from each county.
The committee's purpose is to advise the boards of supervisors of each county on how to deal with the Eastern Shore navigation needs, as well as to advise on an ap­propriate form for the committee's structure and the suggested scope of its duties, according to the joint resolution, passed in December by the Accomack County Board, DelMarVaNow reported.
WASHINGTON
The PIERCE COUNTY Council voted to lift the ban on marijuana businesses in unin­corporated areas. The county will hold an advisory vote to see what residents of unincorporated Pierce County think about lifting the ban.
Voters in the county favored statewide legalization in the 2012 vote. The vote will be held in April and it could cost about $425,000 if nothing else ends up on this ballot, according to K5 News.
News From the Nation's Counties is compiled by Charles Taylor and Char­lie Ban, senior staff writers. If you have an item for News From, please email ctaylor@naco.org or cban@naco.org.
Hero 1