On May 26 Scott County, Kentucky located 10 miles northwest of Lexington with approximately 47,000 residents convened 35 local leaders to host a NACo County Prosperity Summit . The goal of the summit was to support Scott County's economic diversification goals specifically related to tourism and trail development. With numerous recreation and tourism attractions nearby including the Legacy Trail, Kentucky Bourbon Trail and hiking and equestrian trails Scott County leaders attended the summit to brainstorm new ways to attract tourists and residents by expanding and connecting these amenities.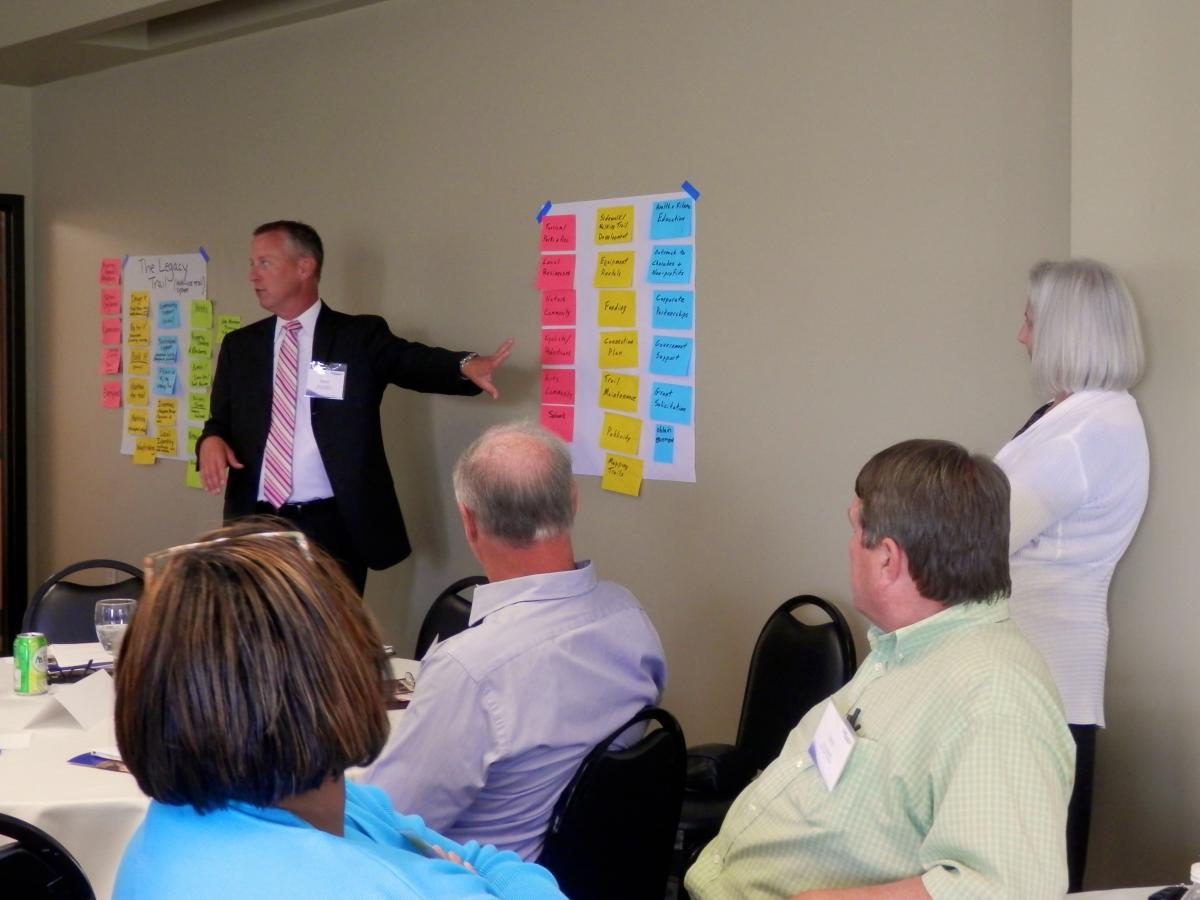 Attendees at the Scott County Prosperity Summit work on building a value chain for a multi-use trail system.
The Scott County Prosperity Summit was facilitated and led by Barbara Wyckoff, CEO of Dynamica Consulting . Ms. Wyckoff introduced summit attendees to the WealthWorks framework and walked them through a number of visioning and mapping exercises to strengthen local and regional connections within the county's tourism sector. At one point, Ms. Wyckoff urged participants to identify the actions and projects that will cause "the biggest cascade of impact," emphasizing that Scott County boasts various forms of capital that they can leverage and grow.
To add local context and describe a regional application of the framework, Melissa Levy, Senior Associate at Yellow Wood Associates , also joined the event. Ms. Levy shared her experience supporting tourism-related value chains in the Lower Mississippi River Region and Newago County, Mich. With this experience, she highlighted the opportunities for rural places in sustainable development and noted the importance of Scott County seeking a more diverse and resilient economy to support lasting livelihoods for its residents.
A quote from Melissa Levy's presentation emphasizing the role rural and mid-size counties can play to address some of the country's toughest challenges.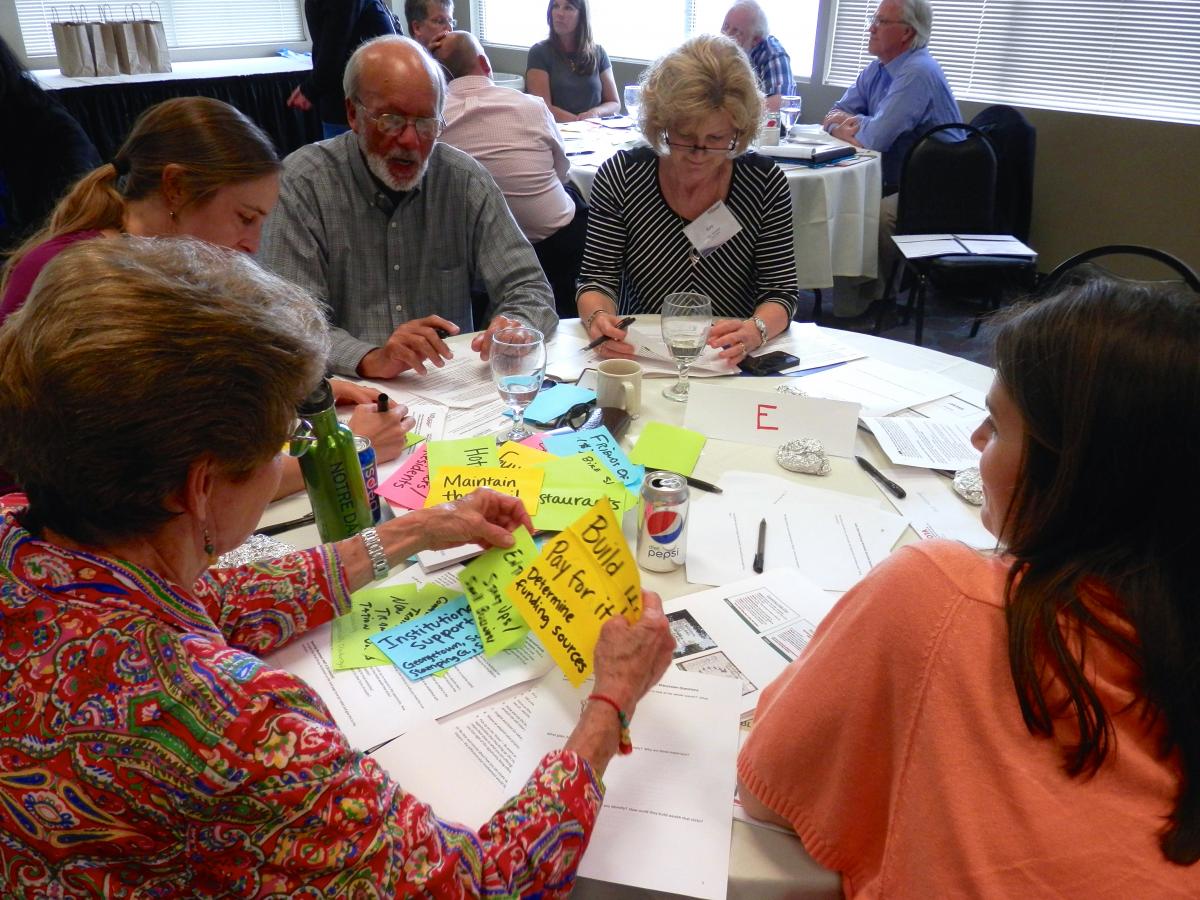 ​
Summit participants complete a group exercise about assessing wealth in different sectors.
One of the most important outcomes of the Scott County Prosperity Summit was convening such a diverse group of stakeholders: county elected officials and staff were joined by community foundations, banks, non-profit organizations, real estate agents, local business owners, city officials and state-level representatives and trade associations to unite around shared interests in the tourism and trail development sector. Georgetown Mayor Tom Prather stated, "There's a remarkable value in convening a bunch of folks and getting them to focus on asset mapping activities like the ones we are working through today."
At the event conclusion, Scott County Magistrate David Livingston led summit participants through a discussion about follow-up actions that will occur in the next few months, including prioritizing and expanding a non-motorized trail value chain created during the summit and identifying gaps and bottlenecks in the chain. Summit atte ndees also expressed interest in working more closely with the Scott County Planning Department to identify existing trail networks and opportunities for expansion. Additionally, many county leaders agreed that organizing a tourism marketing and branding strategy for the county should be a major focus moving forward. In all, the Scott County Prosperity Summit helped to convene many of the county's most active and productive leaders interested in exploring trail development and other recreation opportunities to help position Scott County as a popular tourist destination throughout the region.
Interested in learning more about County Prosperity Summits and WealthWorks? Plan to attend NACo's Annual Conference this summer in Mecklenburg County, N.C., which will feature a County Prosperity Forum on Sunday, July 12th from 9am-12pm EDT. To register for the conference, visit naco.org/annual . For more information about the County Prosperity Summits Program, visit naco.org/prosperity and visit the new NACo County Prosperity Summits Digital Journal to explore more stories, sector information, images and maps from each of the five summits. Questions? Contact Jen Horton at jhorton@naco.org .