The Community
Sullivan County is a rural county located in western New Hampshire and the second poorest of the state's ten counties. The economy features higher-than-average employment in metal product, wood product, furniture and machinery manufacturing and lower than-average employment in health care services and professional, scientific and technical services. Unemployment is low (approximately 2.5%), but there are significant challenges with workforce development and demographics that jeopardize continued growth. Other challenges include the opioid crisis, and depressed property values.
The Project
The arts were once an essential part of Sullivan County's economy, and there still exists a solid core of art organizations working in each community today. However, there is a lack of coordination among these organizations. Sullivan County wants to take the best of what its individual communities are doing and synchronize their efforts to create a countywide cultural identity, by establishing an arts partnership and integrating the arts into the county' comprehensive economic and community development strategy
Goals & Action Items
Goal #1: Discover and build consensus around our creative regional identity.

Action #1

Create a crowd-sourced story map about what people "love" about Sullivan County.

Action #2

Create a county brand with a marketing package.

Action #3

Consider an asset mapping project.

Goal #2: Execute a campaign to cultivate pride and unity around the cultural regional identity.

Action #1

Develop "downtown" banners and/or pop-up displays of photographs of things that are locally loved.

Action #2

Develop and erect signage saying "You are entering Sullivan County" at all entrances to the county.

Action #3

Encourage pop-up arts and culture events in many communities in Sullivan County.

Goal #3: Initiate a collaborative focused on supporting creative placemaking around the county.

Action #1

Hold small convenings that help identify and support Goal #2: Action #3.

Action #2

Convene arts organizations throughout the county to start creating collaborative programming initiatives.

Action #3

Develop an "Arts in Sullivan County" monthly e-mail newsletter.
Final Report Out at Workshop
https://www.youtube.com/embed/zWhtEqQf3v4
The Project Team
Jeff Barrette, Commissioner, Sullivan County
Virginia O. Irwin, Representative, New Hampshire State House of Representatives
Stephanie Kyriazis, Chief of Interpretation, Education & Visitor Svcs., Saint-Gaudens Nat'l Historic Site
Kate Luppold, Executive Director, Newport Library Arts Center
Melissa Richmond, Executive Director, West Claremont Center for Music and the Arts
Penny Whitman, Community and Economic Development Field Specialist, University of New Hampshire Cooperative Extension - Sullivan County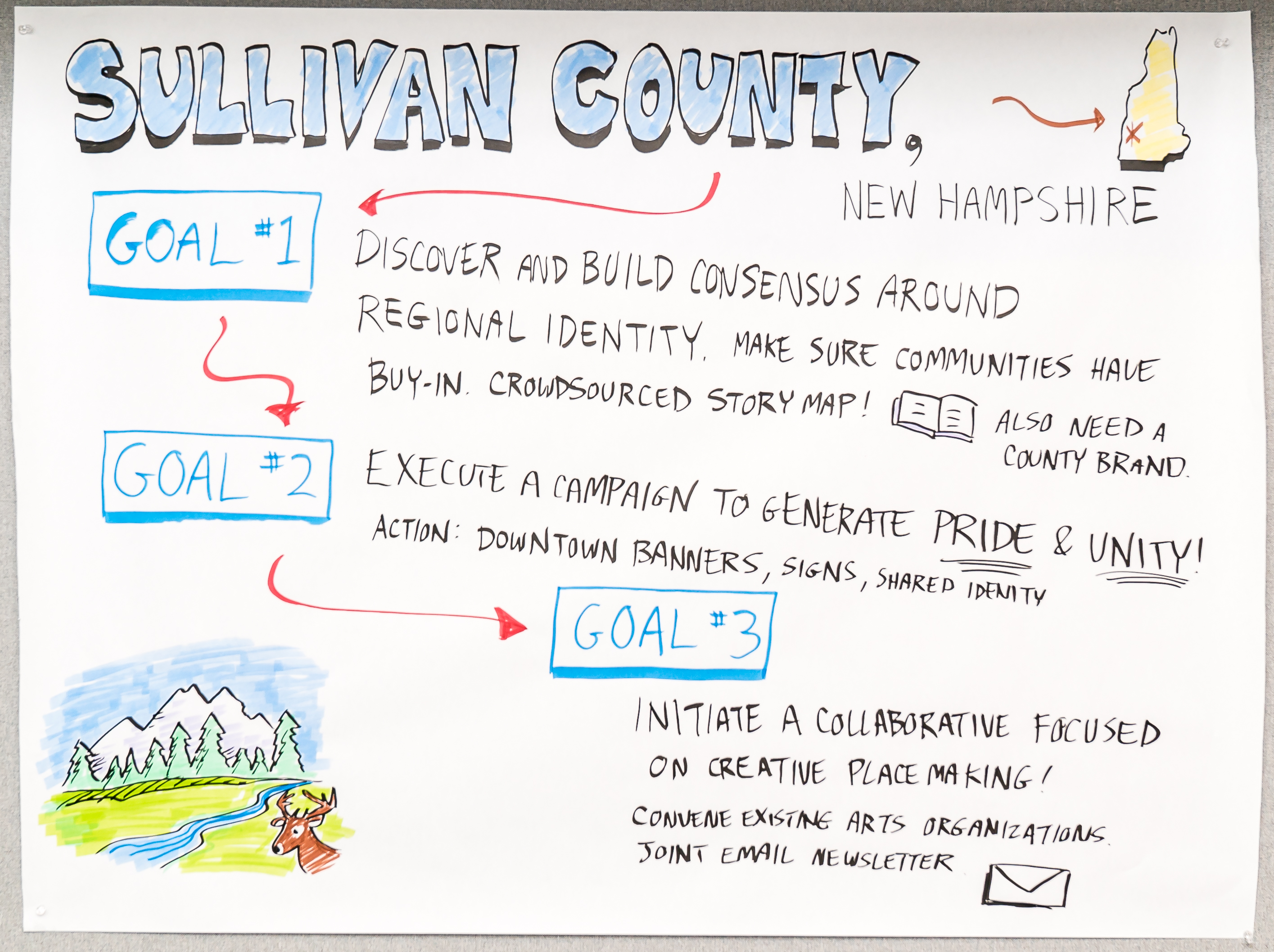 This artwork was created by Nathan T. Wright, an illustrator and artist based in Des Moines, Iowa.
Pink