The Community
McKinley County is located in rural Northwest New Mexico, overlapping the Navajo Nation and Zuni Pueblo. The City of Gallup is the county's only municipality. Per the 2010 Census, 78% of the population is Native American and 13.3% is Hispanic. The area's once strong economic engines of mining, ranching and manufacturing have declined since the 1970s, along with its population. In 2010, the county's unemployment rate was 9.1% while the State's was 7.9%, with unemployment rates are as high as 60% in Tribal communities. Over a third of the county's residents live in poverty.
The Project
The county has a long history as an arts and cultural hub, with a significant collection of 1930s/40s Works Progress Administration art and the almost-century old Gallup Inter-Tribal Indian Ceremonial. The county recently identified the arts as an economic driver in the community; in fact, 25% of residents make at least part of their living through the creative economy. The county has created a regional "Arts Trail" and renovated its Courthouse Square as a performance and festival venue. It now wishes to further activate the Courthouse Square beyond its summer Nightly Indian dances by adding a daily Native arts market to fill its often empty porticos which were designed for this express purpose.
Goals & Action Items
Goal #1: Develop a culturally relevant business model.

Action #1

Identify & invite key partners to help define a value system.

Action #2

Define core values to carry across to the business plan.

Action #3

Outline the business plan based focusing on the identified core values and the three Ps (People, Place and Profit).

Goal #2: Leverage and expand successful cultural programming.

Action #1

Create educational programming for future artists and build capacity and interest through the schools.

Action #2

Evaluate the space to determine how to turn the Courthouse Square into a true cultural center.

Action #3

Introduce complimentary cultural programming (story telling, artist demonstrations, on site classes, etc.) to the Nightly Indian Dances that already take place in the Courthouse Square throughout the Summer.

Goal #3: Improve internal and external marketing.

Action #1

Rebrand.

Action #2

Create a local and regional campaign. 

Action #3

Create a national and international campaign.
FINAL REPORT OUT AT WORKSHOP
https://www.youtube.com/embed/vYwb-_wbtkw
The Project Team
Rose Eason, Executive Director, gallupARTS, Inc.
Teri Frazier, Director, Nightly Indian Dances
Jennifer Lazarz, Tourism & Marketing Manager, City of Gallup
Bill Lee, Commissioner, McKinley County, New Mexico
Carolyn Milligan, Chair, McKinley County Arts Commission
Emerald Tanner, Owner, Tanner's Indian Arts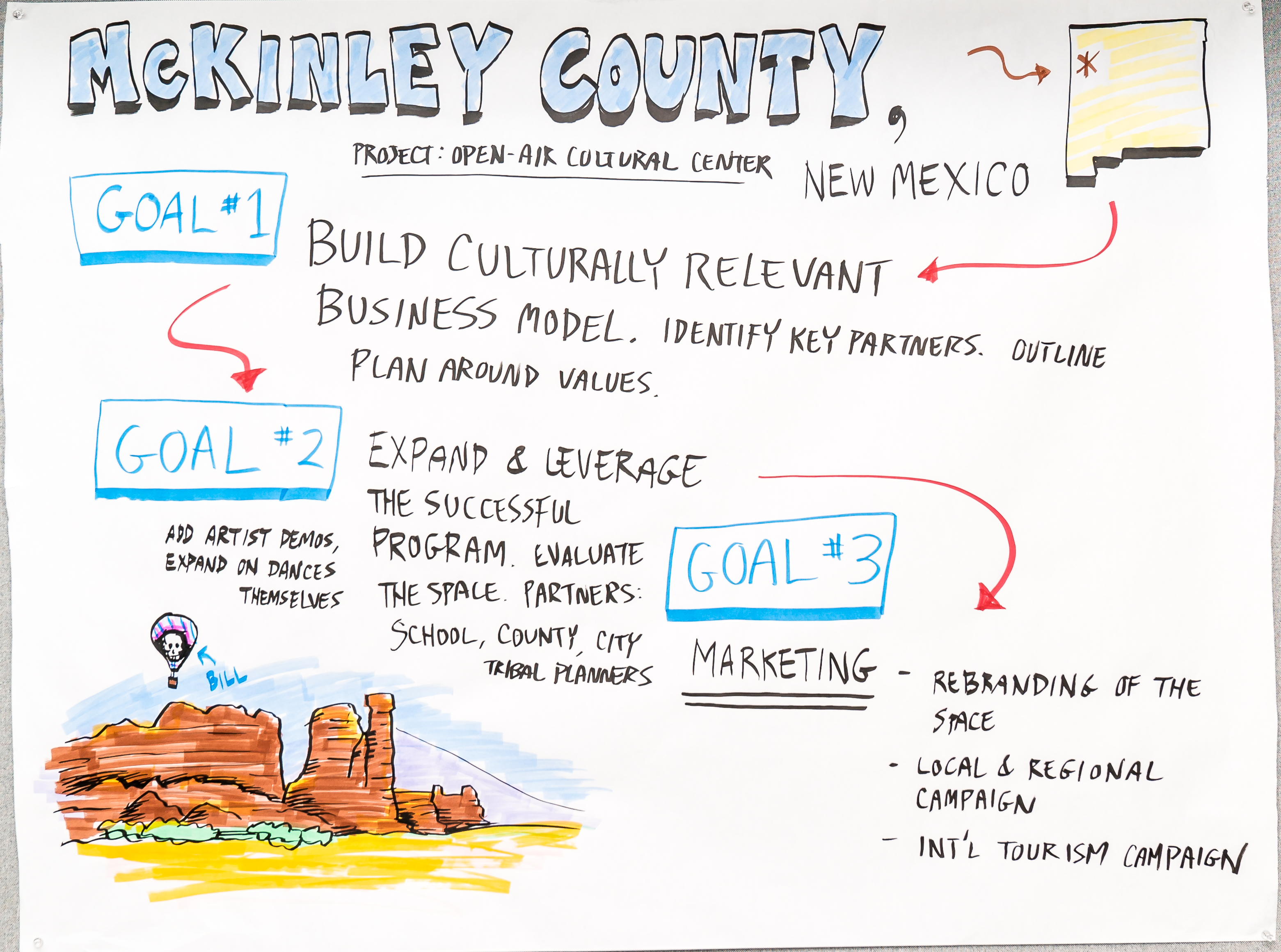 This artwork was created by Nathan T. Wright, an illustrator and artist based in Des Moines, Iowa.
Pink