NACo's 84th Annual Conference & Exposition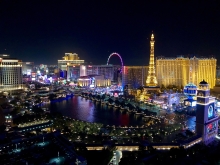 Conference
Register today for NACo's 84th Annual Conference & Exposition in Clark County, Nev. July 12-15, 2019
Thu. July 11
2:00 pm

Mobile Workshop: Fighting Hunger in Clark County: Aria Hotel & Three Square Food Bank (RSVP Required)

Thu. July 11

|

2:00 pm

to

4:00 pm

ARIA Resort and Casino & Three Square Food Bank

Learn about MGM Resorts Feeding Forward, an innovative food donations program in partnership with Three Square Food Bank that combats food waste and food insecurity. MGM Resort donates hot, prepared event food, which Three Square freezes using blast-chilling technology, storing it in their warehouse until a community need arises. Hunger relief agencies order the prepared entrees and menu items from Three Square, incorporating them into their ongoing meal planning. MGM has donated approximately 600,000 meals to the Clark County community from six Las Vegas-based MGM Resort properties.

Mobile Workshop: South Point Casino & South Point Arena and Equestrian Center (RSVP Required)

Thu. July 11

|

2:00 pm

to

5:00 pm

South Point Hotel Casino and Spa & South Point Arena and Equestrian Center

Take a behind-the-scenes tour of the South Point Hotel Casino. From TV broadcasting at the Brent Musburger Vegas Stats and Information Network television studio to back-of-house operations to the 1,200 horse stall South Point Equestrian Center, home of the American Quarter Horse Association Championships, Arabian Breeders World Cup and National Barrel Horse Association Super Show and find out what keeps Vegas humming.
Fri. July 12
9:45 am

| | |
| --- | --- |
| | Join the Community, Economic and Workforce Development Committee for a tour of the Boulder Highway Collaborative Campus, an innovative affordable housing site created in partnership with Nevada HAND, Clark County, the Boys & Girls Club, Lutheran Social Services of Southern Nevada. Space is limited; please email Daria Daniel at ddaniel@naco.org for more information. |
Sun. July 14
2:00 pm

Mobile Workshop: Regional Transportation Commission of Southern Nevada

Sun. July 14

|

2:00 pm

to

5:00 pm

Regional Transportation Commission of Southern Nevada (RTC)

Tour the Regional Transportation Commission (RTC) of Southern Nevada and get an inside look into a state-of-the-art traffic management center, plus demonstrations of innovative autonomous vehicle technologies that are being tested in Southern Nevada.

Mobile Workshop: Southern Nevada Children's Assessment Center

Sun. July 14

|

2:00 pm

to

5:00 pm

Southern Nevada Children's Assessment Center (SNCAC)

Tour the Southern Nevada Children's Advocacy Center and learn about multidisciplinary team responses to child abuse investigation and victim advocacy. Discover how they have used a multidisciplinary model to better respond to and address the needs of child victims of sex trafficking in Clark County and their families.

Mobile Workshop: Springs Preserve, Boomtown 1905 and WaterWorks Exhibits

Sun. July 14

|

2:00 pm

to

5:00 pm

Springs Preserve, Waterworks & Boomtown 1905

Listed on the National Register of Historic Places, Springs Preserve commemorates Las Vegas' dynamic history and provides a vision for a sustainable future. Owned by the Las Vegas Valley Water District, the Springs Preserve sits at the site of the valley's original water infrastructure. Developed through an inclusive community process, Springs Preserve features museums, gardens, exhibits and natural areas for guests to learn about building a more sustainable future. WaterWorks showcases the inner workings of water resource treatment and delivery in Southern Nevada. Take an optional stroll through Boomtown 1905, a recreation of a historical streetscape of Las Vegas from 1905 to 1920.
2:15 pm

In place of a standard meeting, the International Economic Development Task Force will be taking a mobile tour of the McCarran International Airport's newly upgraded Terminal 3. At this meeting, attendees will receive a behind-the-scenes look at new innovations in airport technology and management that improve the flow of people and goods both domestically and internationally. Representatives of Clark County will also discuss how the airport attracts new international flights to increasingly make the county more connected with the global economy.

Due to limited capacity, only those who pre-registered for the tour will be able to attend.
Back to Top