Forum / Meeting
NACo 2018 Farm Bill Summit
Apr. 5, 2018 – Apr. 7, 2018
Forum / Meeting

Where: Hilton Palm Beach Airport (561) 684-9400 150 Australian Ave. West Palm Beach, FL 33406 Why:

NACo 2018 Farm Bill Summit

April 5, 2018, 8:30 am

to

April 7, 2018, 5:30 pm
Event

NACo 2018 Farm Bill Summit

Where:
Hilton Palm Beach Airport
(561) 684-9400
150 Australian Ave.
West Palm Beach, FL 33406
Why:
The National Association of Counties (NACo) invites you to attend the landmark 2018 Farm Bill Summit, April 5–7 in Palm Beach County, Florida. All counties are encouraged to attend this summit as we examine the need for a comprehensive and long-term farm bill to help strengthen our national economy and provide critical services to all counties — rural and urban alike. The summit will host educational tours, workshops and panel discussions that examine how the farm bill touches every facet of American life, including conservation, trade, jobs, infrastructure, research, nutrition, disaster assistance and more. As Washington, D.C. moves forward with debating the 2018 Farm Bill, NACo is ready to bring your voice to the table.

Cutoff date extended to March 30! After you register online for the 2018 Farm Bill Summit, please call (561) 684-9400 to book your room at the Hilton Palm Beach Airport. To reserve your room under the negotiated conference rate, please reference the National Association of Counties when making your reservation. You may also book your room online.

The 2018 Farm Bill Summit is sponsored by NACo's Rural Action Caucus.

Where: Hilton Palm Beach Airport (561) 684-9400 150 Australian Ave.

2018-04-05

Forum / Meeting

2018-04-02
Where:
Hilton Palm Beach Airport
(561) 684-9400
150 Australian Ave.
West Palm Beach, FL 33406
Why:
The National Association of Counties (NACo) invites you to attend the landmark 2018 Farm Bill Summit, April 5–7 in Palm Beach County, Florida. All counties are encouraged to attend this summit as we examine the need for a comprehensive and long-term farm bill to help strengthen our national economy and provide critical services to all counties — rural and urban alike. The summit will host educational tours, workshops and panel discussions that examine how the farm bill touches every facet of American life, including conservation, trade, jobs, infrastructure, research, nutrition, disaster assistance and more. As Washington, D.C. moves forward with debating the 2018 Farm Bill, NACo is ready to bring your voice to the table.
Cutoff date extended to March 30! After you register online for the 2018 Farm Bill Summit, please call (561) 684-9400 to book your room at the Hilton Palm Beach Airport. To reserve your room under the negotiated conference rate, please reference the National Association of Counties when making your reservation. You may also book your room online.
The 2018 Farm Bill Summit is sponsored by NACo's Rural Action Caucus.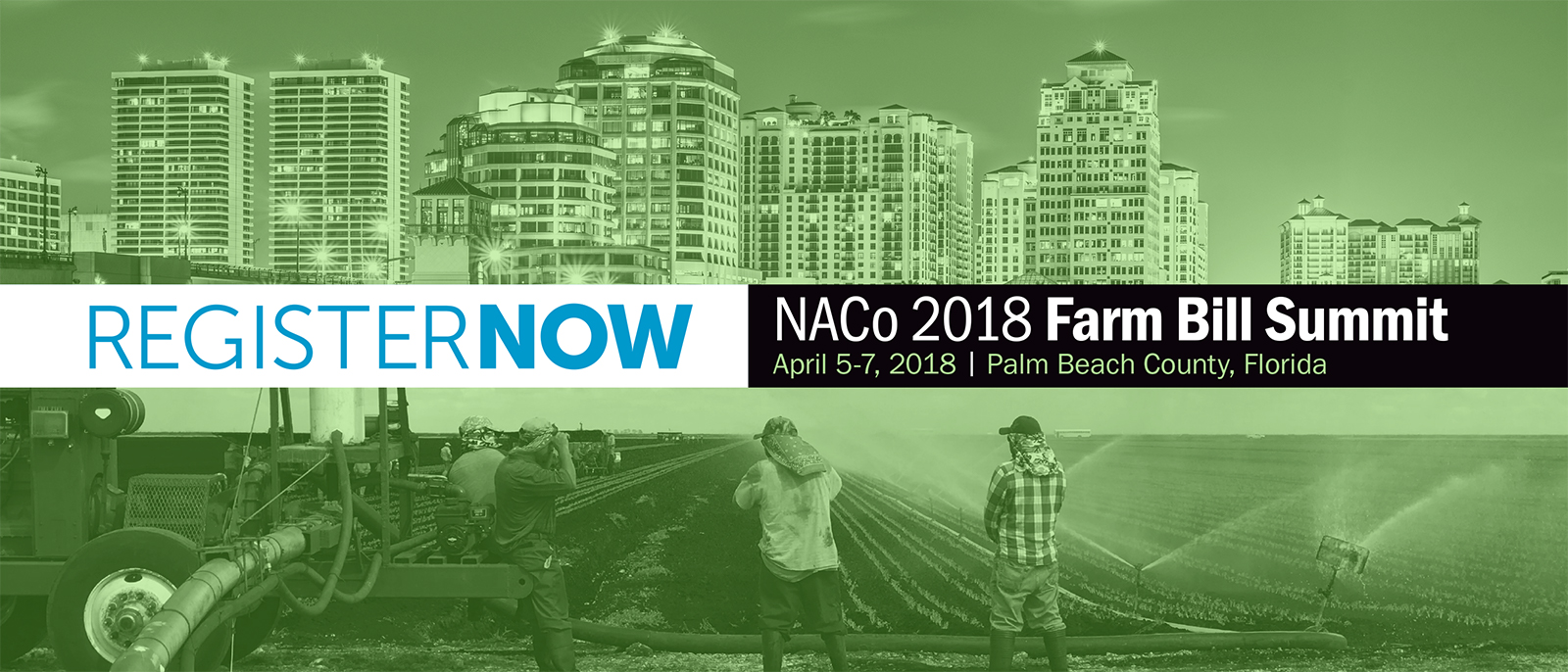 Basic page

Responsible for all matters pertaining to USDA agriculture, rural development programs, rural renewable energy development, research and extension, food safety, and conservation programs.  Policy Platform 2021-2022 2022 NACo Legislative Priorities

<p>Responsible for all matters pertaining to USDA agriculture, rural development programs, rural renewable energy development, research and extension, food safety, and conservation programs.&nbsp;</p>
Upcoming Events
Webinar

Jul. 7, 2022

, 12:00 pm – 1:00 pm

Webinar

Jul. 11, 2022

, 12:00 pm – 1:00 pm

Webinar

Jul. 13, 2022

, 1:00 pm – 2:00 pm
See all events