As counties develop and implement reopening plans, NACo has created this online toolkit for counties, based in part on a series of virtual town halls of county leaders, that helps to:
explain federal guidance on reopening for county governments,
clarify the county role under state directives,
chart a course for safely restarting local economies, and
support long-term equitable recovery planning.
During the COVID-19 pandemic, NACo remains committed to its mission of strengthening America's counties and will use the organization's platforms to help county leaders share and gain insights on how they can protect their residents while safely reopening their communities.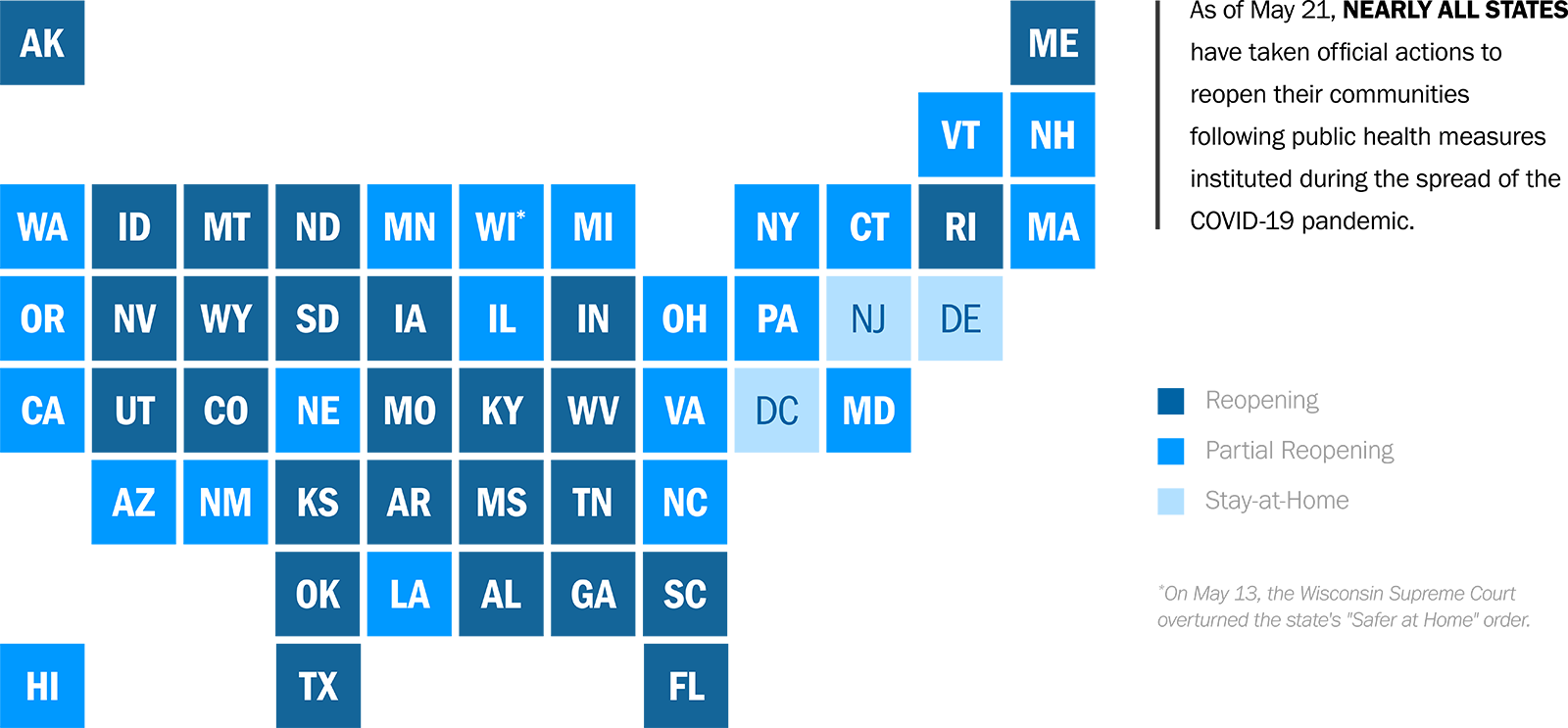 Resources for Counties

White House Reopening Plan

In April, President Trump released the White House's "Guidelines for Opening Up America Again," which is a framework for lifting state and local shelter-in-place orders. The plan outlines proposed state and regional gating criteria that must be satisfied before proceeding to phased reopening, followed by a three-phased approach and includes specific steps for state, local and tribal officials to follow in tailoring their own strategies for reopening. 

Symptoms: States must see a downward trajectory of influenza-like illnesses reported within a 14-day period, and a downward trajectory of COVID-like syndromic cases reported in a 14-day period.
Cases: States must see a downward trajectory of documented cases within a 14-day period or a downward trajectory of positive tests as a percent of total tests within a 14-day period (flat or increasing volume of tests).
Hospitals: States must be able to treat all patients without crisis care and have a robust testing program in place for at-risk healthcare workers, including emerging antibody testing. 

White House Testing Guidance​

Following the release of the "Guidelines for Opening Up America Again", the Trump Administration released the "Testing Blueprint for Opening Up America". The additional guidelines supplement the previous guidelines and are intended to facilitate state and local development and deployment of testing plans, in preparation for a phased reopening. The 8-part Blueprint has three core elements for scaling up testing that include robust diagnostic testing plans, timely monitoring and surveillance, and rapid response through contact tracing and isolation. The plan defines the roles of the federal government, state and local governments, and the private sector in meeting the country's testing needs. ​​

The role of the federal government is to enable innovation, scale supplies, and provide strategic guidance to local sectors. ​​
State and local governments are tasked with developing and implementing testing ​​
The private sector is responsible for developing and producing the supplies and services required to meet state needs.

CDC Guidance

In May, the Centers for Disease Control and Prevention released full guidance aimed at helping various sectors (including schools, workplaces, camps, childcare programs, mass transit systems and bars and restaurants) decide when and how to safely reopen. The full guidance was released alongside a series of 6 "decision tree" checklists documents that provide step-by-step framework for decision making that align with federal health recommendations on social distancing, handwashing and protecting vulnerable populations. Click the "learn more" button to view full, detailed guidance, and see below for guidance on specific sectors.

State-Level Guidance

NGA State-by-State Analysis​
Summary of evolving analysis as governors issue reopening plans with public health criteria.

NGA Businesses by Sector Analysis​
Summary of actions that states have taken to reopen certain business sectors previously restricted, deemed nonessential and/or required to close.

Reopening Virtual Town Hall Series

Up Next: May 27 | 2:00 p.m. EDT

Join NACo for a series of virtual town halls on reopening America's counties and how county leaders can safely transition local communities and county workforces to a new normal in light of COVID-19.

Partner Resources

Find the latest resources from NACo partners and the private sector.
County Examples

Butte County, Calif.

The first county in California to have met the state's criteria, Butte County has begun to lift restrictions for low-risk residents and non-essential businesses. The county has developed a data-driven phased-approach to reopening, allowing many restaurants, retail, manufacturing and childcare businesses to reopen with restrictions.

Dutchess County, N.Y.

Counties throughout New York, including Dutchess County, will be reopening on a regional basis as each region meets specific criteria set by the state. New York counties are taking a regional approach and Dutchess County is part of the seven-county Mid-Hudson Region. Though the region has not met the state's criteria for reopening, they have created a data dashboard to track the seven metrics laid out by the state. They have also developed their Reconstitution Plan that will go into effect once they move into Phase 2.

Lincoln County, Ore.

The county created sector-based and community-based guidance for reopening and will update their guidance as needed. County leaders are worried, however, about the potential influx of tourists to the Oregon Coast that could lead to a surge in cases. Since the county only has 25 hospital beds, they are taking caution as they reopen and many of the beaches and parks will remain closed or open with limited use.

Loudoun County, Va.

Though the state is moving forward with partial reopening, the county, along with four other counties in the Northern Virginia Region— Arlington, Fairfax and Price William Counties and Alexandria city — has received approval from Governor Northam to allow them to delay opening until the following metrics are met:

Downward trend of positive tests over a period of 14 days
Downward trend of hospitalizations
Sufficient hospital beds and intensive care capacity
Increased testing and tracing
Increasing and sustainable supply of PPE

Miami-Dade County, Fla.

The county released their "New Normal" guide on May 13. The county initiated its gradual reopening on April 29, starting with parks and open spaces with continued social distancing and face mask protocols. The county's initial reopening plan allows for non-essential businesses to reopen with strict capacity and public health rules in place while maintaining authority to reclose non-essential businesses in the event of resurgence if necessary.

Multnomah County, Ore.

Though they have met state standards for Phase 1 reopening, the county has chosen to include additional standards around public health and equity. The county is paying particular attention to tracking cases in communities of color to evaluate when and how to reopen. They have also added a metric focused on contact tracing, particularly in communities hard hit by COVID.

San Diego County, Calif.

County health officials have asked the Board to accelerate the county's reopening and to move the county to California's Phase 2. If approved, many businesses will be able to reopen under strict guidance, including in-person dining reservations and retail shopping with social distancing. Restaurants and retail shops will need to complete the county's Safe Reopening Plan and display the checklist on the premises.