Esri explores what's the big deal with county parcel data?
In most counties, parcels data is the most requested data in the county.  Why?
First, let's define what parcel data is.  Its not just the tax parcel lines on a map, but also all the information about the parcel.  Information like the buildings, construction type, siding and roof type, number of bedrooms, square footage and many other characteristics maintained by assessors to assess value.  It also includes documents like deeds, mortgages, liens, and easements.  And let's not forget about zoning, use, assessed value and property tax.  There's a lot of information about a parcel.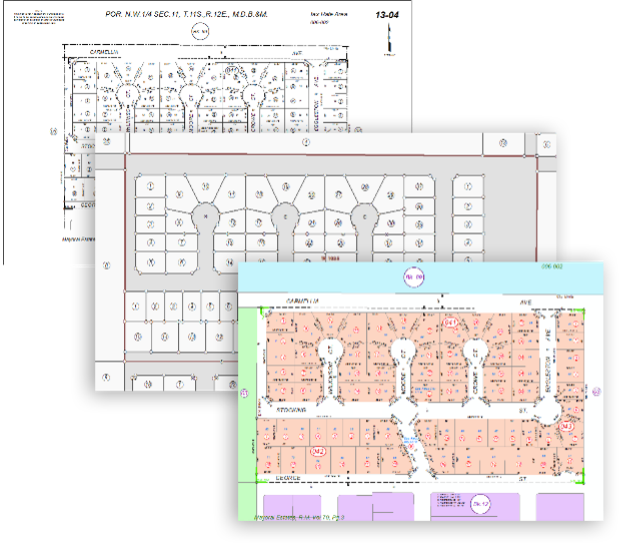 Figure A - Plats, surveys, assessor maps create accurate parcel maps used by the entire county and the public.
Sometimes its challenging to connect all of these dots – this information is maintained and managed in different departments in the county – The assessor maintains the property characteristics and calculates a value for real estate tax.  The recorder's office maintains the ownership records including deeds, mortgages, and easements.  There's zoning, building permits, comprehensive plans, addresses, and a lot more dots across the county to connect all the parcel information.  GIS brings this together, makes it usable, and sharable with the public and stakeholders.
It sounds difficult, but it's not.  Sharing data with web services (or just services) is the key to sharing data and integrating it together despite so many separate county departments that are using different business systems.  Services are like a dial tone to your data.  Others can connect to it and use it, but don't need to download or copy it.  Services are a secure way to share data.  Owners of the data can determine who can view, query and in some cases edit the data.  Just about any kind of data can be integrated in GIS, and GIS publishes the services.  These services power mobile apps and are 'mashed up' to make web maps.
The Importance of Getting Your Parcel Data Online
Publishing parcel data online has been around as long as the web has been around.  Some parcel viewers are simple with just a little information about the parcel, and some viewers have just about everything including the chain of title, current tax valuation and where property tax dollars go for any particular parcel.  Many parcel viewers are integrated with CAMA (computer assisted mass appraisal) systems which contains the property characteristics, and many have current and past aerial imagery so changes in the parcel can be easily seen.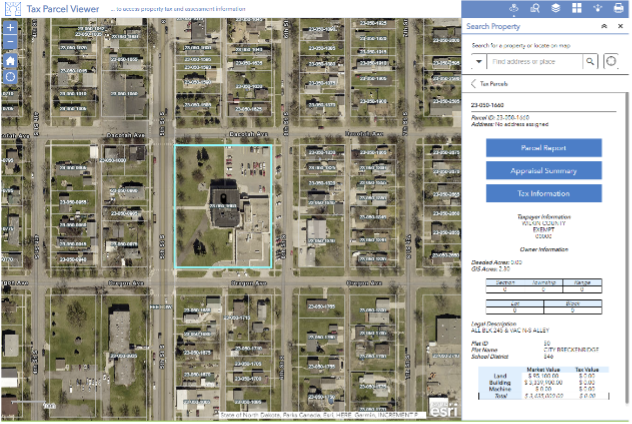 Figure B - Online parcel viewers are easily configured with assessment data, imagery and other information to help limit office queries.
So, the parcel becomes the key to connecting data across the county.  There is usually a PIN (parcel identification number) which is used to connect the different information sources when they are specific to the parcel.  But with geographic data, it can be integrated without a PIN because it can simply be overlayed.  Connecting and integrating geographic data such as soil types or land use can simply be overlayed and analyzed with GIS.  Its kind of a GIS superpower.
Parcel Data is the Foundation for County Insight
But why does everyone seem to want parcel data?  Simply, because it helps answer so many questions.  Taxpayers can look at the value of their property and compare it to values of similar properties.  Businesses combine parcel data with other data like income and demographics to help site their businesses in locations that will have the highest likelihood of success.  Good parcel data is a valuable economic development tool for counties.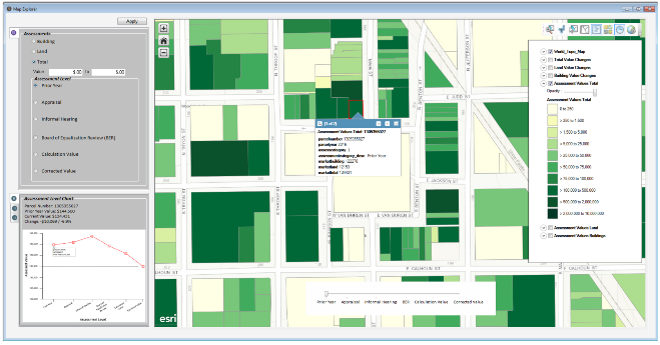 Figure C - Using parcels to understand and communicate valuation changes year-on-year.
Publishing and sharing parcel data online save counties time and money.  In the past, taxpayers, surveyors, realtors, business owners and just about anyone who wanted information came to the county and into the assessor's office to look at tax maps and property cards.  Then to the planning department to review zoning. Then to public works to get an idea where the utilities were and other departments to get all the information they needed on a particular parcel.  Now, its citizen self-service with the data online which is easily accessed with a map.
Parcel Data: The Most Powerful Dataset Your Organization Can Have?
Most county assessors take great pride in how they maintain their parcel data.  It's created for tax assessment but used by nearly everyone.  As a result, many assessors develop data that is more accurate than they actually need to value property, but it helps eliminate duplication in government because some users of parcel data need a little more accuracy like in the public works or engineering department.  This leads to an interesting issue – the assessor's parcel data is at times more valuable to others than the assessor.  When it's used to ensure accurate geocoding and addressing, the emergency responders arrive at the correct property.  Lives are saved. That's valuable data.
Many states aggregate county parcel data for use in property tax oversight, emergency response, environmental analysis, broadband analysis, planning, and many other uses.  This aggregated data force multiplies the value of parcel data and enables statewide analysis and analysis across jurisdictional boundaries.  Aggregating parcel data with services takes the strain off the county of annually developing custom submissions.
County parcel data is the most requested and most used data in counties.  This is because it's the common link of so much data in all county departments – assessment, planning, registry, public works, engineering and others.  Online parcel data is essential because it helps citizens find answers quickly without calling the county.  It's powerful because it helps businesses operate more efficiently.  Simply put: parcel data is a big deal.