We've been working to completely overhaul NACo's brand and website.
So what has changed?
You'll probably first notice the dramatic update in the brand and overall look and feel of the site. We teamed up with Taoti Creative for a completely new, fresh-looking site.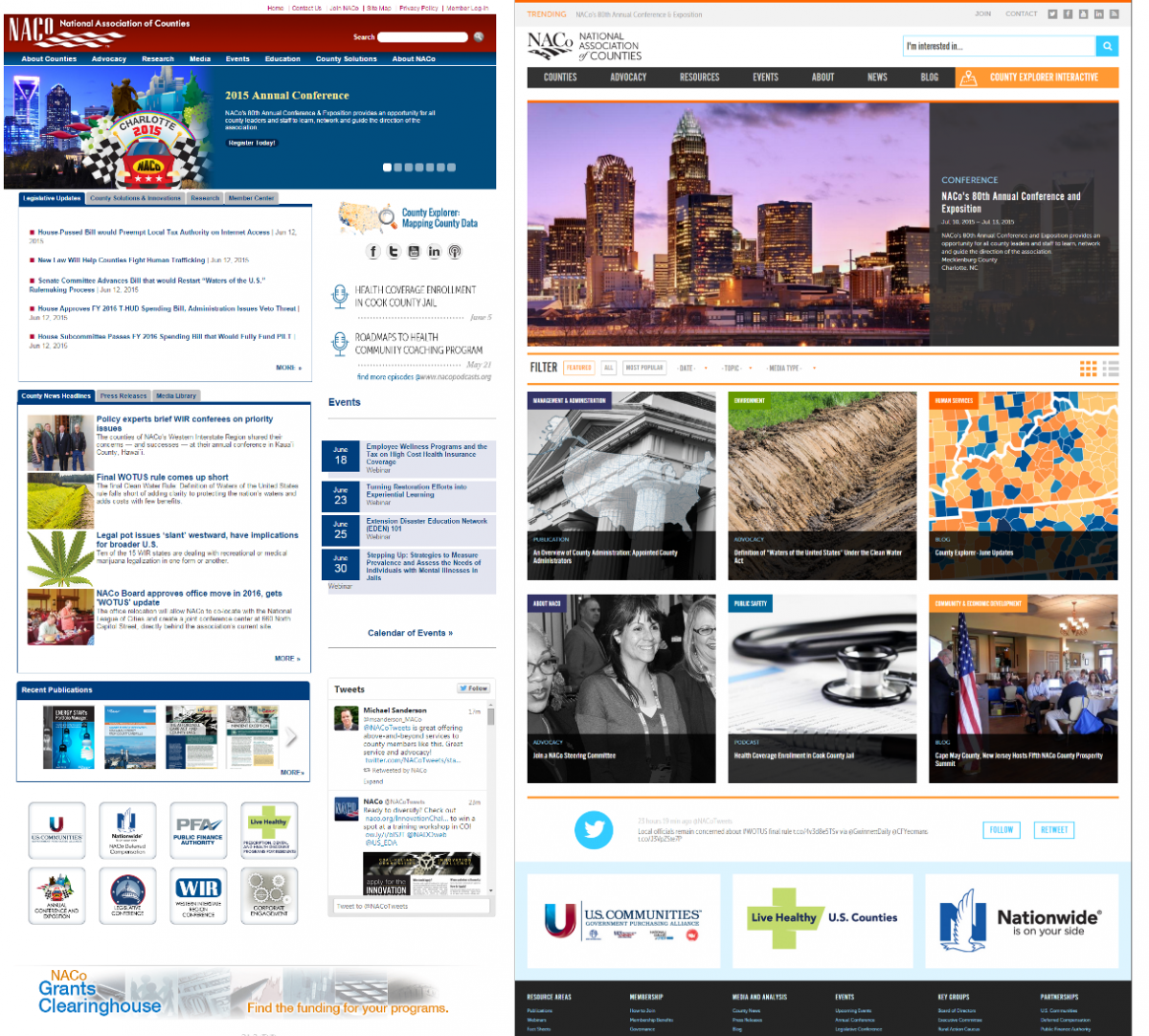 NACo.org -- Before and after.
But this new site isn't just eye candy--it's easier to navigate and find exactly what you're looking for. It takes a topic-centered approach to the information architecture. If you're interested in a particular subject, our goal is to make it easy for you to find everything we have on the subject (as well as convenient links to related information). A "persistent" navigation bar always stays on the screen so you'll never have to scroll back up to the top to get to other parts of the site.
Speaking of the navigation bar, if what you're looking for doesn't jump out, try the unique search function, At first glance it looks like your average search box, but when you click on it, you get a full-screen "Explore" feature that includes links to key areas of the site (as well as a sophisticated search engine that works as you'd expect it to).
We've also enhanced the user experience. A simple 'filter bar' appears throughout the site to let you quickly identify the type and topic of information you're looking for, right there in the page. Results can be toggled between list and grid views, depending on your viewing preference.
Our new NACo.org site is responsive--it automatically optimizes itself for any screen size or device. No more zooming in to read tiny text on your smartphone: Everything on the site scales appropriately so that even if your screen size may be limited, your experience isn't.
If you were familiar with the County News section before, you'll see that we've integrated it seamlessly into the site. No longer are County News and NACo.org separate entities--just different types of content, easily filterable and findable throughout the site. Each main type of content has a label for easy identification. To achieve the same goal of simplification, we combined our three separate blogs into one to give you a one-stop-shop for all blog posts.
Under the hood, the new website is built on the Drupal content management system. While this doesn't have a lot of impact on end users, it does make it much easier for NACo staff to manage the site. This means content will be posted faster, more frequently, and with less hassle. It's a model of modern website management.
Every website is a work in progress. Look for new features and updates implemented throughout the site in the future, but we hope you like the new site so far! If you have any questions or comments, email webmaster@naco.org.