Were you expecting a below average hurricane season this year?  Were you expecting a warm Fall?  Are you expecting a warm Winter with not a lot of snow?   In July, NACo 2018 annual conference attendees in Nashville, Tennessee heard from Weather Trends International's CEO Captain Bill Kirk that those forecasts would be completely wrong.  Bill is the Founder of Weather Trends International that has been providing year-ahead temperature, rainfall and snowfall forecasts by week for every mile on Earth to Fortune 500 companies and thousands of small businesses, farmers and local governments for over 16 years.  
During the NACo annual conference presentation Captain Kirk explained how Weather Trends' year-ahead forecasts using trillions upon trillions of statistics and 24 climate cycles is very different than meteorological methods used by NOAA, academics and most weather companies.  Traditional meteorological forecasts are based on physics and modeling to predict the days, months and seasons ahead but they simply aren't reliable for long-range forecasts.  Kirk explains that if you threw one pebble in a calm lake it would be very simple physics to predict the ring or wave made by the stone's impact.  We can compare that ripple to a storm and cold front in weather.  But in the real world of weather there are millions of pebbles making impact causing millions of ripples in the atmosphere all interacting.  And those ripples are not only at the surface but up 50,000 feet in the atmosphere.  Meteorological models using physics attempt to predict all those interactions but the further out in time you go the more the error in those models compounds making the forecast much less reliable.   
While meteorological models don't work, statistics combined with climate cycles do.  At the NACo conference, Kirk explained how the Weather Trends' year-ahead forecast process starts with statistics 101, using March in the Northeast as an example.  Anytime there's been a very hot/dry March in the past 123 years the following year is cold about 91% of the time and snowy 94% of the time. That statistical trigger was hit in March 2016 when the Northeast was near record hot so, based on strong statistical odds, the Weather Trends year-ahead outlook for March 2017 was for the coldest/snowiest March in 16 years.  Next, layer in 24 climate cycles like El Niño, La Niña, AO, Sun, EPO, MJO, NAO, etc. and the statistical forecast can be adjusted or fine-tuned to be even more accurate.   A few days ahead of March 2017 most meteorologists' forecasts called for a record hot/dry March and while it did start that way in the first few days, the bottom fell out for the balance of the month.  March 2017 went onto be 3F below average with 2-5 feet of snow in the Northeast.  The meteorological approach for the month ahead didn't work but the statistics and climate cycle approach a year-ahead did.  Now we have a new statistical trigger.  With a very cold/snowy March 2017 and looking back at 123 years we have an 81% chance of another cold/snowy March in 2018.  What do you think happened in March 2018?  The coldest in 17 years and snowiest in 25 years.  Because year-ahead forecasts based on statistics and climate cycles don't change once issued they are especially valuable for planning months up to a year-out.  You can better plan road, park, utility maintenance, facility energy consumption, seasonal labor etc.    STATISTICS AND CLIMATE CYCLES WORK!
Advanced forecasting can aid in emergency preparedness too.  In August 2018 this year the National Hurricane Center, Colorado State University and many weather firms downgraded the 2018 hurricane season to end up below average, less than 11 systems forecast.  Indeed the season had been quiet to that point.  But then September and October hit and the season ends up catastrophic.  Over $60 billion in losses were seen in the Carolinas and Florida alone with major hurricanes Florence and Michael; and sadly, nearly a 100 people were killed and millions of livestock lost.    Weather Trends advance hurricane outlook for 2018, again using statistics and climate cycles, was presented at NACO and indicated an active season with 15 named storms with the major threat areas as SC, NC and the Florida Panhandle.  That's almost exactly what happened (see forecast risk graphic below with overlays of actual named storms).  The season ended well above average with 16 systems, 15 named storms, 8 hurricanes, 2 major hurricanes (both made landfall in the U.S.) and an Accumulated Cyclone Energy (ACE) index of 129, well above the average of 103.  STATISTICS AND CLIMATE CYCLES WORK!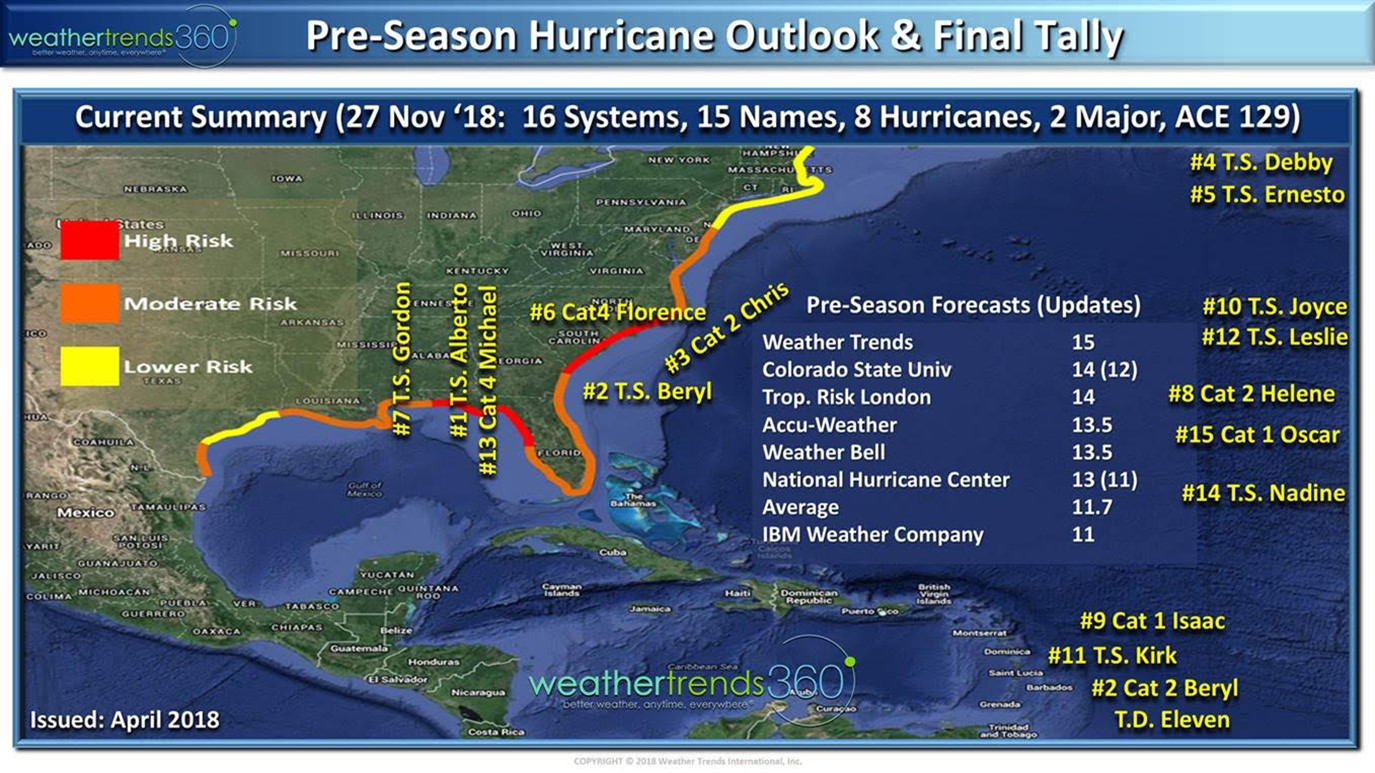 Knowing STATISTICS AND CLIMATE CYCLES WORK, what's ahead?   Weather Trends' year-ahead Fall forecast as presented at the NACo conference called for a cold and snowy Fall and wettest Fall in over 30 years for the U.S. as a whole.  What's happened?  It's been the coldest in 16 years, snowiest in 18 years and wettest in over 30 years on a national scale!  The Winter outlook by many entities using traditional meteorology has many people thinking it will be warm and not so snowy, but Weather Trends's year-ahead forecast calls for the COLDEST and SNOWIEST Winter in 5 years with a particularly brutal period from mid January into most of February.  The term Polar Vortex will make a comeback in 2019!  Don't shoot the messenger.  Be prepared, stay safe and enjoy the cold, snowy Winter!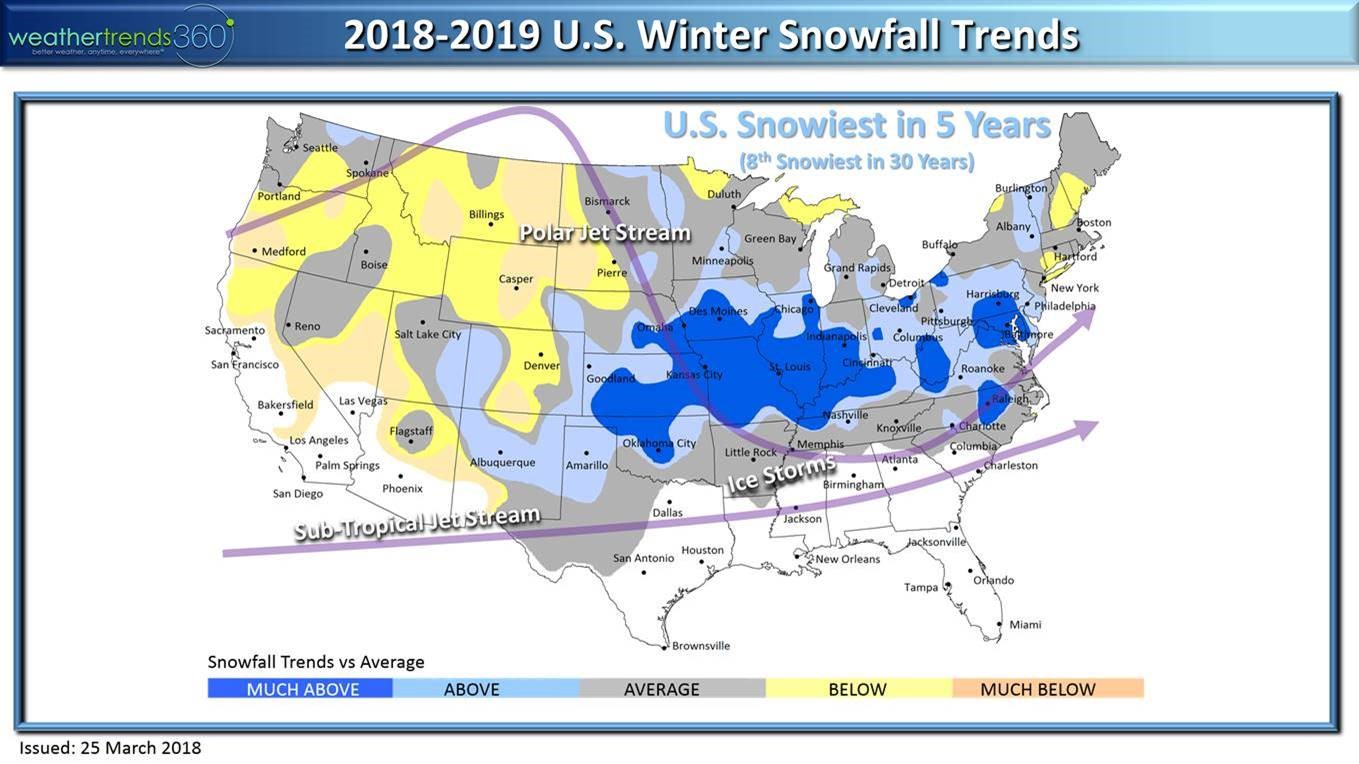 You can learn more about the forecast and how to be PROACTIVE vs REACTIVE with year-ahead weather from Weather Trends International 17 time award winning technology at http://www.weathertrends360.com/municipalities.