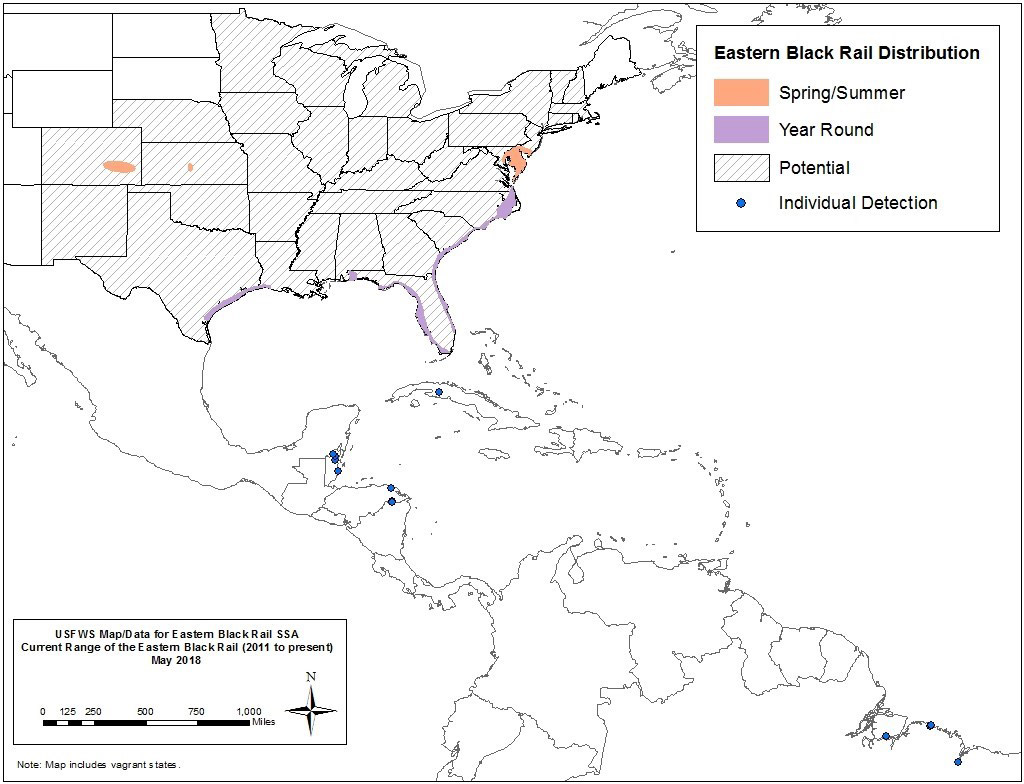 States potentially impacted by Eastern Black Rail "threatened" listing are identified in the map above (Source: U.S. Fish and Wildlife Service)
Fish and Wildlife Service propose listing eastern black rail as "threatened" under Endangered Species Act, potentially impacting counties across 36 states
Counties encouraged to submit comments to U.S. Fish and Wildlife Service on proposed "threatened" listing of eastern black rail. Comments, due December 10, can be submitted via www.regulations.gov
On October 9, the U.S. Fish and Wildlife Service (FWS) proposed listing as "threatened" the eastern black rail, a subspecies of black rail – a partially migratory bird – that inhabits saltwater, freshwater and brackish marshlands across roughly 36 states. This listing could have a significant impact for counties across roughly 36 states that contain eastern black rail habitat, particularly as it relates to local land management responsibilities. FWS is accepting comments on the proposed rule until December 10, 2018. You can read the proposed rule here.
The listing proposal is the latest step in a years-long process stemming from an April 2010 petition calling on FWS to list the species. FWS then published in 2011 the agency's finding that a listing may be warranted. In 2013, FWS agreed to a settlement under which the agency was required to complete a review of the eastern black rail and submit a 12-month finding by September 30, 2018.
According to the listing proposal, populations of eastern black rail are in decline, the main threat being habitat loss resulting from alteration and loss of wetlands, certain land management and fire suppression activities, grazing, haying and mowing, as well as projected sea level rise and climate change.
To protect the bird, FWS is proposing a rule that would prohibit certain activities during key periods such as nesting and brooding seasons. Such activities include fire management, mowing and other similar treatments, intensive grazing (although these restrictions would only apply to public lands), and other activities. Further, the proposed rule includes a prohibition on all fire management activities that do not incorporate best practices to minimize their impacts on the bird and its habitat.
It is important to note that, in the interest of public safety and maintaining existing infrastructure, exemptions from the Endangered Species Act's (ESA) "take" prohibitions would be provided for treatments of rights-of-way, fire breaks and transmission corridors. Additionally, the FWS does not plan to designate critical habitat for the bird.
NACo has long called on Congress and the Executive Branch to treat counties as cooperating agencies and work closely with state and county governments to decide when and how to list a species, designate critical habitat, and plan and manage for species recovery, as these listings have serious implications for local governments' land management responsibilities and can significantly impact community economic development.
Counties that may be affected by the proposed listing of the eastern black rail are encouraged to submit public comments to FWS on how the listing would impact their communities. The deadline to submit comments is December 10, 2018. More information on how to submit comments can be found at www.regulations.gov by searching for Docket Number FWS-R4-ES-2018-0057.