We Now Live in a World Where Everyone is a GIS User
One of the most inspiring developments I've seen in the government field over the last decade is how many non-GIS professionals are not only recognizing the impact GIS tools have but are using these apps themselves. This is particularly true of leaders at all levels of government. At conferences across the country (remember when we went to those in person?), we'd meet with county administrators, planning commissioners, elected officials and others who would tell us how they were able to make their own map to answer a question they had.
So much of this has proliferated with the emergence of the Web GIS pattern that puts focused, powerful apps in the hands of users to help them answer a question without having to have any GIS software on their machine or device. It has simultaneously freed up time for many GIS managers to take on bigger picture tasks within their organization, but we'll discuss this in greater detail in a later blog.
As County Leaders Become Proficient in GIS, They Look for Ways to Use it for Public Policy
As these tools have advanced in scope and functionality, they've also enabled leaders and administrators to take on broader workflows. We've evolved from apps that simply answered easy questions (e.g. find a parcel owner, show me the permitted use for a property, etc.) to driving and validating policy. 
For instance, a couple of years ago, Esri introduced an app for planners called ArcGIS Urban. Basically, it allows planners to play out multiple development scenarios, from downtown districts to rural and suburban areas and measure their potential impact, in terms of added population, households, jobs, impact on utilities, traffic and so forth. This soon evolved to ask the broader questions. For example, if we're looking to potentially add an office park, subdivision, mixed use development, etc. in a specific area:
How did we choose that area to begin with?
What was the policy, either from the comprehensive plan or economic development initiative, that drove development at that location?
Again, since this is driven by location, GIS provides the tools to answer those questions.
Advancing Public Policy with New Technological Advancements
GIS is constantly evolving and ArcGIS Urban is no exception. A new tool emerged within this app called the Policy Validation App. It's not necessarily for planners as much as it is for administrators, commissioners and elected officials who need to play out bigger picture scenarios before the detailed design work can begin. Some of the questions we can now use ArcGIS Urban to answer include:
Do I have capacity for additional growth in a neighborhood? If so, what type? Mixed-use, high-density or single-family residential?
Where do I need to focus on generating more equitable economic opportunities in my county? Where are the most underserved neighborhoods and how are they underserved?
Where in my county is the greatest need and availability for affordable housing? Are these areas close to transit? Is there economic opportunity in this area today? Next year? Are there education and training opportunities nearby?
As Community Issues Become More Inter-Related, GIS is Ready to Respond
Think about those questions (and I'm sure you have some of your own). They're all driven by location, demographics, and socio-economic information. GIS drives a data-driven approach to policy development. It moves the conversation from anecdotal content to a more evidence-based method. In other words, I can bring indicators into my GIS (e.g. proximity to transit, at-risk population, building heights, etc.), apply metrics to them, visualize and analyze the results and share them with the public.  For example, the proposed location for a single-family affordable housing development isn't a good idea just because I said so or because we have available property to use. It's a good idea because it's with ¼ mile of transit stops, it's within walking and biking distance of an office park, it's close to a charter school and job training facility and will positively impact x number of households by reducing their housing cost burden and provide economic mobility.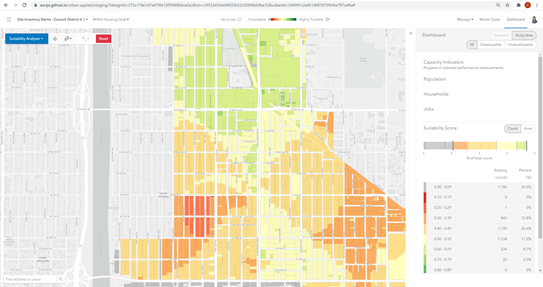 Using indicators (e.g. proximity to transit, demographics, etc.) and applying weights to them in the Policy Validation App helps identify the greatest need and most suitable locations for affordable housing across multiple neighborhoods.
This is where GIS shines. It helps to generate buy-in because it can calculate predicted results and display them in a context that makes sense to decision makers and the public…and it can do all of this without having traditional GIS desktop software on your machine and weeks of training to get up and running, as was required in years past.
County leaders that use GIS to drive, validate and justify policy help build the kinds of communities that benefit all their constituents across all demographics.