Out with the old, in with the new: An innovative solution to enhance civic inclusion
County planners and leaders are embracing GIS to provide modern geographic approach to planning, where there is a greater reliance on data-driven decisions.
A little over a decade ago, we saw an explosion in growth of open data. As county governments began to create and collect more data from planning to asset management to 311 systems to crime data, disseminating the content began to be more of an issue. County leaders across the country heard the appeals for better transparency and accountability in government, and a race began to see who could quickly deploy open data sites to the public. The result, while well-meaning, often saw enormous amounts of content without context or in a usable format to the public. For instance, several counties were posting the logs of 311 calls or permitting data in spreadsheets that made finding specific information extremely difficult. County leaders were learning that providing authoritative data was only useful when it could be understood by the public, delivered in the right format, and provided in the right context.
This was a challenge even for an innovative county like Montgomery County, Maryland, which has experienced double-digit percentage growth every decade since 1920. The county has long been a prolific user of GIS and this has been true in Montgomery County Planning. Managing the number of proposed projects in planning is difficult enough. Communicating these to the public and decision makers has been a bigger struggle.
To help solve this, the county had deployed the Development Activity Information Center (DAIC) as an authoritative list of proposed projects in the county. These included links to the dozens of documents tied to the project as PDFs. Although it was an innovative first step, it became clear that it was a challenge for the public, developers, and administrators to parse through drawings and visualize what the development would look like. There can be 20-50 plan drawings for each project, and it can be difficult to select the drawing with them most legible and understandable information.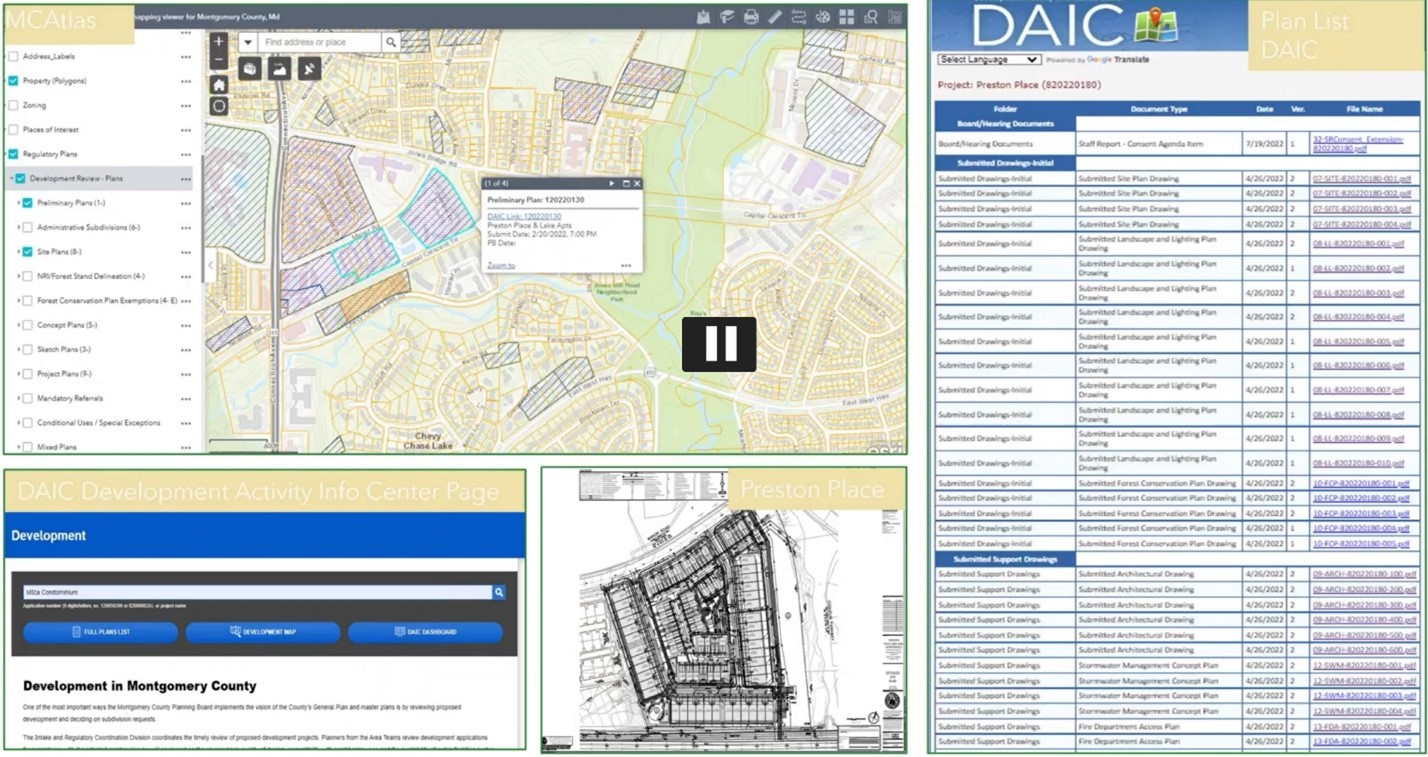 The need for the county became obvious. The authoritative data was there but not in a format that was easily consumable for the public and county leaders to comprehend the project. There was a need for a better way to aggregate and combine summaries of multiple reviews and approvals in a single view. Again, the county found GIS to provide the answer for them.
Using GIS to Visualize Developments
Montgomery County is now implementing a web-based application called ArcGIS Urban to empower the public to be able to view proposed developments. The solution allows them to add contextual layers to the proposed development, such as land use, existing buildings, trees, floodplains, and other nearby proposed developments. But it's not just showing a pretty picture. The app measures the impact of development metrics (e.g. population/household increase, utility usage, number of potential jobs, etc.) along with insuring the proposal stays within the zoning parameters for the property (e.g. floor area ratio, building height, unit density, etc.). 

Without needing access to any GIS software, the public will be able to see projects in 3D either on a website or mobile device. They can also perform shadow analysis and see what that would look like at any time of the day any time of the year. Most importantly, though, they will be able to see these developments in context to their current surroundings. Finally, they will also be able to share comments and ask questions about the proposed development directly with the planning department.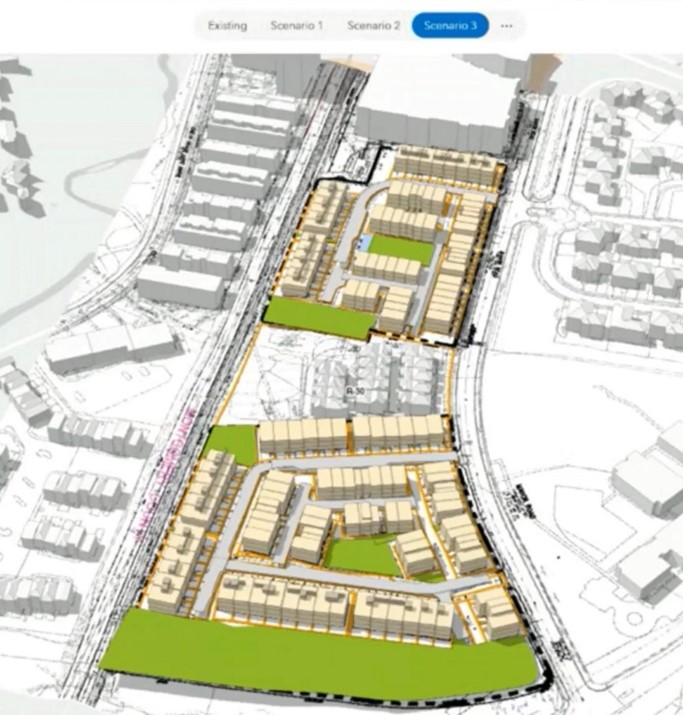 County planners and leaders are embracing GIS to provide modern geographic approach to planning, where there is a greater reliance on data-driven decisions.
Providing Community Stakeholders a New Way to Stay Informed
In a scenario that's played out many times in counties across the country, county leadership is seeing the benefit of simply providing open data and traditional public engagement and moving to a more equitable and sustainable pattern of civic inclusion. With this pattern, anyone in the county, whether or not they can or want to attend a planning commission meeting, can at the very least, be informed about what is going on in their county. More importantly, they can have a say in what goes on. Their voice can be heard without having to decipher 2D site plans or read through permits. This is the way that planning departments at the county level can help create a genuine partnership between planning and the public.