America's Counties on the Front Lines of Elections: New County Explorer Data
Across the nation, counties administer and fund elections at the local level, including overseeing polling places and coordinating poll workers for federal, state and local elections. During the 2018 general elections, more than 193 million people were registered and eligible to vote within jurisdictions where counties played a significant role in election administration. Below is a look at the 2018 elections by the numbers:
County Role in Voter Registrations
Between the 2016 and 2018 general elections, county jurisdictions processed over 73 million registration forms.
County Role in Election Administration
More than 109 million voters in the 2018 general elections cast their ballots within jurisdictions where counties play a major role in coordinating elections – this is nearly 91 percent of voters nationwide.*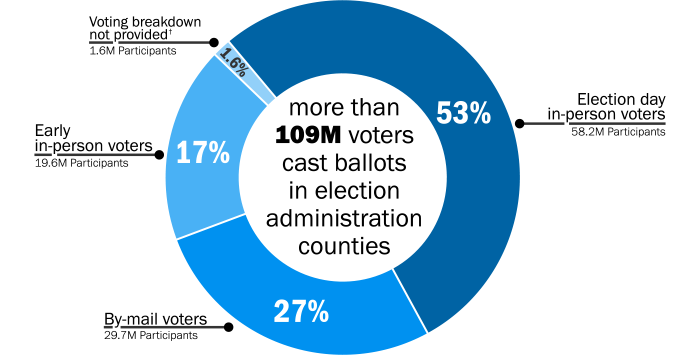 Counties oversaw more than 151,000 polling places and organized over 593,000 poll workers during election day.
State Voter Registration Database Systems
In 2018, 36 of the 50 states and the District of Columbia used a single, central platform to store voter registrations. This approach is also referred to as a top-down voter registration database system.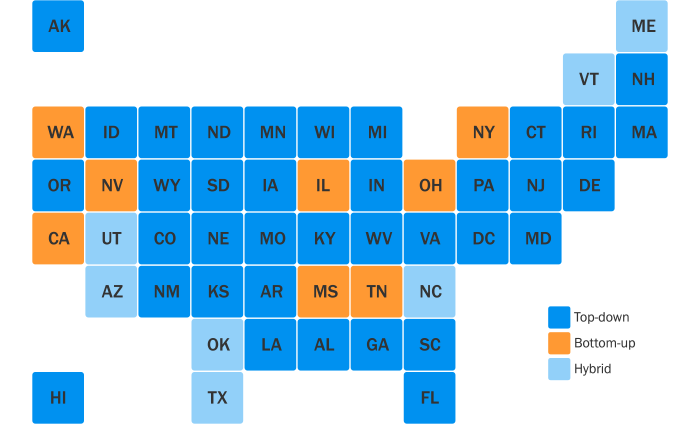 A top-down system is hosted on a single, central platform, which is generally maintained by the state and updated with information provided by local jurisdictions. A bottom-up system generally uploads registrants' information retained at the local level at regular intervals (i.e., daily or real-time) and compiles it into a statewide voter registration list. Finally, a hybrid system is comprised of some combination of both approaches described above.
Data Source & Notes
Source: Analysis of the Election Administration and Voting Survey, 2018 - U.S. Election Assistance Commission

*According to EAVS data reported by states, 120,314,461 Americans voted in the 2018 general election.
†Some jurisdictions did not provide the number of participants in the 2018 election by mode of voting.

1  Most states report data on the county level (or county equivalent, such as parishes for Louisiana). Illinois, Missouri and Virginia report data for "independent" cities in addition to counties. The territories, the District of Columbia and Alaska each report as a single jurisdiction.
2  We also excluded municipal jurisdictions within counties that reported data separate from the county. This was case with some cities in Illinois and Missouri that reported separately from the county.
3  Connecticut, Maine, Massachusetts, New Hampshire, Rhode Island, Vermont and Wisconsin report data on the level of individual townships. Thus, we excluded data for Alaska, Maine, Mass., N.H., Vt. and Wis. Conn. and R.I. are excluded as they do not have active county governments.
4  By-mail voting includes all individuals who received a ballot from the election office prior to Election Day by mail (or via download from a web portal or by fax). It does not matter how the by-mail ballot was returned (via mail, dropped off at a polling place, or other designated method).