A Spotlight on Veterans: New County Explorer Data
Investing in Our Veterans
More than $173 billion in federal funds were distributed to veterans living in the nation's counties. Most of the funds were used for compensation and pension benefits (46 percent) and for medical care (39 percent).
Veteran Population
U.S. counties are home to 18.2 million veterans. In one-third of counties, veterans make up at least 10 percent of the population.

More than half of the veteran population reside in the following 10 states, with California, Texas and Florida home to around 25 percent of all veterans.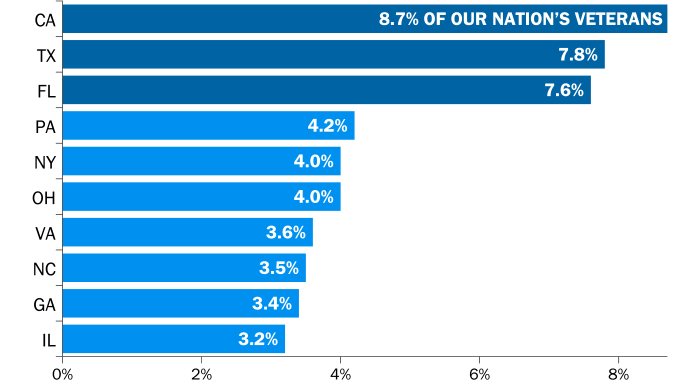 Data Source & Notes
Sources: Analysis of U.S. Census Bureau - American Community Survey (ACS) five-year estimates; Analysis of U.S. Department of Veterans Affairs Data.

About the VA Expenditures data:
VA expenditures data provide estimated dollar expenditures for major VA programs at the state, county and Congressional District levels.
The data are grouped by the following categories: Compensation and Pension; Education and Vocational Rehabilitation and Employment; Insurance and Indemnities; Construction and Related Costs; General Operating Expenses and Related Costs; Loan Guaranty; and Medical Expenditures.