2017 NACo NextGen Community Service Project Benefitting Nationwide Children's Hospital
Supported by:
The National Association of Counties' Next Generation Network held an inspiring service project at NACo's 2017 Annual Conference and Exposition in Franklin County, Ohio.  NextGen members stuffed 350 backpacks for children and teens admitted for treatment at Nationwide Children's Hospital and their caregivers.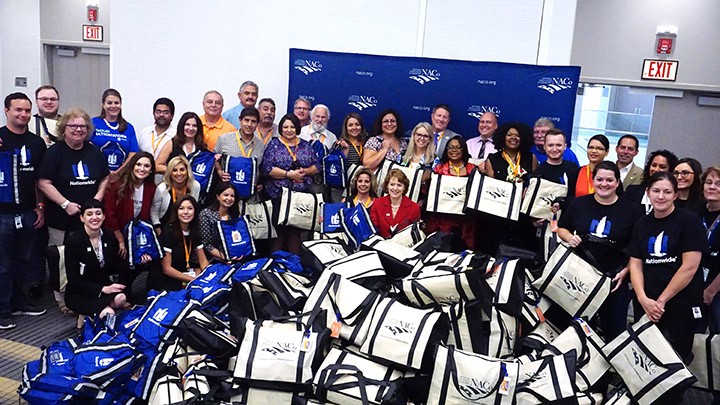 Nationwide Children's Hospital is one of the country's largest not-for-profit freestanding pediatric healthcare networks and delivers care for more than one million patient visits each year.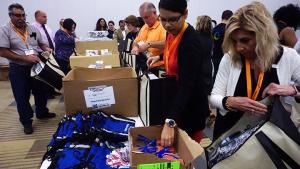 Backpacks included age-appropriate games, toys and books donated by program sponosrs and personal care items.  NACo Next Gen members included personal notes for each bag recipient, sharing their home county location and heartfelt  wishes for patients and their families.
 The Next Generation network is one of NACo's largest groups, created to foster a new generation of association leaders. Next Gen serves the unique educational and professional development needs of young and young-at-heart county  officials and is open to all NACo members.  
 Each year at the Annual Conference, NACo NextGen gives back to the host county through a service project that directly benefits the community. In 2016, NACo NextGen members worked with Saving Innocence, an anti-human trafficking  nonprofit organization in Los Angeles County.
Join NextGen and participate in our service project at NACo's 2018 Annual Conference and Exposition in Davidson County.
Special thanks to Nationwide Children's volunteers, NextGen members and NACo intern Kelsey Druggan for making this project a success!
Join NextGen!
Join NACo NextGen at www.naco.org/NextGen and tap into an energized network of county officials. Visit NextGen's website for membership details or contact Alana Hurley at ahurley@naco.org for more information.