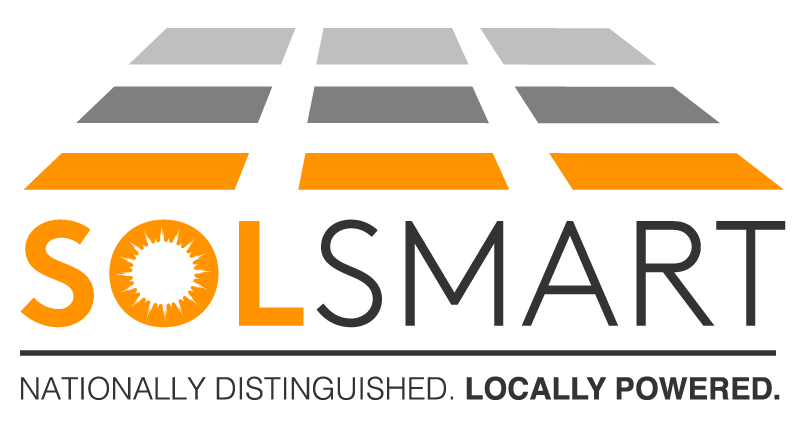 NACo is pleased to announce the launch of the SolSmart program, which provides national designation to leading solar counties and cities and empowers communities to become solar leaders through no-cost technical assistance.
SolSmart aims to help counties address and reduce process or administrative costs, known as "soft costs", which can increase the time and money it takes to install solar energy systems.  Eliminating red tape and lowering soft costs can help county governments operate more efficiently, stretch taxpayer dollars further, attract new solar jobs and companies and ultimately make solar more affordable. 
The SolSmart program will provide high-profile, national recognition for counties that have made it cheaper and easier for homes and business owners to invest in solar energy.  Counties committed to pursuing SolSmart designation will be eligible for no-cost technical assistance from a team of national solar and local government experts. This technical assistance is designed to help communities meet the criteria for designation.   Through SolSmart, counties will also have the opportunity to host a SolSmart Advisor—a fully-funded staff person assigned for up to six months. 
NACo has partnered with The Solar Foundation on this program, which is funded through the U.S. Department of Energy SunShot Initiative and its Solar Powering America by Recognizing Communities (SPARC) funding opportunity.  
Who can participate?
Any county, regardless of previous solar energy experience, can apply for SolSmart designation and receive no-cost technical assistance.   
How can my county participate?
Interested counties can visit www.solsmart.org to get involved with the SolSmart program and complete the Intake Form. 
The SolSmart team will review the form to determine whether the county meets the criteria requirements for designation.  Counties have the opportunity to receive one of three designation levels: Bronze, Silver or Gold.  
For more information visit solsmart.org or contact NACo Program Manager Jack Morgan at jmorgan@naco.org or 202-942-4274.