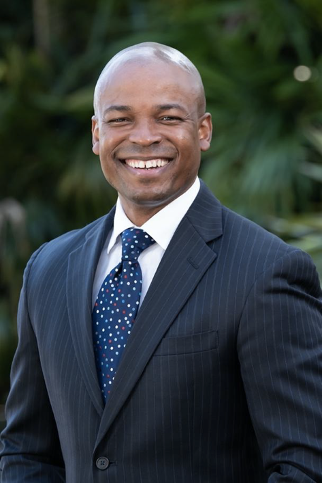 This member profile is the first in a series highlighting members of NACo's Economic Mobility Leadership Network, a cohort of county leaders working to improve economic outcomes for their residents and sharing strategies and solutions in a peer learning setting. This interview has been edited for brevity.
Mack Bernard serves Palm Beach County as the District 7 Commissioner and is the immediate past Mayor of the county. In this capacity, Mack sits as Chair on the county's Homeless Advisory Board, Chair of the COVID-19 Ad Hoc Committee, Policy Leader on the Finance & Tax Policy Committee with the Florida Association of Counties and a member of Leadership Florida.
Mack previously served as a Delray Beach City Commissioner and a member of the Florida House of Representatives. He has served in leadership positions on many organizations and groups, including member of the Florida Elections Commission, Greater Delray Beach Chamber of Commerce and former President of the Palm Beach County Caucus of Black Elected Officials.
Mack has lived in Palm Beach County for 34 years. He is the product of the Palm Beach County public school system, where he was a member of the JROTC and a high school wrestling champion. He went on to graduate from Florida State University with honors and the University of Florida's Levin College of Law. Mack and his wife Shawn are raising three daughters in Palm Beach County.
Q: Why did you decide to join NACo's Economic Mobility Leadership Network?
A: We have over 1.5 million residents that call Palm Beach County their home. Our goals in Palm Beach County are to create economic mobility and have the ability to exchange ideas with our colleagues in order for us to make Palm Beach County a better place for all of our residents.
Q: What does economic mobility mean to you?
A: Economic mobility is the opportunity for individuals in our county to be able to enjoy every aspect of life while earning a living wage, and the ability to create generational wealth for our residents in Palm Beach County.
Q: What are some efforts your county is making to address issues of economic mobility?
A: In Palm Beach County we've been hard at work. Some of our efforts that we're doing is creating a workforce housing program in order for us to provide housing that is affordable for residents. We've done a S.M.A.R.T. Landlord Program in the county, we also received CARES funding from the CARES Act, and what we've done is give families gift cards. We provided mortgage relief for some of our residents has been impacted by COVID. We've also provided food for residents, so that as we are battling this pandemic, we're able to address our needs for the county.
One thing that we've also done is our plan — which is called Securing Our Future — in the county to try to reduce poverty by 10% over the next 10 years by moving 188 households out of poverty each year for the next decade.
Those are things that we're working on in order for us to reduce disparity in the county and provide economic mobility for residents.
Q: What unique economic mobility challenges does Palm Beach County face?
A: Because we're in a county where housing prices have increased so much, yet wages have not increased, we have a lot of low-income residents that don't make enough money to earn a living wage; there's limited affordable housing in the county. Now we've added COVID, which has impacted many of our residents in the county [because] we had to close businesses and so a lot of our residents lost their jobs. We've had our unemployment rate go from 3% to close to 14% within a matter of months. Now we're trying to address the needs of our residents impacted by COVID.
Q: How much of a role does data play in decision making around these programs and services?
A: When I first became a county commissioner, I did not know that data play such a major role. When I went to our Economic Mobility program meeting, I believe that was in Multnomah [County], that is when I learned that data really play a key role. As soon as I left that meeting, I was able to come back and then get to work with my staff. Now we can include data and we can get the statistical analysis to see the best way for us to use our programs.
Q: What steps does Palm Beach County take to consider racial equity in this work?
A: The county used to have a MWBE program, Minority and Women Owned Business Enterprise, that had sunset in 2002. So, my first act as a county commissioner was to ask 'OK, how can we reinstitute minority and women owned businesses in the county?' We passed an equal business opportunity program in the county where now women-owned businesses, minority-owned businesses, Hispanic-owned businesses, now have opportunities in the county that they were not given in the past. The next step that we did was [create] an office of Diversity, Equity and Inclusion to ensure that all of our programs in the county are equitable. This is something that is brand new that was created in October of [2020]. We're looking forward to working on that.
Q: What lessons have you learned about economic mobility since joining the Network at NACo?
A: The first thing that I learned that I didn't know is how important the role that the Census plays in the county. Because of joining the Economic Mobility Leadership Network, I wanted to make sure that I worked on the Census for our residents in the county. We have 1.5 million residents in the county, and the 2010 the self-response rate in the county was at 63% and some of the other counties throughout the United States were doing a much better job [counting].
We worked with the state in terms of finding ways to make sure that we get everyone counted during the 2020 Census. We increased the self-response rate for Palm Beach County by 1.7%, so it went from 63% to 64.7%. From the state perspective, regarding COVID-19, we got over 99.9% of our residents to complete the Census, which means that we will get the proper dollars in the state of Florida and so now we can help all our residents.
Q: Finally, what are your economic mobility goals for the future of your county?
A: There are several things that were trying to deal with right now. Because COVID-19 has changed a lot of the things that we normally would take on, right now our number one priority is for us to get through this pandemic. That means working with the state and our federal counterparts to make sure that we do get COVID-19 relief. In the House of Representatives they passed the HEROES Act and our goals are that we would love for Congress to eventually provide relief to some of our municipal partners, our local partners or cities. So, in that way, now we can address our budget needs.
We need to continue to address the testing needs for the residents in the county and with the vaccination that's going on, you know some of the companies have sought FDA approval. What we're hoping is that we have a very robust approach in terms of how we're going to address the needs of our residents in terms of vaccination and testing, that way we can get through this pandemic together.
Once we're past the pandemic, then our next goal, as we mentioned in the Securing Our Futures program, is still to reduce poverty by 10% over the next 10 years by moving 188 households out of poverty over a decade through gainful employment in terms of earning a living wage for residents.
Finally, one of my proposals before COVID-19 was to do a housing bond, which the votes would have had to pass. I wanted to allocate $50,000,000 to address workforce housing, another $50,000,000 to address affordable housing and another $50,000,000 for housing for the homeless population in the county. We weren't able to keep the bond because of COVID-19. I hope, in the future, I'm able to get my board to approve this housing bond. That way we let the voters help us to address housing needs in the county and the housing bond would be able to provide over 20,000 new housing stock in the county over the next 10 years.
These are some of the things that I'm working on and because of the work that I've learned through the Economic Mobility Leadership Network, I was able to do these things to improve the lives of our residents in Palm Beach County.
I just hope that we are able to get through this pandemic, not just as a county, as a state, but also as a nation. So, that way we can help all of our residents throughout the whole United States in every county. As we recover, we all recover, and I want to thank you very much for providing that and this conversation to our residents.