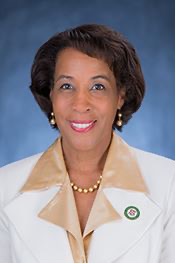 This member profile is the second in a series highlighting members of NACo's Economic Mobility Leadership Network, a cohort of county leaders working to improve economic outcomes for their residents and sharing strategies and solutions in a peer learning setting. This interview has been edited for brevity.
Phyllis J. Randall was elected Chair At-Large of the Loudoun County Board of Supervisors in November 2015 and reelected in November 2019. Her election was historic as she became the first person of color in Virginia's history to be an elected chair of a county Board.
As Loudoun's Chair At-Large, she represents Loudoun on various regional, state and national bodies including, serving as Chair of the Virginia Association of Counties Health and Human Resources sub-committee, Chair of the Northern Virginia Transportation Authority, President of the Washington Metropolitan Council of Governments (COG) and member of the COG Board of Directors as well as a member of the COG Human Services and Public Safety Policy Committee and the COG Regional Forward Coalition, and member of the National Association of Counties Health and Human Resources Committee
Chair Randall also serves on the Board of Supervisors' Finance/Government Operations and Economic Development Committee and the Transportation and Land Use Committee.
Chair Randall was selected as one of twenty-five women in the country inducted into the 2019 class of Governing Magazine's Women in Government Leadership Program. In addition, for three consecutive years beginning in 2018, the citizens of Loudoun County voted Chair Randall Favorite Public Official – an honor which, she recognizes, is humbling while also being a great source of pride.
From 2009–2011, Chair Randall served as Chair of Virginia's Fair Housing Board under Governors Tim Kaine and Bob McDonnell. From 2014 to June of 2018, she served as Chair of Virginia's State Board of Corrections under Governor Terry McAuliffe.
By profession, Chair Randall is a mental health therapist, working with substance abusing offenders in an incarceration setting for over fifteen years.
She and her husband Thaddeus (T.W.) have lived in Loudoun since 2003 and are the proud parents of two sons, Ashon and Aaron.
Q: Why did you decide to join NACo's Economic Mobility Leadership Network?
A: I decided to join the Economic Mobility Leadership Network for a couple of reasons. Loudoun County is the county in the country with the highest median income. [This is] interesting because of two reasons: One, people believe that being a county with the highest median income must mean that no one in your county has needs, and that's not true. Every county in the country has an income continuum, and on that continuum, you have people who are doing very well and people who are not doing very well at all, and have needs [related to] housing, food, health care — all those things.
Loudoun County is fortunate that the people who have those needs [are] not a very large percentage. However, I'm also aware that what happens in one county impacts the state, which impacts the country, and so none of us sits in silos. We learned that especially this year during COVID. So, if there is any way that I can learn something, or I can teach something or [share] an experience from my county that helps other counties, I want to do that. And there's always other counties that can help us. I think that this is really a case of we do rise together. A rising tide lifts all ships. And having been so involved in NACo now for six years, it's just really important to me that not just my county, but people around the country are advancing in ways that move their lives forward economically.
Economic mobility means you continue to rise from where you were to where you're going to be with the goal being that all of your needs are met.
Q: What does economic mobility mean to you?
A: The goal in economic mobility is not for an individual, a city or county to become rich overnight. Economic mobility means you continue to rise from where you were to where you're going to be with the goal being that all of your needs are met.
It is amazing that we have cities, counties, places in the country where we have kids who are using very outdated technology which will not prepare them for the future. We have places that don't have the right fire and rescue apparatus which puts their constituents at risk. We have people who have not been able to, even in COVID, get the vaccine set up done so they can put shots in people's arms. Mobility means you start to move people to a place that they can meet the needs of their residents. They may not meet every want, but basic needs of housing, food, water, healthcare, education — those needs are met. The goal is to move further today than you were yesterday, and to be able to look back a year from now and say, 'this is what we've done different. We brought this many more companies into our area; we were able to update the technology in our school system to do those things that allow people to have safe, stable lives and their needs met.'
Q: What are some efforts your county is making to address issues of economic mobility?
A: Loudoun County is very fortunate and I would say [is] a very blessed county. But we do have areas and pockets of people who are not doing well, and so one of the first things you should always look at is training and retraining. One of the things that I was talking to our United States Senator [Mark] Warner about was the fact that we haven't done a great job in this country with retraining. As we start to move into a world that's much more technologically advanced, we want to take people who've done other jobs and retrain them.
We're doing some of that in Loudoun County. We have incubators in Loudoun County, both for the suburban-urban part of our county, but also for the rural part of our county where people are learning how to run their businesses [and] how to stand things up and what that takes. Business incubators are absolutely fantastic, and we have a very strong one in the county. But also with retraining [there is] the community college. All those types of things are very, very important. And we've been working on those efforts for at least the past three to five years, and they're going very well.
Q: What unique economic mobility challenges does Loudoun County face?
A: Loudoun is a fairly large county and two-thirds of our land mass is rural. The other is urban-suburban, and so the economic challenges are very different place-to-place in the county. In the eastern part of our county in the urban-suburban area, believe it or not, [there is] not enough land to accept some of the business opportunities that we get. People might know that Loudoun County has more data centers than anybody else in the world and that the vast majority of data internet traffic that passes in the world passes through Loudoun County. Something like 65% of all the world's internet traffic passes through Loudoun County. We have data centers knocking down our doors, trying to come here, and we don't have the space or the land for them anymore. It's a challenge of how to help them build vertically and build in other ways. But it's also a challenge to ensure that not all of our business revenue is data center revenue; to diversify that revenue so that if you have a hit in one area of your commercial tax base it's picked up in another area.
Then you have western Loudoun County that has totally different issues out there, which you find in any rural county. The issue of broadband connectivity which we found [especially] in this year is vitally important. So broadband connectivity for telelearning, telehealth, telemedicine [and] telework is a huge issue. We're trying to stand up all of our connections and do it in a very short period of time. And then just connectivity of roads and that type of thing. So, depending on where you're at in the county, you'll find two very different sets of issues and we're addressing all of them.
Q: What lessons have you learned about economic mobility since joining the Economic Mobility Leadership Network?
A: First of all, I will say the EMLN is such a great cohort of people. But I also have learned how different things are depending on where you are in the country. I really was not aware that some parts of the country are dealing with water issues and that water issues can impact your economic mobility. If you want to have data centers, you can't have water issues because data centers use so much reclaimed water. [These] are not things I thought about before.
[As for] workforce, some parts of the country do a very good job of training and, of course, retraining the workforce. Other parts of the country, not as much or not as well.
If you do not have proper housing for the continuum of price ranges, then you're not going to have a workforce.
Although education you think is normalized throughout the country, it is not. There were some places where the public school system is just a much more advanced school system and [in] other places you find kids that come out of high school literally two [or] three years behind. What you expect to be normal throughout the country are just not so, and it's important that we meet counties where they're at, meet elected officials where they're at, meet people where they're at and that one size does not fit all. We have to adjust and then readjust for the community that we're sitting in at that time.
The other thing I've learned a lot about is the importance of the connection between housing and the economy. If you do not have proper housing for the continuum of price ranges, then you're not going to have a workforce. That has been really, really important and something that's become glaring all over the country. We [in Loudoun County] have housing issues for the Area Median Income (AMI), but some places across the country have really, really severe housing issues. Sometimes it's really severe and you cannot help your first responders, your nurses, your teachers, your restaurant workers. If you cannot house people in your community, you're not going to be able to have an economically advancing community. That intersection of housing and the economy has been stark, and I really realized it since I've been in the mobility network.
Q: Loudoun is considered by some to be the wealthiest county in the country. As a member of the EMLN you worked alongside Holmes County, Miss., which is considered to be the poorest. Could you tell us about that collaboration?
A: I think the better way to say it is that Loudoun has the highest median income and Holmes County, Miss. has the lowest median income. I make that distinction because income is not wealth. Income comes in and goes out. Wealth is what you're sitting on. I don't know that we are the richest county, but we have the highest median income. But we also live in an area where it's very expensive to live, and that's an important distinction to make.
I will give all credit to Holmes County. One day I received a call from their chair of the board—[former Chair Charlie Joiner--who] said, 'Our county is a fairly poor county with a very low median income and we need help. Your county is doing really well. Can you help us?' And I just thought, 'What an amazing phone call and what a way to take care of your people.' The chair of Holmes County and I have met a couple of times, and what I realized is that there are a lot of similarities. Part of our county that is rural. Holmes County is a rural county.
I said to the chair of Holmes County right away, 'you know, it's not that Loudoun County can help Holmes County. It's that the two counties can work together and help one another. You all have been farming for a long time through good times, bad times, through good soil and through bad soil. Maybe you can help us with farming techniques in our county and we can help you with things like technology, literally handing you technology.'
We are trying to work out gifting Holmes County one of our firetrucks that they need out there. It is very much a relationship with back and forth of mutual respect and most importantly mutual benefit. I was going to go to Holmes County last year, but because of COVID we weren't able. I do plan on making the trip to Holmes County this summer. I'm really looking forward to the trip there. There are good people and I hear there's fantastic hospitality and really good food. I look forward to going down to Holmes County and to strengthening this relationship between these two counties that if you just look at income, look very different. But if you look deeper at the people and how much they care for their people we are very, very similar.
Q: What are your economic mobility goals for the future of your county?
A: I want to make sure that I don't have a person in the county that doesn't have their needs met. I want everyone to be housed adequately and I want everyone to be fed adequately. That means you can have no food deserts in your county. Sometimes economic mobility looks like, 'does your county have food deserts with people not eating well?' Because if people are not eating well, they're probably not going to perform well in any other part of their lives. Do we have food deserts and how does that look? What does the equity look like in our county or is every sector of the county rising? Loudoun is only 7.5% African American. So, what does that look like in the equity discussion?
How are our nonprofits doing and is the county supporting the nonprofits enough? The nonprofits really support the people who need it most. Sometimes the county may have a gap and it is nonprofits that fill in that gap.
Do we have housing availability for the continuum of the AMI across the county? Are we working on that on an on a regular basis? It's not one goal, it's having all the systems work together so that everyone's mobility can rise and basically all the ships can rise together. That doesn't mean it rises at the same time. Equality and equity are two different things. But we do want to have an equitable county where people can feel safe and have all of their economic needs met.
Q: We must now think about long term economic mobility alongside recovery from the impacts of COVID-19. How are you working toward equitable recovery in Loudoun County?
A: My gosh, when we get to NACo [2021 Annual Conference in July] in Maryland – and I'll be joining you all there – we should have a whole section on what things look like post-COVID, because I think what we're going to find is that there will be some relation between how people who were doing economically well [before] did in COVID. But truthfully, I don't think that's going to be the biggest issue. I think COVID will have had a much greater impact on people's mental health then people might realize. And that may not always be connected to your economy, except for the fact that if you do have mental health struggles you can find help faster. When we come out of COVID, one of the things I'm doing in my county is I'm putting aside a portion of money, yet to be determined, to just deal with the anxiety and mental health conditions that we may see.
Loudoun County, being right outside of Washington, D.C., has a very large veteran population. Veterans don't do well in isolation, just by and large. [There is] a lot of anxiety, especially if someone's already suffering with any of the traumatic syndromes, so we're looking at that. I think one way to really help people after COVID is to look at the mental health aspects and to make sure that everyone in every socioeconomic place has access to mental health and support for their depression, for the anxiety [and] just for the uncertainness.
Secondly, kids have not been in school. We literally have to go around the county and find children because at times they [don't] log on. We have one school in our county where 24% of the students have not been logging in on a regular basis. So [we have] to go find those kids and check them out and see how they're doing emotionally and educationally.
The ill effects of COVID I think are going to last for years and it's going to be something that's going to take a whole government approach: federal, state and local government.
The last thing I'll say is this: I am a person of faith. I've said many times, I don't know what God [has been] trying to teach us in the past 12 to 18 months but I certainly hope we learned the lesson well. And one lesson I think we should learn is that we are supposed to be taking care of one another.
I no longer say we're all in this together because that's maybe not true. What I say is, we're all in the same storm, and in this storm some of us have a yacht, and we're doing pretty well. Some of us have a boat in the storm. Some of us have an umbrella, and some of us are just out in the rain just caught in the storm.
We're going to have to go figure out how to take care of especially the people who just got caught in the rain, and you can be caught in that rain in many different areas. It's going to be a challenge but as a county, as a Commonwealth and as a country, and all the individual counties — we're up for the challenge. We can do this. We can take care of people.