NACo works with county leaders across the country to support the development of innovative solutions to safely reduce local jail populations and address racial disparities in the system. Operating 91 percent of the nation's 3,000-plus jails, counties are at the forefront of innovation to create fairer and more comprehensive justice systems.
This week, the John D. and Catherine T. MacArthur Foundation's Safety and Justice Challenge (SJC) awarded five counties across the country additional funding to build on their progress on this issue. These new grants will support initiatives aimed at eliminating unfair or ineffective practices that negatively impact people of color, low-income communities and people living with mental illness and substance use disorders. The SJC sites receiving additional funding are:
Cook County, Ill.
Mecklenburg County, N.C.
Multnomah County, Ore.
Palm Beach County, Fla.
Pennington County S.D.
As a Strategic Ally in the Safety and Justice Challenge Network, NACo is proud to support communities in addressing over-incarceration and building safer, more effective local justice systems. We know counties play an important role in making our local justice systems more just and equitable.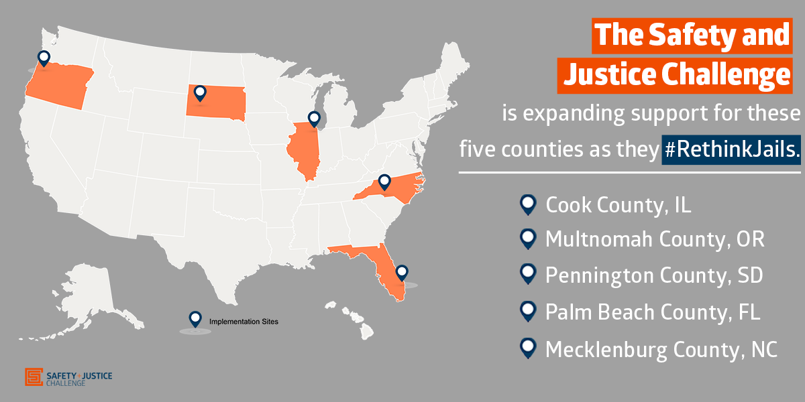 Click here to visit the Safety and Justice Challenge webpage and click here to learn more about NACo's work with the Challenge. You can also join the conversation on social media using the hashtag #RethinkJails.