Economic Restoration Begins with Understanding Location
As businesses throughout American counties continue their reopening process, it is imperative that county leaders are clear on the needs of the business community and residents. This process is centered around location, and not just where businesses are located, but where customer and labor are located. Leveraging GIS for these activities is a must because it provides a data-driven approach to your county's policies and initiatives.
Residents Continue Urban Flight
The Census numbers don't lie. Counter-urbanization is a trend that started in 2019 and has been exacerbated by the pandemic. Cities lost two million residents by the end of 2019 and that number has only gone up, as many people have realized they don't have to live by their physical job location and can work remotely. Many are also looking to escape high rents that provide little space. But this migration provides new challenges for counties, both in suburban and rural areas, as many locations were not planning for such growth. This, combined with slower housing starts, has significantly raised home prices in suburban areas. As more people move in, their need for access to businesses and services will certainly come with them. Managing this economic restoration will require collaboration with the business community to ensure they have sustainable access to labor and customers.
Accessing Authoritative Data
One of the primary benefits of an effective geographic information system (GIS) is how it supports data-driven decision making. It empowers county leaders to stop guessing and to stop working off anecdotal or dated information, by using and analyzing authoritative geospatial data. Specifically, in regard to restoring pre-pandemic economic conditions, leaders need to know precise information about local businesses, such as where and what type they are, how many they employ, revenue generation, market area and so forth. Leaders also need to understand the socio-economic characteristics of their neighborhoods. Are their neighborhoods struggling with food deserts, lack of economic opportunity, changes in labor market or needs in the community? Where have trends changed and how have resources been dispersed over time? Which neighborhoods are most at risk today? All of these are questions GIS can answer, but it starts with authoritative data.
Where does this authoritative (the key word here) data come from? Generally, this can be accessed from three sources:
Vetted internal data sources. This can be from your county's GIS team, from departments responsible for collecting and maintaining this data (economic development organizations, Planning Departments, etc.)
Commercial Data Sources. Numerous 3rd party providers, such as Data Axle, Foursquare and others provide demographic, customer behavior and business data. Many web-based solutions, like GIS WebTech's Recruit and Esri's Community Analyst embed this commercial data in their apps, along with strong analytics tools.
ArcGIS Living Atlas of the World. This free resource from Esri provides an in-depth collection of geospatial content from around the globe. It includes maps, apps and data layers to support your work. One of the most useful apps for county leaders is the Esri Maps for Public Policy. This site provides curated content, training, best practices and datasets that can provide a baseline for your research, analysis and policy recommendations. Further, it can be used to complement your own internal data sources.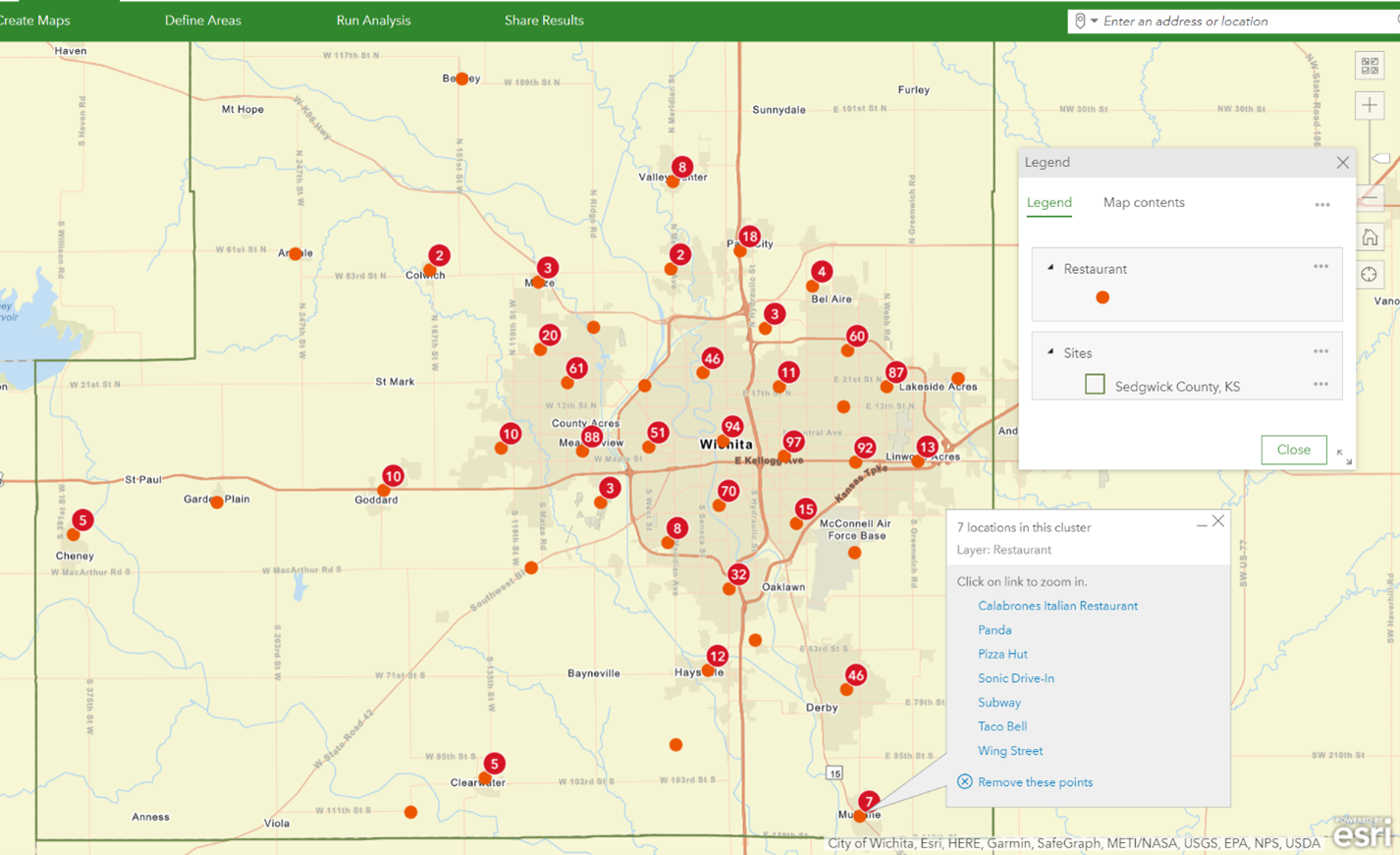 Map of restaurants in Sedgwick County, Kansas (Source: Esri)
Embracing an Agile Approach
In a previous blog post, we discussed the GIS work that Bozeman, Montana and Cobb County, Georgia had done to support economic restoration activities in their respective counties. Both the initiative pages made for the tri-county area covering Bozeman and Cobb County have seen constant updates as conditions have changed. When vaccines became available, both provided access to vaccination information, such as where vaccines were available and how many had vaccinated to date. Cobb County is also providing a job search tool to help match the public with the many jobs open in the county.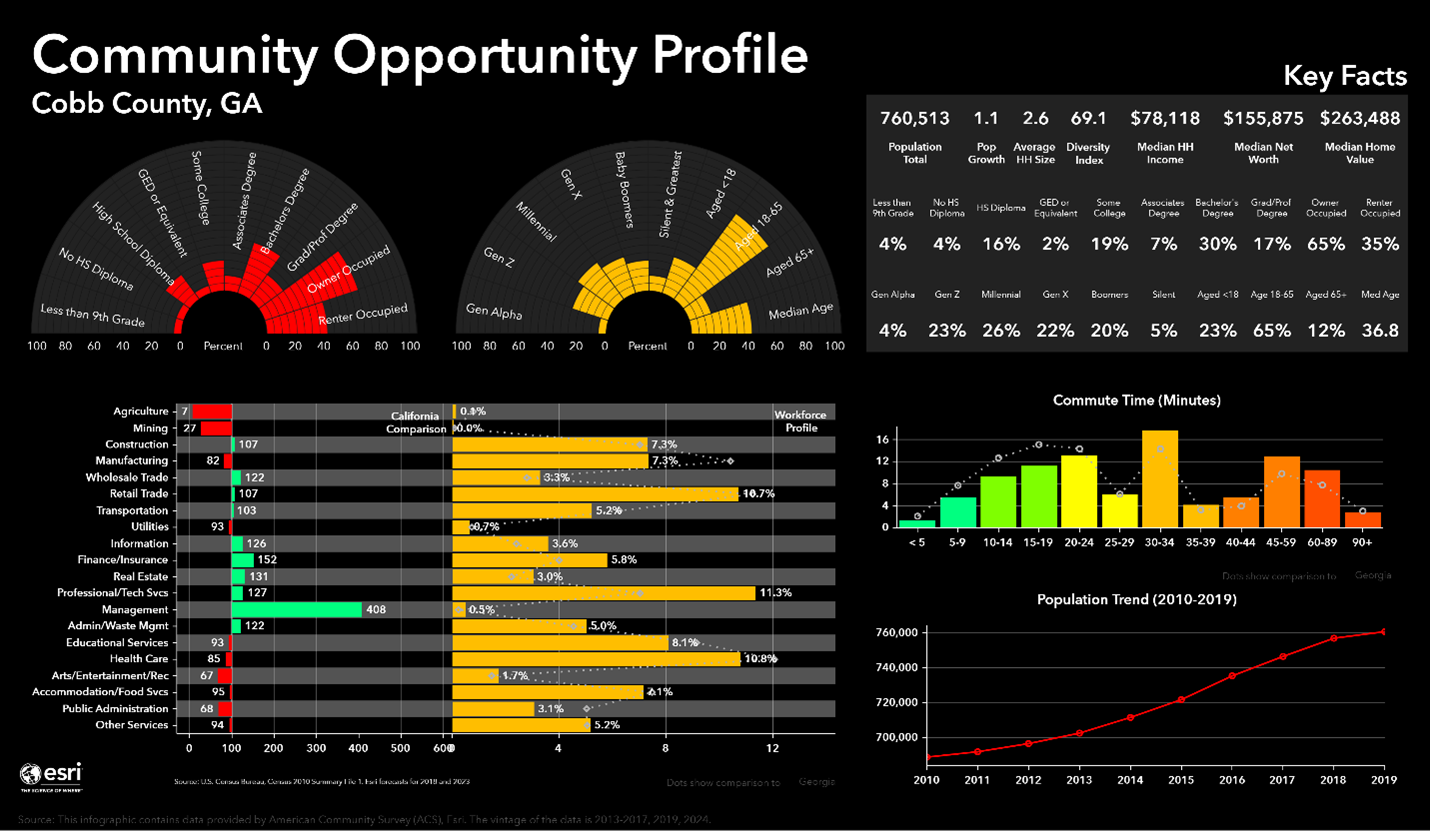 Community Opportunity infographic provided by Cobb County, GA
Whether each location was purposefully striving for this or not, they've both embraced an agile approach to destination branding. They've made a case for why people would want to live, or work, or open a business in Madison, Gallatin, Park, or Cobb counties. Labor shortages are a real problem for many local businesses, and these county leaders are using GIS to attract the people they need, but also can use this to understand where they're falling short. By using datasets like the ones mentioned earlier, GIS can help county leaders understand the types of workers they need (e.g. IT, construction, professional, etc.) to support existing businesses and what they would need to attract new businesses.
In the many facets of economic restoration, GIS has once again proven to be an indispensable business system for county leaders.