Photo: Members of the Public Health Department participate in a break-out group at Alameda County's Public Health Workshop in April 2018.
Larger wildfires, hotter and longer heat waves, more frequent mudslides…. The impacts of climate change in Alameda County are beginning to be felt. Counties are on the front lines of emergency response and public health preparations, with departments such as Fire and Public Works responding already. As these changes continue, they will require concerted responses from local governments. Trying to prepare for and respond to all of these climate impacts at once can be intimidating.
We found an easier way to get started. Alameda County jumpstarted climate resilience planning within our county by holding half-day workshops with two departments. We've turned our experience with this approach into a guide for other local governments.
The Workshop Model
Why did we start with workshops?
As the Office of Sustainability, we oversee the county's climate action plan for government services and operations, which includes climate adaptation. We knew that county departments were already seeing the impacts of climate change on their clients, like smoky air from increased wildfires or insect pests that hadn't reached our county before. It was time to respond.
"Instead of starting with a 300-page vulnerability assessment, we decided to first get a sense of how change could take place within our agencies through a strategy of 'lean implementation,'" explains Sarah Church, Office of Sustainability. The Public Health and Planning Departments had both expressed interest in tackling climate change impacts. The Sustainability Office partnered with champions from each department to design targeted half-day sessions to engage the staff on an issue that the department was concerned about and could take action on as part of its regular work.
What were Alameda County's workshops about?
The planning workshop focused on using the built environment to reduce the impact of higher temperatures and longer heat waves through addressing "heat islands." The public health workshop looked at how to help clients prepare for days with poor air quality due to wildfires.
What were the outcomes of Alameda County's workshops?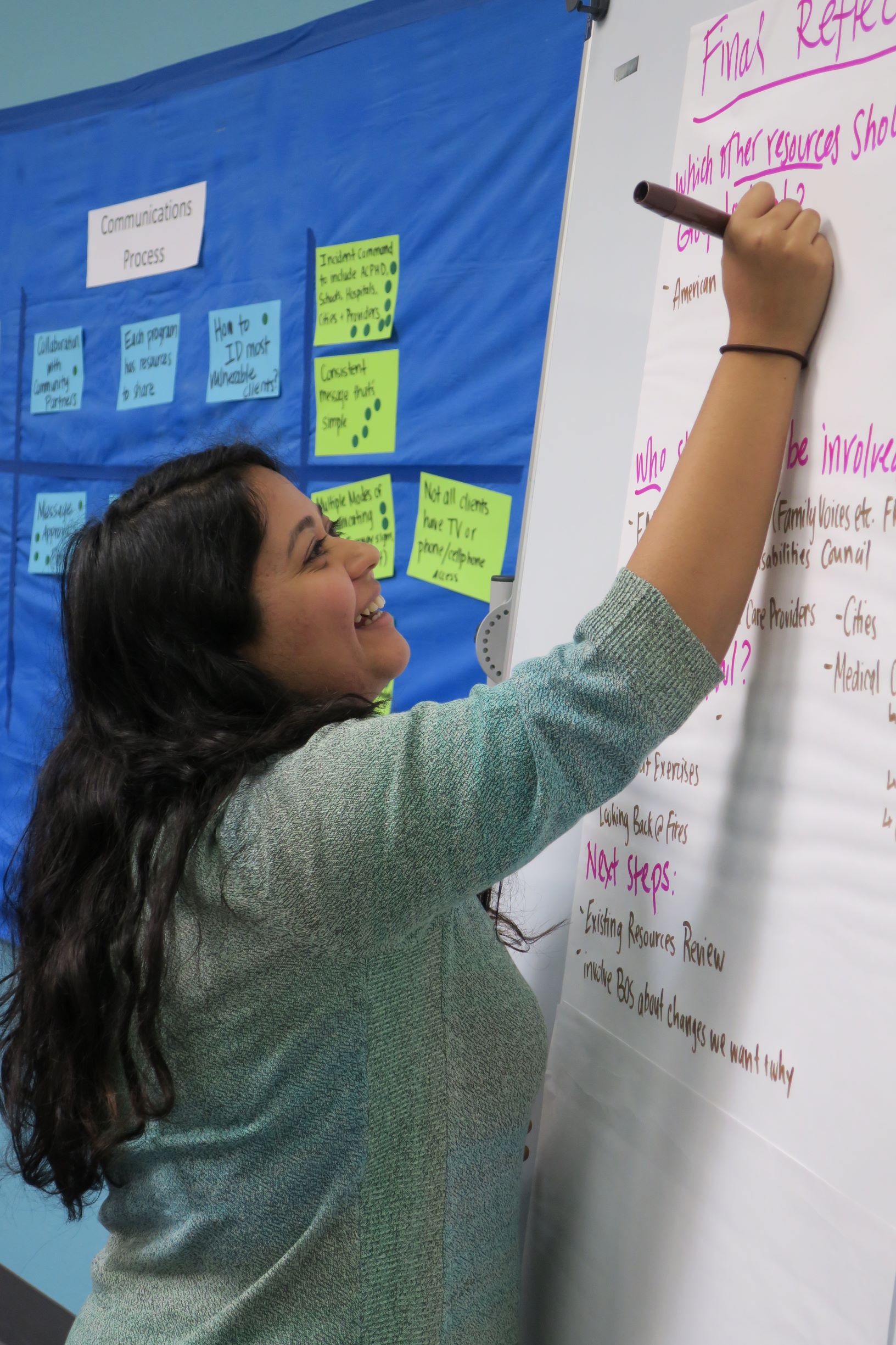 The goal of each workshop was to help a department identify feasible, near-term steps to prepare for a climate impact that was affecting local residents. The Public Health Department developed guidelines in several languages with instructions for how vulnerable populations can protect themselves when the air is smoky from wildfires.
The Planning Department took several important steps as a result of their workshop. Sophie McGuinness, Planning Department, notes that the workshop provided a "valuable opportunity for staff from our long-term planning and development planning divisions to brainstorm ideas together." After the staff present at the workshop committed to reducing the effects of heat waves, the Planning Department applied for support to implement the workshop ideas. The department received a $140,000 grant from the State of California Coastal Conservancy for community tree-planting and in addition brought on a fellow to support the work.
Photo: Workshop participants provided many ideas for communicating about air quality issues.
The Guide
Why was the guide developed?
The Alameda County Office of Sustainability developed the adaptation workshops guide to share with other counties and local governments. We hope it will help you target priorities and take action.
Who is the target audience for the guide?
The adaptation guide is intended to support local government employees in any role who are concerned about how climate change will affect the residents they support. The guide offers tips from our experience advancing this work with minimal external resources and with efficient, targeted use of staff time.
What can the guide do for me?
The guide walks you through a step-by-step approach to jumpstart adaptation response with a single half-day workshop. With some advance preparation, getting a group together for a half day can accomplish a lot.
The guide also helps you maintain focus on vulnerable communities because climate impacts tend to most affect the communities that contributed the least to creating them. As Anna Lee, Public Health Department, points out, the workshop can provide a "vehicle to elevate the needs of our clients and their particular challenges in adapting to climate change."
How is the guide being used?
We have led two trainings based on the guide for local government staff in California. The trainings walk through how to prepare for and lead a climate adaptation half-day workshop. We look forward to hearing how the training participants and others are using it.
What should I do now?
Please check out the guide at http://acgov.org/sustain/what/climate/adaptation.htm. You're welcome to share the guide with colleagues in your emergency preparedness, fire, library, public health, public works, urban planning, and other relevant divisions.
"We hope that you can use this guide to jumpstart climate adaptation and resilience projects in your jurisdiction," says Emily Sadigh, Sustainability Office. If you use the guide, we could love to hear about your experience. Please reach out to us through the website!