As county officials issue new policies, they must ensure that railroads and workers can continue to safely operate
Americans everywhere – across industries, regions and levels of government – are collectively dealing with the spread of the COVID-19 virus, or coronavirus. We share a near singular goal: to slow the spread of the virus to limit the fatality rate in the U.S. and position the nation to come out of this crisis stronger than before. Progress hinges on shared sacrifice and aggressive public policy measures, including "stay-at-home" orders and the closing of businesses of all kinds.
The nearly 40,000 county elected officials stand just as much at the forefront of this pandemic, as do their peers at the municipal, state and federal levels. To be successful in this period of social distancing, Americans must maintain access to critical goods and services. The continued movement of freight through our integrated supply chain is paramount.
As the National League of Cities recently outlined in its directive for members to follow recent guidance issued by the Cybersecurity and Infrastructure Security Agency (CISA), including "maintaining normal freight operations with precautions will be essential to restoring economic activity and ensuring shelves stay stocked to prevent true shortages and disruptions of far more than toilet paper."
Indeed, this is why the Association of American Railroads (AAR) is calling on state and local officials, including NACo members, to follow the comprehensive guidance as well. The CISA guidance calls for the work of "Essential Critical Infrastructure Workers," including freight railroad employees, to continue alongside healthcare workers, first responders, critical manufacturers and more.
This is for good reason: without our logistics sector – trucks, railroads, warehousing, etc. – the U.S. economy, which is already on shaky ground, simply cannot function. Freight railroads, continuing to operate safely and efficiently in these challenging times, play a particularly crucial role. As Randy Maluchnik, Chair of the NACo Transportation Steering Committee says, "Railroads are the critical, long haul backbone of an interconnected transportation network that ships 54 tons of goods on average for every single American each year."
While trucking is more visible to most Americans,  railroads are also moving the goods we depend on in tough times like these, such as:
Chemicals required for medicines and food packaging;
Chlorine-based disinfectants for treating water;
Energy products for generating electricity;
Food products, as well as grain and corn for livestock; and
Retail products that end up on store shelves, such as toilet paper and cleaning supplies.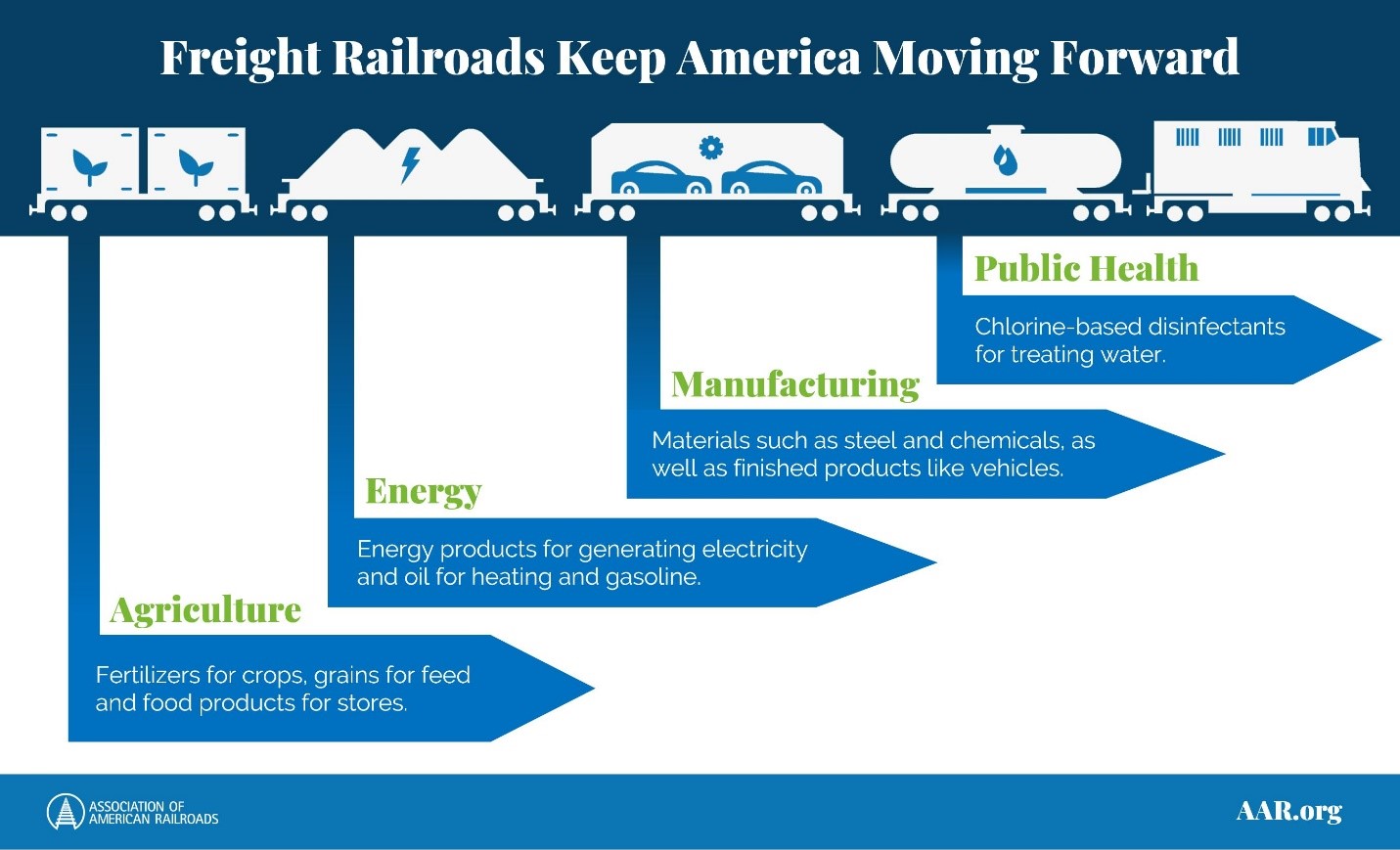 Of course, the health and safety of workers is especially paramount at this time for the sector, which is why freight railroads are taking significant precautions to protect the well-being of their employees. This includes:
Providing employees with timely and accurate information on protecting themselves and their families through effective hygiene practices.
Directing employees to stay home if they are sick.
Communicating with employees and facility partners about workplace spatial distancing and mitigation strategies recommended by the CDC.
Expanding the frequency of cleaning and sanitation in railroad headquarters, maintenance facilities, dispatch and operations centers as well as on locomotives and rail equipment.
Restricting domestic and international employee air travel.
Railroad companies and their workers know that counties everywhere are working hard to combat this issue, which affects a host of industries beyond ours. Help us help you ensure that your residents have continued access critical goods, keep the electricity on and keep the water clean.