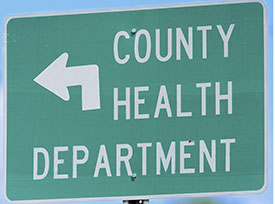 The Environmental Health Department is primarily responsible for monitoring elements of the natural and built environment which may affect the public's health. Most commonly, these responsibilities include permitting/licensing/inspecting restaurants, public pools, body art shops, hotels/motels, private septic systems, and private water wells. We trust these highly-trained professionals to keep our families safe and healthy at home and as we travel.
Most Environmental Health Departments are part of County Services (69%), but may exist at the city (20%) or as part of a discrete district (11%). As data managers, Health Departments maintain an inventory of permitted/licensed facilities, plans reviewed, inspections, violations, enforcement actions, and complaints. Often, there is a financial component to these data, generating recurring and ad-hoc transactions. In an emergency, their data and expertise are pivotal to restoring normal operations and services.
The Local Health Departments maintain strong ties to State and the Federal agencies, receiving much of their authority and technical guidance through these formal and informal relationships. As such, it may seem as if Health Departments take their marching orders from far upstream (e.g., FDA, CDC, EPA, etc.). Fees and local ordinance (where appropriate) round-up the local influences.
By these conditions, the Environmental Health folks are sometimes left to their own. That is, their data systems are uniquely EH and not integrated neatly with the County's enterprise systems. We've all studied how silos need to be "broken down" or "bridged," to the point of cliché. Yet, due to the seemingly complex expectations and external imperatives, our Health Departments often fall into this stand-alone category, with department-sourced (or department-developed) systems that do not effectively contribute the enterprise make-up.
Opportunities for an enterprise view are ample. Many workflows span departments. Consider a building permit for a home with a septic system and a water well. Apart from the obvious, the health department needs to approve the design, construction, and testing of the septic and water well (because these systems could affect the public's health). Integrating the services provided by Environmental Health with County Building and Planning are likely no more sophisticated than a phone call, an email, or double data-entry. The fees, permits, inspections, protocols, and county instruction may differ/conflict, confusing our citizens and businesses.
It's time for the environmental health department to be part of the County enterprise, a first-class citizen, by upgrading data systems to integrate seamlessly or through consolidation. The result elevates the professions of all involved and suggests improved and more immediate services and accountability.