Data sharing paramount in modern county operations
Everyone wants data. Everyone needs authoritative data. GIS is the underlying infrastructure for sharing data instantly in your county.
Sharing data is the secret to achieving efficiency in county government. But sharing data may not be as easy as you think it may be. It's not simply copying data. It's not handing off a jump drive or sending a file. Sharing data is different today and it is the key to eliminating duplicated efforts and ensuring the correct, authoritative county data is used.
Geographic information system (GIS) have been used extensively by county government for decades from planning and land records to permitting and public works. As technology has evolved, so has GIS, so have government demands, and so has how data is shared across government and with the public. GIS is the critical infrastructure that makes effective data sharing possible.
Sharing data today is different, where it can now be shared with web services. Web services (or just services) are like a dial tone to your data. Other departments can view and connect to your data and use it in their systems but can't edit it. For example, the assessor may want to know where active building permits are and view them in their valuation system, so they 'consume' these services in their system and use the permit data without needing to copy any data. This ensures the data used is current, correct, and from the source, the system of record. This works for all systems of record across the county – zoning, mapping, emergency response, elections, addressing – all the systems in government.
It wasn't very many years ago that sharing data was complicated by file types, formats, conversion and all the things that go along with data from disparate systems. Today, these services follow standards so these past challenges remain in the past. Standards also support cyber security protocols enabling the modern county software systems to enhance resilience to cyber attacks.
Share and access county records and data via parcel web map enabled by web services. This example publishes both CAMA and Registry data.
This sharing isn't limited to departments within the county. It extends to the state, regional councils, and the public. For example, real estate sales and assessment data is shared with the state department of revenue for compliance and oversight. This data can be shared via extract transform and load (ETL) or it can be shared via web service and consumed and used in the property tax oversight system. This data can also be shared with the public in the forms of services, maps, web maps, and apps. Many apps simply consume services, so sharing data with the public by services enables modern citizen engagement with maps and GIS apps on mobile devices.
Targeted app and websites powered by GIS services reduces phone calls and visits to the office. Data that is displayed on maps and apps using GIS services provides the answers to a resident's question. This interactive engagement with the public enhances government service and ensures that the official data of the county, the system of record, is what is accurately communicated eliminating the problems with outdated copies of data and unauthoritative data. This system of record being shared via services becomes the system of engagement powered by maps and apps.
Services can be integrated together for specific purposes like responding to a disaster. Rich, valuable property information maintained in the computer assisted mass appraisal system (CAMA) can be combined with aerial imagery to do rapid damage assessment following a hurricane or tornado. This same information can be taken into the field to assess damage and collect additional information for application for FEMA funds, for example. This collaboration, between systems and departments, is enabled by easy-to-use services.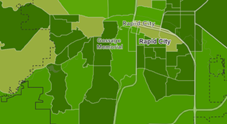 With GIS, you can access hundreds of data sets like broadband access and help your community address common challenges. Maps for Public Policy
Data gains value when shared. If every city and county department depends on your data, it is more valuable. You can create data once and use it many times. In some cases, data is collected and maintained to a higher standard just so it can be used by more departments. For example, there are many county assessors across the county that map parcels more accurately than they need to for assessment, but by doing so, public works, engineering and other departments can use the data without duplicating a parcel map of higher accuracy.
GIS is the infrastructure in the county that enables data sharing and it is key for eliminating duplicated effort. GIS also enables statewide and national data sets to easily be used. Whether it's satellite imagery, soils maps, wetlands inventories, broadband access, social equity, census, housing, nearly a limitless set of data delivered by services can be used in county systems.
Everyone wants data. Everyone needs authoritative data. GIS is the underlying infrastructure for sharing data instantly in your county.