While thinking about writing this article I realized there's really no way to have a comprehensive piece on all that we learned in 2020, it's such a long list and growing, so we'll discuss just a few. We did learn counties can adapt quickly and are perhaps more resilient than we might have thought. Some of us worked in environments where we were interrupted less. Many of us were in environments where we were interrupted more (I think you know what I'm talking about). But as managers, leaders and county officials, I think we learned some things that will help us for years to come. 
Apps & Valuable Resources Really Can Be Deployed in Minutes
When you don't have time or a lot of resources, you can't write software from scratch. Readily available apps configured to respond to common requirements can be rapidly deployed and are scalable solutions.  There are far too many COVID-19 solutions to list, but they include inventorying and mapping resources, modeling infection surges, managing testing sites, monitoring community indicators, business continuity, communicating with the public and many more. By listening to our users and their needs, we provide hundreds of datasets, models and these apps that governments can leverage.
Ready-to-Use Data Gets Used
Delivering data as a web service to everyone who needed it through a hub is fast and efficient. Delivering data via standardized web services and all centrally located on a configured hub site enabled anyone who wanted to map cases and spread. It also allowed organizations to present how it related to vulnerable populations and how their response capabilities accounted for this.
There was no need to E.T.L. (extract, transform, load) and take up valuable time with labor intensive tasks. Anyone can connect to the data service and begin. These datasets first began with data from Esri Maps for Public Policy and the ArcGIS Living Atlas of the World, but grew with contributed content like the COVID-19 Testing Sites from the volunteer URISA GISCorps and the CDC's Social Vulnerable Index.  These datasets were all available through a single access point at the COVID-19 GIS Hub.
Dashboards Deliver Understanding
As we watched the Johns-Hopkins Coronavirus Dashboard's stark red grow, it conveyed a bleak picture of what was happening and what was going to continue for some time. Perhaps the most viewed map in world history, it showed us how the virus moved through geography and time. Simple graphs and summary statistics informed nearly everyone in the world. Similar configurations of this dashboard have shown up all around the globe and in many languages because of how much information is communicated to so many in such a simple manner.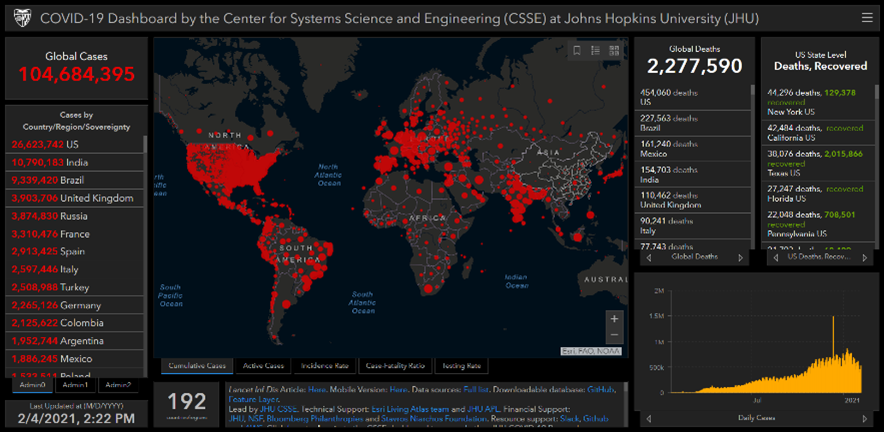 Figure A – Johns-Hopkins Coronavirus Dashboard  
Self-Service County Government Grows
With offices closing across the country, counties adapted by delivering more information and communicating with the public online.  The trend of self-service government and transparency through open data was already underway, but like with many other things, the pandemic accelerated it with many counties putting more information online and accessible. The growth of hub sites that counties deployed grew rapidly with SaaS solutions like the Equitable Property Value Hub which delivered property information to citizens without in-person office visits.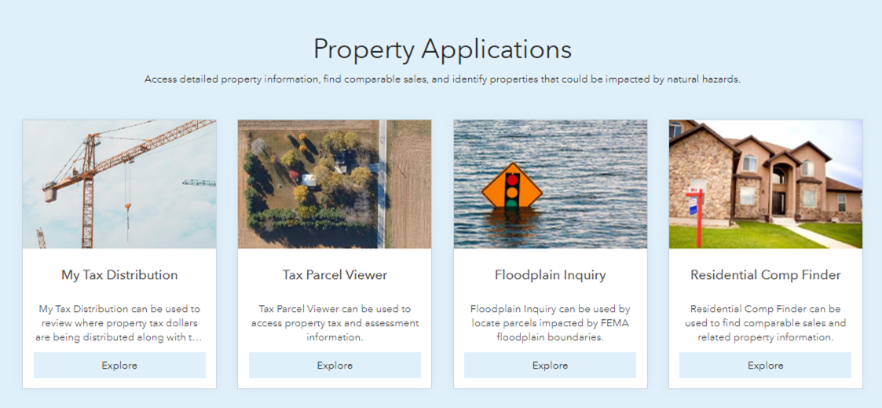 Figure B - Equitable Property Value Hub enables Counties to share data with citizens.  
Geospatial infrastructure is technology, data, and services delivered in modern architected technology. It enables organizations at all levels to share, collaborate, interconnect and benefit from the capabilities of GIS. 
Cloud and Geospatial Infrastructure Can Easily Scale
In order to deploy solutions globally while working remotely, remote secure access into servers and cloud capabilities are a must.  I have the privilege to work with many extremely bright and talented people who configured the COVID-19 solutions, created necessary data, new models, new analysis and new cartography to map, analyze, understand and communicate. This was all done in a work-from-home environment. And that's just Esri. Tens of thousands of Esri users, partner organizations and counties were able to continue to work in their 'distributed' environments leveraging the geospatial infrastructure.
GIS – Critical to COVID-19 mapping, analysis, response and recovery. 
Geography and the GIS Community Matters
Above all, we learned that geography matters. GIS delivered on all critical aspects of the pandemic. As we were learning how the virus spread, GIS was used by counties to map cases and inventory resources. An extremely large global community worked together on data, applications, and solutions to move quickly, innovate and share, all through the common language of GIS.