One day, I received a phone call at work. It was my neighbor. "Brent, there's a fire truck outside your house." I hurried home and within minutes my house was engulfed in flames. Three-quarters of everything we owned…gone. Thankfully, many special family items were rescued, including hundreds of irreplaceable photos. Three huge fire trucks and at least 15 firemen worked well into the night before the fire was out.
From fire departments and public safety to parks and public works - counties improve our lives. County officials deliver essential services that make our lives better, safer and more enjoyable. And there are a lot of services that unfortunately do not get the recognition they deserve. The majority of these services are supported by local property taxes.
County assessors, property appraisers and equalization departments are responsible for valuing property fairly and equitably for equitable property tax. Transparency is a key element in the valuation process. Knowing that all property is treated the same way with accurate and authoritative assessment data communicates to taxpayers that the process is fair, and it reduces valuation appeals and tax challenges. Transparency improves the public's trust and confidence in government.
Part of assessing is gathering a tremendous amount of property data. Many counties maintain more than 150 characteristics on every property to determine market value as accurately as possible. This data includes structure type and age, siding type and condition, lot size, roof material, number of rooms, heating system type and so forth; is used daily by assessors. Many county departments depend on this data being accurate and usable, adding responsibilities to the assessor's office. The public relies on this data, too. Property and parcel data may be the most used and shared data in the county.
Data - It is not just for the counties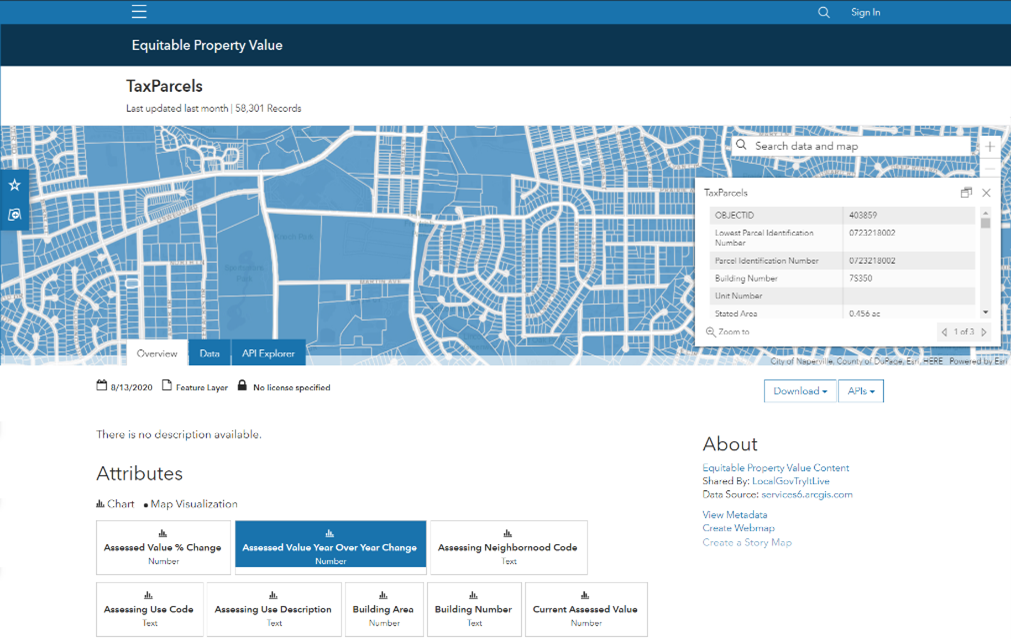 Although property tax is local, states have the responsibility to oversee the process to ensure county-to-county assessments and tax rates are fair and equitable. As a result, many states aggregate parcel data for better oversight and analysis of tax rates, sales ratios, untaxed property and general legal compliance. Statewide parcel data is useful in other areas, including addressing systems, transportation planning, watershed management, wildland firefighting and many more. Aggregating data in the past was a time-consuming manual task. Today, commercial off-the-shelf (COTS) software GIS solutions reduce the burden on county assessors while also empowering state government agencies. Sharing aggregated parcel data is a force multiplier for many state functions, including economic development, resource management and policymaking.
Open data, transparency and hubs
Property tax works well when we know we are taxed fairly and equitably. If property owners think otherwise, they will appeal. Appeals are costly, so assessors do their best to deliver the most accurate property values to avoid them. Publishing valuation data and the property data used to calculate values reduces appeals.
Open data capabilities enable a base level of transparency for assessors to share their authoritative data with everyone. But public expectations on how data and information is accessed continues to evolve, and technology continues to advance to meet these changing expectations creating a new type of transparency-hubs. So, what is a hub? A hub is a community engagement platform that helps organize data and your communication with the public. Counties of any size can improve engagement, communication, collaboration and data sharing with a hub. Hubs can be configured for specific initiatives, track progress and understand outcomes. For assessors, there is a specific ArcGIS Hub initiative Equitable Property Value (EPV Hub) that delivers essential property data, summary statistics and the ability to share information on the assessment process advancing public trust and confidence. EPV Hub is configurable to your county's look and feel and has a variety of apps and maps: parcel data viewer, flood plain locator, where property taxes go, comparable sales locater, assessment appeal and a calendar of events. You can easily add other apps into a Hub site to fulfill your community needs.
This single public engagement destination increases taxpayer satisfaction and general awareness of the county property valuation process. It will help your county share property information, facilitate the appeal process and deliver a web destination that promotes fair and equitable property values.

Credit where it is due
Counties provide so many essential services that make our lives better and the majority of them are paid for by fair and equitable property valuation and tax. Assessors should be recognized for contributing to successful county operations and the valuable data they collect and manage. Their use of GIS to manage and share this data within the county and with the public has evolved into a critical and valuable government service that will continue to grow in value.